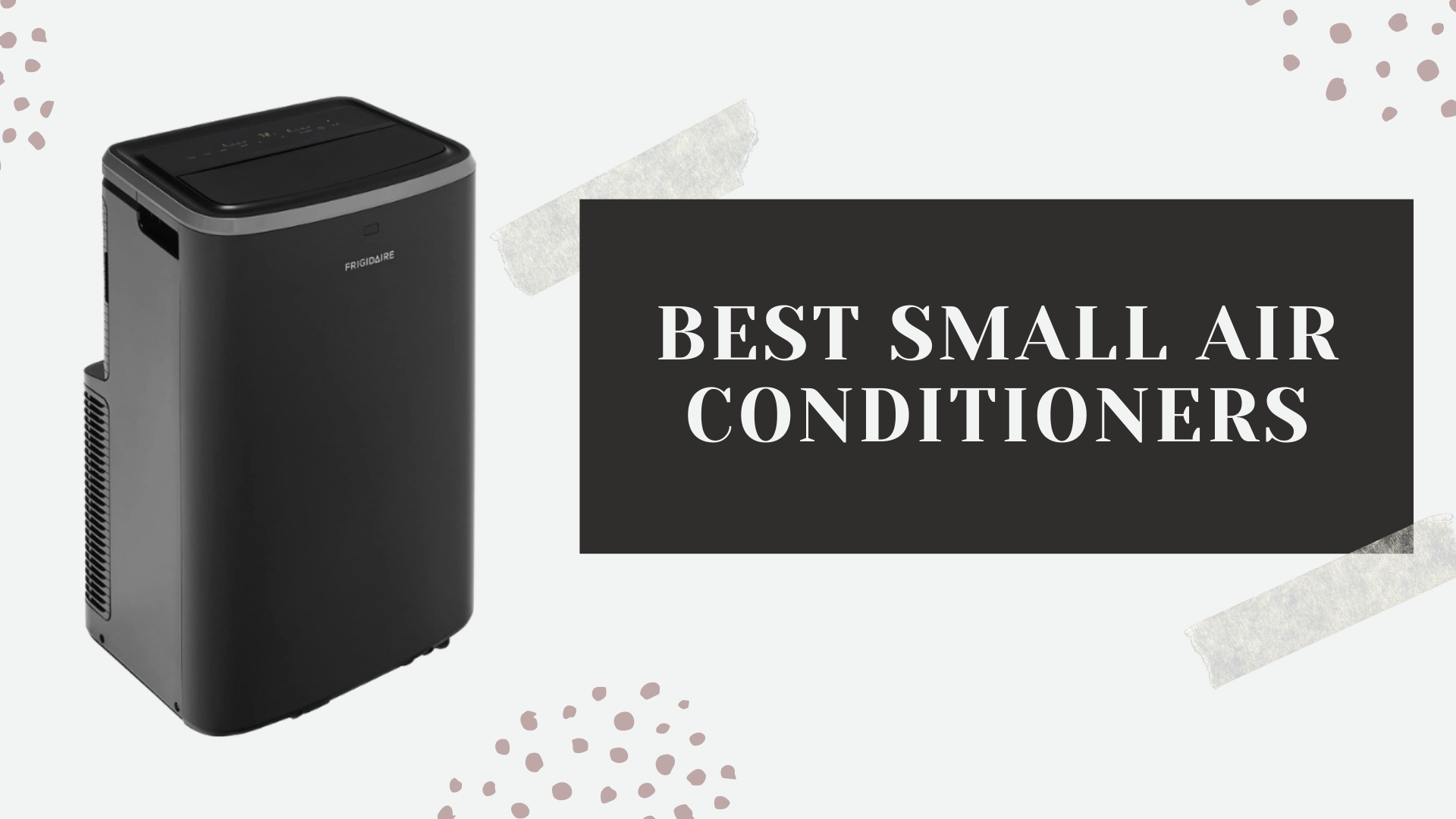 Don't have the facility of central air conditioning? Can't purchase a full-size window air conditioner due to building restrictions or design limitations? Provided your answer to both these questions is in the affirmative and you need to cool a room ASAP, you need a small air conditioner.  
Aside from cooling small spaces in absolutely no time, these portable units can easily be moved from one room to the other. They are therefore the best choice for students or for those of you who are planning to move home in the near future. But their benefits don't stop there.   
These units don't require any wall-drilling or installation and therefore let you install them anywhere. What's more, their energy consumption is so low that they won't weigh heavily on your electricity bills. You can even store your small air conditioner away at the end of the season.  
Liked what you have read so far? Then scroll down for a treat. 
Whynter 14,000 BTU Dual-Hose Portable Air Conditioner – Best overall
Those of you who have very deep pockets might appreciate what the Whynter 14,000 BTU Dual-Hose portable air conditioner has to offer. It is one of those rare models that not only work as an air conditioner but also triple as a dehumidifier and a fan (with three separate speeds).   
You can guess by looking at this model's dimensions that it is the epitome of compactness. Its 3 feet height and 1.5 feet diameter allow you to park it anywhere you want. Though you might experience trouble moving it around as this unit weighs a hefty 80 pounds. But it weighs heavy for a reason.  
This air conditioner comes with two air filters, the first of which is your standard washable air filter, whereas the second is made of activated carbon. Both of them work in parallel to prevent the small and big dust particles from making their way inside this unit.   
Its manufacturer has further sweetened the deal by equipping this model with an extendable 5' hose. That means you'll have plenty of flexibility when deciding the optimum location for its placement. Also on offer is an auto-drain function that collects the expelled moisture and turns it into cold air. 
User critique
While digging through the reviews left behind by its users, we noticed multiple users making the same complaint. All of them weren't happy that it (almost) costs twice as much as your average portable air conditioner.  
Pros
Cools down up to 500 sq. foot

24-hour programmable timer

Digital readout and remote control

Uses eco-friendly refrigerant
Final Verdict
The Whynter 14,000 BTU air conditioner boasts interior-friendly looks, has a digital readout and three operational modes. It can dehumidify up to 101 pints per day and comes with everything you need to get it up and get it running. What more can you ask for!
Black + Decker BPACT10WT Portable Air Conditioner – Best value
Various features of the Black + Decker BPACT10WT Portable air conditioner makes it one of the most affordable models on the market. This unit is equipped with a 24-hour timer that prevents wastage and saves energy. Its sleep mode automatically regulates your room temperature once you've dozed off.   
Also on offer are three cooling modes as well as an auto-fan setting. While the cooling modes will come handy for extra-small, small, and medium-sized rooms, respectively, the auto-fan setting will adjust whatever cooling mode the unit is running on according to the dimensions of your room.   
Yet another unique selling point of this small RV air conditioner is its built-in dehumidifier. Most cooling units you see on the market inundate your room with moisture as they are cooling it. That isn't the case with the BPACT10WT. It will keep your air both cool and dry to reduce mold & mildew growth.  
Its installation kit gives you two options to get this model up and running. You can either use the 3 panels that are in the box to install it horizontally, or you can maneuver them to fit it in vertical window openings ranging between 20.5-inches and 59-inches in size. 
User critique
Some users of this model complained that they had issues with the noise this model produces during its operation. They didn't state that it was enough to wake up the whole neighborhood. But one disgruntled user did say that it was enough to force them to sleep with a pillow over their head.  
Pros
Easy to install

Top-mounted LED display

Programmable 24-hour timer
Final Verdict
All in all, this small RV air conditioner is one of the best around. Its 10,000 BTUs of power make it ideal for small- and mid-sized rooms. The 24-hour programmable timer, auto fan setting, three cooling modes, and remote control further makes it a hard option to ignore. 
Frigidaire FFPA122U1 Portable Air Conditioner
Frigidaire has been one of the most trustworthy air conditioner brands for Americans for decades. Models like FFPA122U1 are precisely the main reason why. This unit is capable of churning out 12,000 BTUs of cold air and is still able to operate at a whisper-quiet noise level of 51dB.  
There's more to this air conditioner than its noise-free operation. It comes with a top-loaded control panel that contains everything you need to regulate its operation. You can use it to activate its swing mode, tinker with its 24-hour timer, or put the air conditioner to sleep.  
Moving your attention a little right from these features will get you face-to-face with the four cooling modes. A digital readout of your room temperature then separates the modes from the four fan speeds, which are followed by the 'clean filter' indicator.   
Despite loading its control panel with all the features, Frigidaire also provides a fully-functional remote control in this model's package. It also offers a 1-year warranty on the whole air conditioner and a 5-year warranty on the sealed system.   
User critique
Almost all single-hose air conditioners you see on the market have one major shortcoming. The Frigidaire FFPA1222U1 isn't any different. It doesn't have any dedicated hose that can take the moisture and expel it outside. You have to do this duty every time. 
Pros
Anti-bacterial mesh filter

Whisper-quiet operation

Rear filter access
Cons
Have to take water out after every use manually
Final Verdict
The Frigidaire FFPA1222UA suffers from one shortcoming that forces you to remove the expelled water after every use. To most people, this compulsion might act as a deal-breaker and might force them to consult other models in this review. 
De'Longhi 3-in-1 Portable Air Conditioner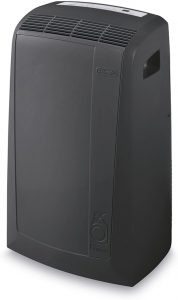 Most of you might never have heard of the name of this air conditioner's manufacturer. That is expected and can be justified as well. What might not be justified is if you take the anonymity of De'Longhi as proof that its models cannot compete with those of more famous brands. Here's why.   
This 3-in-1 portable air conditioner is equipped with a 'No-Drip' technology that automatically recycles the condensate within the unit. As long as you don't live in highly humid climates, this technology will make sure that you won't have to do any draining after usage.   
It comes with a fully-functional remote control as well. The remote not only has an LCD display but lets you control all the settings of this unit. You can, therefore, use it to adjust the air conditioner's thermostat, activate one of its three modes, regulate its fan speed, and set the 12-hour timer on/off.  
De'Longhi is supported from beneath by caster wheels and has an integrated handle on top. Both eliminate the need of having to spend hours on its installation. You can simply move this unit to a new location if the previous one wasn't one of your likings. 
User critique
Do you find it difficult to sleep when there's light in the room? You may then hate the blue light that comes out of this model's display at all times. The reason we're saying that is because some users of this air conditioner highlighted this fact in their reviews. 
Pros
No-drip technology

Sets up in minutes

LCD remote control
Cons
Emits a bright blue light at all times
Final Verdict
Thanks to its 'No-Drip' technology, a backlit controls' display, and 12-hour timer, the De'Longhi 3-in-1 portable air conditioner is a must-have for rooms up to 550 square feet in size. 
Honeywell MO10CESWB Compact 3-in-1 Portable Air Conditioner 
The Honeywell M010CESWB compact 3-in-1 portable air conditioner is the yin to the yang of the De'Longhi air conditioner we saw above. It comes from a highly famous manufacturer, is available at an affordable price, and has the design that resembles that of an air cooler. 
Though there are areas where both the air conditioners are similar in their offerings. Both of them offer three modes (dry fan, cooling, and dehumidifier), have caster wheels to let you transport them from one location to the other, and can cool rooms of standard size (up to 500 sq. ft. in size). 
Its washable dust filter keeps dirt and debris at bay, whereas the 'clean filter' indicator on top of the LED makes sure you're always on top of the maintenance schedule. Also on offer is a drain option for times when you intend to run this unit unattended for more extended periods. 
The remote control that accompanies this smallest BTU air conditioner is one of the simplest you'll ever see. Not that we're complaining about its appearance. The simple-looking design makes the remote easy to operate, even for children and older persons. 
User critique
Is there anything about this unit's performance that its users don't like? We got the answer to this question as we were going through its reviews. One keen-eyed user was angry that the caster wheels, as useful as they are, are too small to work on any sort of plush carpet. 
Pros
Built-in humidifier

Washable dust filter

1-year limited warranty
Cons
Caster wheels might not work on a plush carpet
Final Verdict
Featuring a built-in humidifier, easy-to-use remote control, and an ultra-quiet operation – not to mention the 1-year limited warranty, the Honeywell MO10CESWB Compact 3-in-1 Portable Air Conditioner has got most bells and whistles that users expect in a high-end product. 
Frigidaire 5,000 BTU 115V Window-Mounted Mini-Compact Air Conditioner 
Who says portable air conditioners cannot be window mounted? The Frigidaire 5,000 BTU mini-compact cooling unit shows that the commonly-held belief that only units with wheels are easy to transfer is misguided. And it does that by offering an excellent set of features.   
This model's energy efficiency ratio of 11.0 is one you cannot take for granted. It is the ratio of cooling capacity to power input and proves beyond doubt that this model won't weigh heavily on your electricity bills. So you won't have to turn it off after every few hours to ensure money savings.   
Aside from taking care of your budget, this window-mounted unit ensures your comfort as well. It does that by dehumidifying up to 1.1 pints per hour and by operating at an ultra-quiet level of 51.3dBA. That means that it will keep you cool without keeping you awake.   
What's more, the fact that it doesn't need a stable surface to stand on means you can quickly turn this unit into a small boat air conditioner. 
User critique
Despite being one of the best small window air conditioner units around, there is one area where its users think this model could have done a bit better. They would have liked it more had its output been greater than the meager 5,000 BTUs. 
Pros
Smallest lightest window air conditioner

51.3dBA noise level

Low power start-up
Final Verdict
The Frigidaire 5,000 BTU 115V air conditioner is, without doubt, the best small window air conditioner on the market. Its compact dimensions, low-energy usage, and high energy efficiency ratio make it a must-have for rooms up to 150 square feet in size. 
SereneLife SLPAC10 Portable 3-in-1 Air Conditioner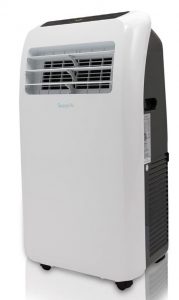 Are you in the market for a portable air conditioner that is equipped with all the bells and whistles? Then, SereneLife SPAC10 is worthy of your attention. It consumes up to 10,000BTUs and churns out than can cool a room of up to 450 square feet.   
This unit's three cooling modes further justify its excellent reputation. The first of the three modes only cools its surroundings, whereas the second dehumidifies your indoors by removing moisture at a commendable rate. The third, meanwhile, uses the fan to push air around.   
Since it comes with remote control, you won't have to get up and down to change the modes. The remote also lets you set the timer, set the air conditioner at swing mode, and change the unit on display (*C/*F). It even gives you the option to put the air conditioner to sleep. 
User critique
One keen-eyed reviewer has complained that the hose connection to the back of this model is poorly made. The absence of any screws that could hold it in place means than when you're moving the unit, you should be prepared to reconnect the hose as it might fall a few times. 
Pros
Extremely portable

Comes with an exhaust hose

Modern and sleek design
Final Verdict
The SereneLife SLPAC10 is one of those unique models that don't let their high power output take their operating noise level through the roof. This portable air conditioner will cool your indoors, but not at the cost of keeping you awake with its sound. 
Small Air Conditioner Buying Guide
Know what is it that separates the best small window air conditioner unit from the riffraff? You don't have to be a rocket scientist to be able to answer this question. We're going to shed light on the features that set the best small window air conditioner units apart from the mere mortals. 
Types of Small Air Conditioner
Following are the types of these units:
Regular air conditioner
Did you come here in search of a standalone cooling device? One that has a hose that sucks in hot air from your surroundings, a compressor that turns that hot air into a breezy one and an exhaust that relegates the remaining hot air to the surroundings? If so, then you need a regular air conditioner.   
These units aren't the smallest air conditioner on the market by any stretch of the imagination. But their size isn't comparable to your regular air conditioner as well. That's what makes them ideal for cooling relatively large spaces.   
On the flip side, regular air conditioners do have more than a few limitations. Notable among them is that you have to place them close to a window. That's because the length of their exhaust hose – which takes the hot air from inside and relegates it outside – isn't that big. 
Pros
Best for large rooms

Easy to install

High rate of cooling
Ventless air conditioner
One of the smallest air conditioners on the market, the ventless units operate differently from the regular air conditioners. Instead of taking hot air from inside, converting it into cold air, and passing the remaining hot air outside, they rely on evaporation to cool your room. Let us explain.   
Ventless air conditioners start operating by sucking in hot air from your room. They then pass that air over a bucket of water where the air cools down due to the moisture beneath it. Afterward, they introduce that breeze to your indoors. That is where some people might find their working problematic.  
As these units introduce moisture-laden air to your room, its humidity level increases. That might not be an issue for you. Still, it will pose a problem to your loved ones who are allergic to excessive humidity – in which case you'd have no choice but to keep the windows open. 
Pros
Smallest lightest window air conditioner

Offer flexibility in placement

Eco-friendly
Cons
Make the indoor environment humid
How to find the right small air conditioner for you?
Here's how you can find the best small air conditioner for your needs: 
Choose the correct BTUs

: British Thermal Units help you measure the conditioner's cooling capacity. In other words, they decide the area (in sq. feet) the air conditioner could cool down with ease. You can use

this guide

to find out how many BTU do you need for your room. 

Choose the correct SAAC rating

: The

Seasonally Adjusted Cooling Capacity

rating tests the AC's cooling capacity based on several conditions, i.e. the size of your room, its exposure to the sun, and the height of its ceiling. It's a useful indicator to find the correct size AC for your room.

Opt for digital display

: Aside from continually informing you about your room temperature and the air conditioner's setpoint, the digital display of units like Whynter dual hose air conditioner lets you set a 24-hour programmable timer. You can certainly make do with it.

Pay attention to decibel rating

: Know what is it that separates a unit that produces 100dB noise from the one that operates on half that? You cannot sleep beside the former. That's why you need to make sure that the dB rating of your model is bearable. 

Look for washable filter

: If you live in an area whose air is inundated with pollen and mold spores, you might ideally want two washable filters in your air conditioner. The first should keep out large particles at bay whereas the second mustn't let small dirt and dust particles through. 

Single hose vs. dual hose

: Single hose units have only one exhaust hose that they use to remove heat from your room and supply cold air to the compressor. They are, therefore, ideal as

small boat air conditioners

where the space is open on all sides. Dual-hose units, meanwhile, have separate hoses for the task. They tend to be on the bigger side. 
Summary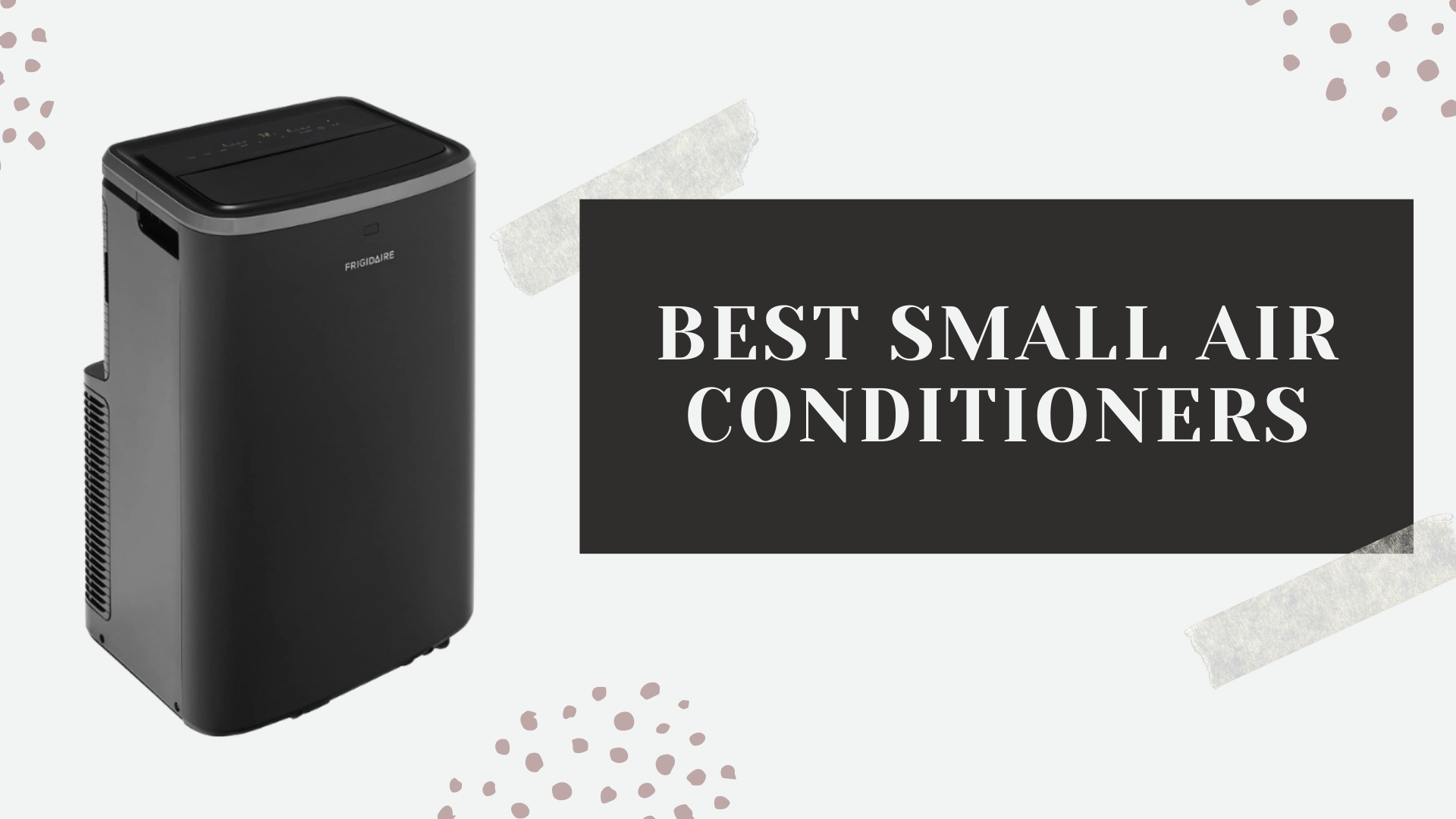 Article Name
Best Small Air Conditioners
Description
We selected 7 of the best and smallest air conditioners. These small AC units are perfect for cooling your room without using central air conditioning.
Author
Publisher Name
Publisher Logo