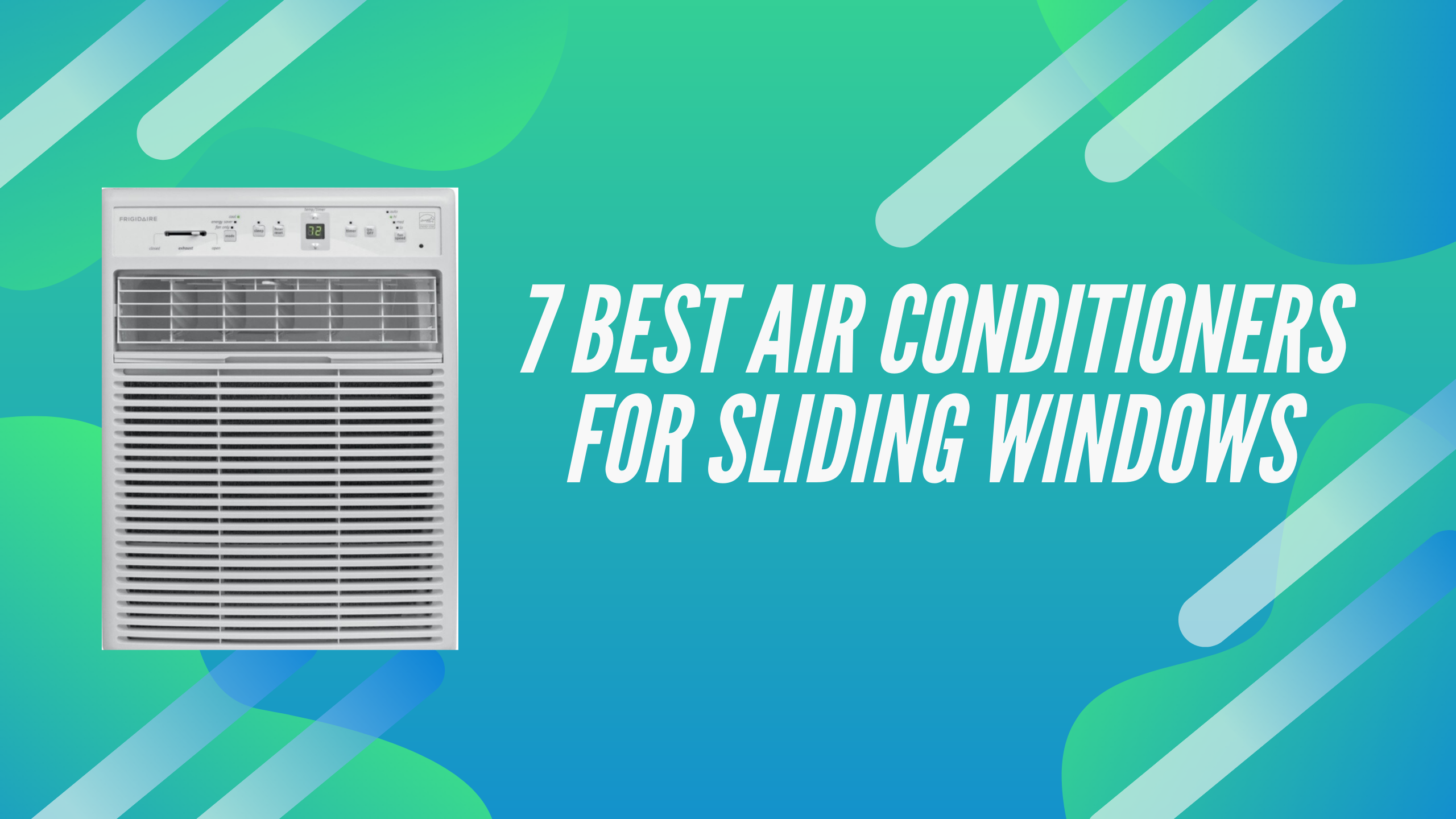 Various features of sliding windows convince homeowners to install them in their rooms. They have an easy to use design and provide as much ventilation as you want. Their slim, vertical lines also add a clean, elegant look to the whole room. But they do pose one major issue.
You can't install your regular window air conditioner in a sliding window. These units have a horizontal orientation that makes them unfit to slide inside these openings. Their small length also makes it untenable for window air conditioners to sit inside a sliding window.
Does that mean you should forget air conditioning if you have a sliding window in your room? Not if you can get your hands on a sliding window ac. These units have a vertical orientation and tend to be longer than traditional window units. That's what makes them a must-have if you've a sliding window.  
Frigidaire FFRS1022R1 Slider Room Air Conditioner – Best Overall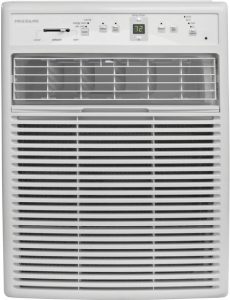 Multiple features of the Frigidaire FFRS1022R1 justify its reputation as one of the best slider room air conditioners on the market. For starters, it boasts a power of 10,000 BTUs and can effectively cool down and dehumidify rooms of up to 450 sq. feet. 
This unit connects with any standard 115V electrical outlet and offers multiple-speed controls. It offers three working modes, including cool, energy saver, and fan. You are also given the option as to whether it should recycle room air or suck it in from the outdoors. 
Also on offer is a '24 hour on/off timer using' which you can pre-program this unit. The design of its louvers ensures that you get a 4-way air direction, whereas the presence of 'check filter' light on its control panel means you would never get dirty air without prior notice.
User critique
Several users of this sliding window ac have pointed to its weight of 72lbs as proof that it is certainly not the best portable air conditioner for horizontal sliding windows. It is one of those models that require you to pre-plan their permanent position as carrying it around would take three to four persons. 
Pros
Three working modes

Check filter light

24 hour on/off timer

Fully-functional remote control
Final Verdict
Aside from boosting a 24 hour on/off time, 'check filter' light on its control panel and a fully functional remote control, this unit lets you choose between its three working modes and churns out enough cool air to bring down the temperature of a mid-size apartment. What more can you ask for!
Frigidaire FFRS0822S1 8000 BTU – Best Value for Money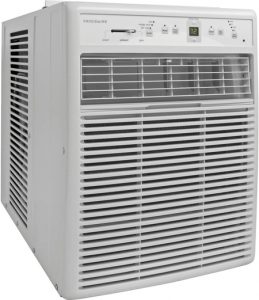 The Frigidaire FFRS0822S1 air conditioner is for those of you who are either on a budget or don't want to spend over-the-odds on a quality unit. It is specifically designed for sliding- or casement-windows and comes with an installation kit. You won't have to purchase anything to get it up and running. 
You can have this unit running beside your bed and still go to sleep. It produces a whisper-quiet noise level of 48.4 dB at the lowest setting and won't go above the 55.1 dB mark even when you're operating it at full speed. That means you won't have to use earplugs if you can only sleep in silence. 
Its remote control lets you control the fan speed and setpoint temperature from across the room. Though you'd have to use the control panel on the unit for other functions. They include its three working modes (cool, energy saver, fan), air intake (closed, exhaust, open), activating the sleep mode, among others.
User critique
While going through the reviews of this casement air conditioner, we found multiple users making the same complaint. All of them were adamant that the packaging in which it arrived at their doorstep was inadequate. The unit was delivered fine, but still, that's a point they think the company should improve on.
Pros
Operates quietly

Competitively priced

10.8 Energy Efficiency Ratio
Final Verdict
As we had made clear right at the start, this room air conditioner is best for cooling down small spaces or those that don't receive much foot traffic. Though its competitive asking price means that others who have a relatively large space might also be attracted to this unit. 
Koldfront 115V Casement Air Conditioner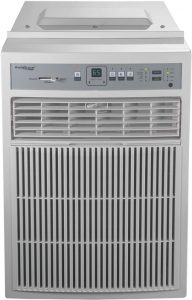 Whether they are designed for normal or sliding windows, most ACs offer three modes. The Koldfront 115V Casement air conditioner is different. It offers four working modes, including the three common ones (cool, energy saver, fan only) and the not-so-common dry mode. 
Similar versatility is on offer once you look at the fan speeds of this model. The first three fan speeds (low, medium, and high) give you the freedom of choice. The fourth one (automatic) takes that option away from you by using this AC's built-in thermostat to decide how much breeze you need.
Judging by the reviews left by its users, the remote control that is included in this unit's package has a massive range. Some users were surprised to note that it worked from as far away as 16 feet. They were also pleased to note that all functions on its control panel can be controlled via the remote.
User critique
One glance at its user reviews was enough for us to know that this unit doesn't operate in silence. That doesn't mean that it will wake up the whole neighborhood with noise. But light sleepers might have trouble sleeping if this model is running on the side of their bed.
Pros
Four working modes

Four fan speeds

Filter check light
Final Verdict
The Koldfront 115v air conditioner might be a little noisy, but it has more than enough features to make up for this shortcoming. Heavy sleepers or those of you who don't need pin-drop silence to go to sleep won't know why so many people are making a fuss about its noise. 
PerfectAire 10000 BTU Slider Air Conditioner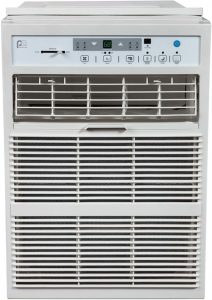 PerfectAire has been one of the most trustworthy brands for Americans for decades. Models like this one are the reason why. It does justice to the massive 10,000 BTUs that it consumes by churning out enough cool air to cool down spaces as big as 450 sq. feet. 
Another unique selling point of the PerfectAire 10,000 BTU slider is its expandable window mounting kit. You can use it to mount this model in windows reaching between 15 ½'' and 16 ¼'' in width and 21 ¼'' and 39 ½'' in window height. That means you don't have to have fully accurate readings.
It offers three fan speeds in both fan and cool modes and has a fully-functional remote control that comes loaded with portable thermostat technology. That allows the remote control to provide total room coverage, regardless of how far you might be sitting from the unit.
User critique
At least two users of this air conditioner complained about the shipping service. They were of the opinion that the condition in which the model was delivered to their doorstep made it clear to them that it took quite a beating after leaving the company's warehouses and before reaching their home.
Pros
Expandable window mounting kit

Three speeds in both fan and cool modes

Easy-to-access filter
Cons
Some users have encountered shipping problems
Final Verdict
Whether you have a casement, horizontal sliding or crank window, this 10,000 BTU powerhouse from PerfectAire will fit like a hand in glove. Its expandable window installation kit ensures that even if you have got your readings wrong, the unit would fit snugly inside the opening.
LG LW6017R 6000 BTU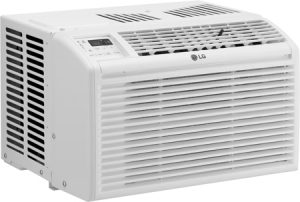 The LG LW6017R is one of the best ac units for vertical sliding windows. Part of the reason why that's the case is that it is one of the few models that boast auto cooling. That means that you can count on it to optimize its output based on your needs automatically. 
It boasts three fan speeds (low, medium, high) and is equipped with a user-friendly control panel. There you find check lights for its modes (dry, fan, cool), programmable timer, and clean filter. The last one you need to keep an eye on as it will tell you when it's time to reset the filter.
Below the indicator lights are touch control buttons for setting mode, timer, and fan speed. Above them is a smart screen displaying all the commands you're giving to the air conditioner, as well as the buttons using which you can increase or decrease its temperature.
User critique
A few users of this model complained that it isn't as heavy-duty as they would have liked. That's a valid point, but one cannot blame LG for that as this unit's 6000 BTU rating makes it clear that it isn't the one if you want to cool rooms of up to 500 sq. feet in size. 
Pros
User-friendly control panel

Auto-cooling flexibility

Has a timer
Final Verdict
All being told, this window air conditioner is a competitively priced model that is made for smaller spaces. It boasts a user-friendly operation, and when you add to the equation its auto-cooling ability, there aren't many faults that can be found with its performance.
hOmeLabs 5000 BTU Window-Mounted Air Conditioner 
The HOMELABS 5000 BTU window-mounted air conditioner is another one of those units that don't let their low BTU count harm their performance. It is a heavy-duty model that is made to fit inside glass windows that slide from side to side. Just make sure that its dimensions match with your readings.
Since it comes with a 6ft power cord, you won't have to install a new electrical socket right next to this air conditioner. It is equipped with seven speed settings and offers four working modes. You can count on it to effectively cool down spaces as big as 150 square feet. 
You might find it good to know that this unit is equipped with an antibacterial filter. It is also reusable and you can easily rinse it clean with a mixture of warm water and dish soap. But if you don't want to get your hands wet, you can also vacuum clean it.
User critique
Unlike most air conditioners that we have seen in this review, this air conditioner for side sliding window doesn't have a timer. You can't just program it to go to sleep late in the night. It requires you to wake up and turn it off or it would keep out churning cool air.
Pros
Extremely lightweight

11.1 Energy Efficiency Ratio

Has a 6ft power cord
Final Verdict
Apart from its above-average energy efficiency ratio and extremely lightweight construction, this model's ability to pack a reusable filter and four working modes are what make it a must-have for those of you whose room size doesn't exceed the 150 sq. feet mark.
Frigidaire FFRS0833Q1 8000 BTU Slider Air Conditioner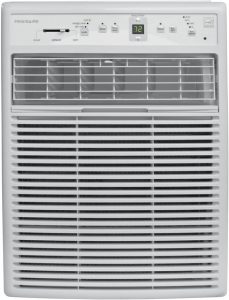 As a mere glance at its amperage and BTU numbers will suggest, the Frigidaire FFRS0833Q1 8000 BTU slider air conditioner is a powerful and fast-cooling appliance. It would be a great fit for rooms of up to 350 sq. feet or even bigger ones that receive less foot traffic. 
Similar to other Frigidaire models that you have seen in this review, this one too comes with ready-select electronic controls. They allow you to select options with the touch of the button. But you don't have to fully rely on them as you can control the fan speed and temperature from its remote control.
Its washable mesh air filter is one of the strong features of this ac unit for a horizontal sliding window. It slides out for easy access and reduces the presence of bacteria, odors, and other airborne particles in your room. Add to the equation its quiet operation, and this unit will be a cinch to operate.
User critique
Its users gripe that there are more than a few functions of this air conditioner that you cannot adjust with the remote control. You have no choice but to go near the air conditioner whenever you feel the need to change its mode (cool, energy saver, fan only) or activate the timer. 
Pros
Quiet operation

Washable mesh filter

Multi-speed fan
Cons
Limited functions on remote control
Final Verdict
Although the utility of its remote control is fairly limited, the functions that will require you to get up and go to the air conditioner are the ones that won't require changing every few minutes. You can set them up once and enjoy cool air for hours. That's why we think this model is worth having. 
FAQs
Here are some of the most commonly asked questions about sliding window ac: 
How to Install an AC Unit in a Sliding Window?
Follow these steps to install your ac unit in a sliding window:  
Step 1: Gather the necessary items 
  Some of the following items may come in the window air conditioner installation kit for sliding windows. Others you'd have to purchase on your own. You'd need both the types to easily and effectively wrap up the installation:
Level

Support arc

Screwdriver

Wood screws

Weatherstripping

Mounting brackets

Step 2: Clean the window sill 
  If you haven't opened your sliding window for some time or haven't cleaned it for a while, the chances are that it might contain dirt and dust particles. Vacuum them away. This will ensure that once you're placing the window in place, nothing will impede it from sitting evenly on the sill. Your hands, too, will be able to remain clean if you take care of dirt beforehand. 
Step 3: Install mounting brackets 
  Old window air conditioners don't require you to install mounting brackets. Their design is such that it ensures a clean sitting on the sill. The latest models, however, require you to attach mounting brackets to the sill as they sit on that bracket. Follow instructions to install the mounting brackets. 
You'd also get a couple of fasteners in the kit of the brackets. They will require you to secure them to the window sill. Also, there will be multiple lengths of weatherstripping foam. We will explain their utility in the following steps.  
Step 4: Place the ac onto the bracket 
  Lift the air conditioner by putting maximum pressure on your legs. Keep your back straight and bend your knees as you're doing the lifting. Once you have lifted the window ac unit for sliding window over the height of the window, place it onto the bracket.  Place the unit carefully or else it may fall outside. Make sure that you've routed its drainage hose to the outside. Manufacturers also recommend that you tilt the window ac downward towards the outdoor side. This will make it easy for the condensate to drain. 
  You'd have to follow only two steps to lock your air conditioner in place. Simply fasten it to the brackets and tie the extension to the jamb of the window. This will lock the air conditioner in place and prevent it from falling outside. 
Step 6: Seal the air conditioner 
  Sealing the air conditioner requires filling up the empty spaces on both the inner and the outer side. On the outside, you may caulk the area around the air conditioner's perimeter. The weatherstripping lengths we talked about in the third step will come handy to seal the air conditioner on the inside. All you have to do attach the weather stripping lengths is to lift the window and attach the weather strip along the entire bottom line before placing the air conditioner back. Make sure that there's no empty space on four sides surrounding the window. Otherwise, cool air will find an escape route.
  Make sure the plug in which you're going to connect the unit is made for high-energy consuming appliances. One way to do that is to check its rating. High-power rated plugs are either 'major appliance cord' rated or 'air conditioner cord' rated. 
How to Install AC Unit in a Vertical Sliding Window?
Follow these steps to install your ac unit in a vertical sliding window:
Step 1: Check the air conditioner's kit 
  Since you aren't going to install the unit in a horizontal window, there won't be any 'lip' of the opening to keep the air conditioner in place. You'd have to create a mounting system that would keep the unit stable. Check the air conditioner's kit to make sure it came with one.
If you don't have any pre-built mounting system, you'd need to build one. Fasten a long square wood block to the air conditioner's top lip. It will keep the unit from falling outwards once you have placed it inside the window. 
Step 2: Place the air conditioner in the opening
  Most people make the mistake of using their back muscles to lift the load. You should be wary of this practice as it might cause back pain. Use your legs to lift the unit by making sure that when you're lifting the air conditioner, your back remains straight and only your knees are bent. Place the air conditioner inside the opening. 
Tip: If the unit is too heavy for your liking, get a helping hand. 
Step 3: Secure the window in place
  Once again, you might want to take the help of a block of wood. Jam it into the place where the window would slide backward to prevent it from opening unexpectedly.   
  After placing the air conditioner in the opening and securing the window, you might notice a tiny opening between the top of the air conditioner and the window. Seal it using a piece of Plexiglas. Cut a piece of Plexiglas to the size of the opening and secure it in place with tape. Fill any other openings around the air conditioner using foam. 
Summary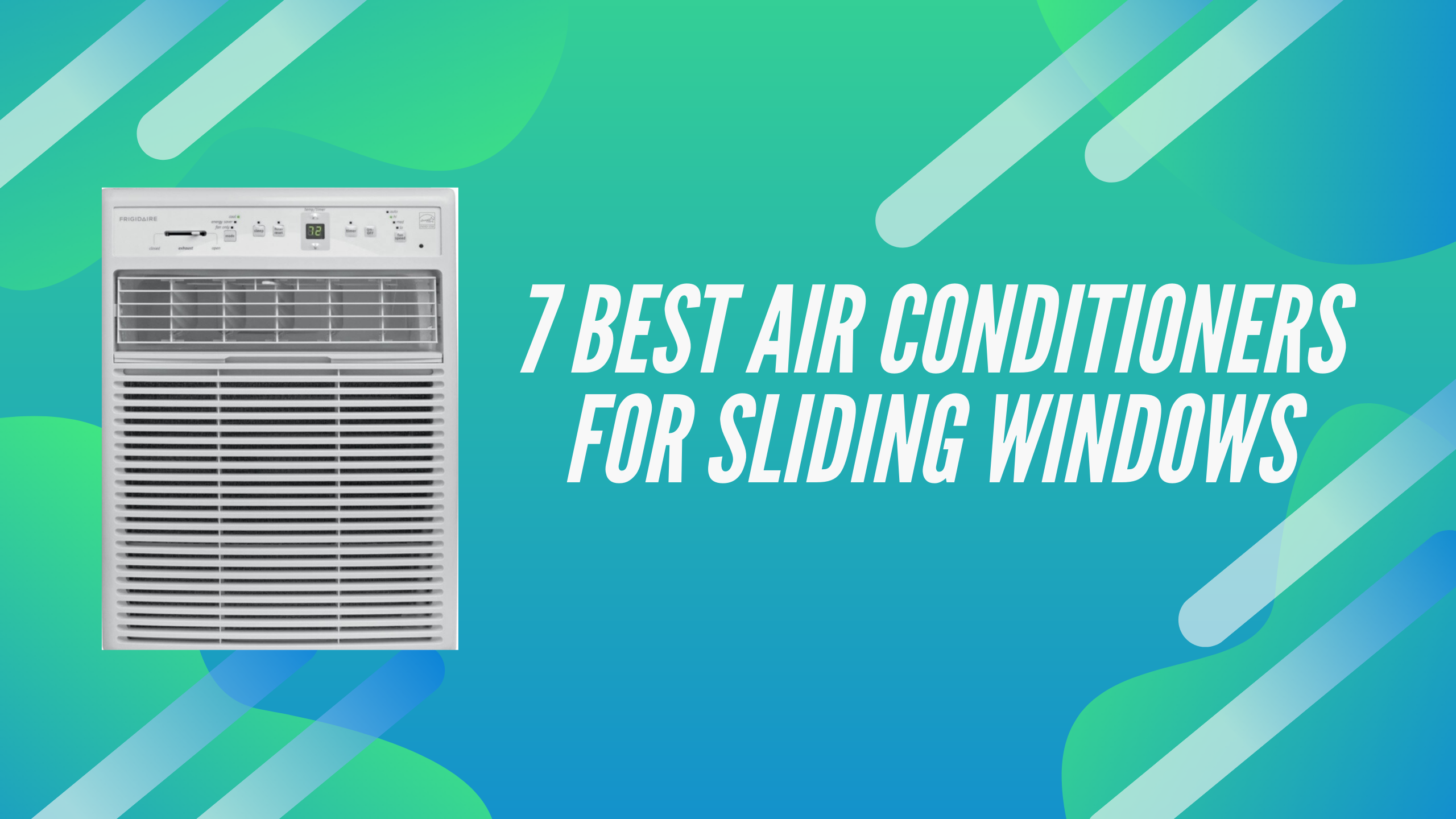 Article Name
7 Best Air Conditioners for Sliding Windows
Description
Find the best AC for sliding windows using our in-depth guide and take the confusion out of understanding size, energy efficiency, running costs, and key features.
Author
Publisher Name
Publisher Logo