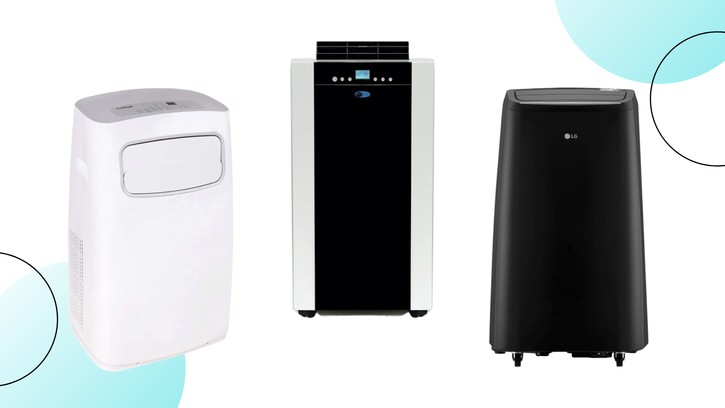 When looking for the best portable air conditioner, there are some essential factors you need to keep in mind. First, regardless of the size of the specific unit, not many portable air conditioning units generate more than 14,000 BTUs (British Thermal Units). This means you can't compare their cooling with your traditional AC. Second, before investing in a unit, you need to calculate its cooling capacity. You can easily do it by converting its BTU into square footage. This step is essential as it will let you know whether the output of the portable air conditioner will be enough to quickly (and effectively) cool down your room. Thirdly, you need to decide between a single hose and a dual hose unit. Single hose units use the same hose for air intake and exhaust and, therefore, work best in smaller rooms. Dual-hose models, meanwhile, are more efficient, cool the room 40% more quickly, and are recommended for larger spaces.
Whynter 14,000 BTU Dual-Hose Portable Air Conditioner – Best Overall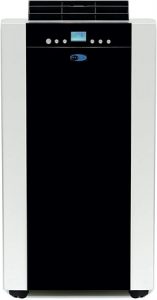 There are three reasons why the Whynter 14,000 BTU dual-hose portable air conditioner is currently the best one on the market. Aside from working as an air conditioner, it also works as a fan (with three separate speeds) and a dehumidifier that can eliminate up to 100 pints over a 24 hour period. Also on offer is a 24-hour programmable timer. You can use the provided remote control to set this air conditioner's running schedule for throughout the day. Its digital display lets you monitor the temperature of your room at all times without having to invest in any thermometer. To further sweeten the deal, its exhaust hose is extendable up to five feet. This gives you plenty of flexibility in its placement. It also comes with a patented auto-drain function that turns collected moisture into cold air. Little wonder, then, that this affordably priced model can cool a 500 square foot room.
User critique
While going through this portable air conditioner reviews, we noticed many users highlighting the same point. All of them were adamant that it has a steep asking price – a complaint that looks genuine once you look at this model's astronomical price tag.
Pros
Easy-to-clean filter
Ultra-maneuverable
Sleep mode
LED digital timer
Cons
Might get loud at the highest setting
Final Verdict
Apart from boasting interior-friendly looks, this unit has the features and delivers the performance that most users look for in a dual-hose portable air conditioner.  You won't regret spending your hard-earned money on it.
Black+Decker BPACT08WT Portable Air Conditioner – Best Value for money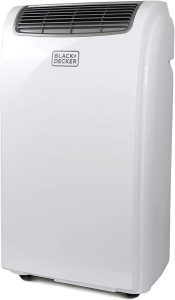 Black and Decker has been one of the most trustworthy brands for the Americans for decades. Models like this one uphold that trust with aplomb. This unit is equipped with a vertical ventilation system that allows it to offer a visibly better airflow. This gives it the ability to cool off your spaces in no time. Another unique selling point of the Black+Decker BPAT08WT Portable Air Conditioner is its 3-in-1 functionality. It boasts a cooling mode that will keep your room temperature comfortable in the summer, a fan mode when it's cold out there, and a dehumidification mode that comes handy in all seasons. It is equipped with a slide-out filter that you can easily remove and rinse under a running faucet. Then comes its self-evaporating operation which means that this unit will evaporate all its excess water, thereby requiring no buckets. The four wheels on which this unit sits make it ultra-maneuverable.
User critique
Some users of this model complained that they had issues with its dehumidifying function. Others complained that it can be loud at the highest fan setting. Not the 'wake-up-the-whole-neighborhood' kind of loud, but loud enough to sting your ears.
Pros
Easy-to-clean filter
Ultra-maneuverable
Sleep mode
LED digital timer
Cons
Might get loud at the highest setting
Final Verdict
All in all, this portable conditioner is a competitively priced unit. Its 8,000 BTs of power make it ideal for living room and larger common areas. Its 24-hour timer, sleep mode, and an all-function remote further exceed this model's reputation in our eyes.
Honeywell 300-412CFM – Cheap portable air conditioner under $200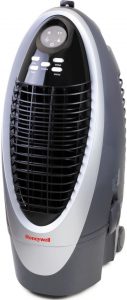 In case you are wondering, no corners have been cut to keep this model's asking price low. It offers a 3-in-1 functionality to let you use it as an air cooler, humidifier, and a fan. Its cooling might not rival that of some expensive models in this review. But it can still be enough for a small living space. That this is one of the cheapest portable air conditioners on the market doesn't mean you can't expect any worth-having features from this model. It is equipped with a front-facing lit display panel and has a separate control panel. You can take advantage of the latter to control this unit's functionality. Its carbon dust air filter removes dirt, dust, and other allergens from your indoor air. You also get a low water alarm for its 10 gallon water tank. There is also the energy-saving timer that reduces this model's running speed to reduce its energy consumption.
User critique
One user of this model complained about the loudness of its fan. That is a worth-noting complaint as, unlike your traditional portable ac, this one moves uses its fan to draw air that is hovering above its 10 gallon water tank. So the loudness of the fan is an issue.
Pros
Easy to use
Comes with a remote control
Front-facing lit digital display
Wheels make it easy to move
Final Verdict
As you might expect from a model that doesn't cost you to rob a bank, there are some issues with the Honeywell 300-412 CFM. However, unlike the cheapest portable air conditioners on the market, this product offers a bevy of features to belie its meager price tag.
Honeywell, MN12CEDBB 12,000 BTU Air Portable Conditioner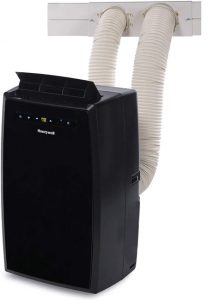 As a mere glance at its amperage and BTU numbers will suggest, the Honeywell MN12CEDBB Air portable conditioner is a powerful and fast-cooling appliance. We think it would be the best fit for larger rooms that are normally very hot or those that are located in dusty neighborhoods. Here's why. Similar to the Black and Decker filter we saw above, this one too has a slide-out air filter. There's no grill impeding the removal of the filter. All you have to do is grip the filter's handle and yank it out. This feature ensures that the filter – as well as your indoor air – stays clean. This unit boasts four-season capability as well. Apart from heating and cooling, it has a dehumidifier setting that will come to your rescue on a rainy day. It comes with a remote control using which you can turn this air conditioner on/off, set its timer, activate the sleep mode, and choose from 1 of the other 3 modes.
User critique
Compare this unit with other models in this review, and you'd find out that the length of its hose tends to be on the smaller side. That is the only complaint we imagine one can have with this portable air conditioning unit.
Pros
Quiet operation
Dual-hose efficient cooling
Digital control panel and display
Cons
Relatively small hose length
Final Verdict
When was the last time you came across a handy air conditioner that had an easy-to-clean filter, offered three running modes and had an ultra-quiet operation? If you don't work in the Honeywell factory, chances are that you haven't seen a model offering all the qualities as this one in ages.
LG Portable Air Conditioner
Available in three sizes, the LG Portable Air Conditioner is capable of cooling rooms ranging between 200 and 400 square feet. It comes with an auto-cool option and is equipped with multiple fan speeds. Its design ensures that air is circulated in a manner as to eliminate any hot spots in your room. That this unit comes with an auto-evaporation system means you won't have to worry about regularly emptying a water bucket. Also on offer is a 24 hour on/off timer which allows you to control this unit's operation even when you're away from home. Aside from cooling down your space, this model also acts as a dehumidifier. You can count on it to eliminate anywhere between 1.27 and 1.46 pints per hour depending on the size of the model you're going to buy. It also has an oscillating air vent to evenly churn out cool air.
User critique
Judging from this portable air conditioner reviews, users have two minor problems with this unit. First, they are of the opinion that it is heavy – a complaint that looks bulletproof once you look at its weight. Second, they believe it is noisy.
Pros
Programmable 24-hour timer
Multiple fan speeds
Auto-cooling function
Final Verdict
As one glance at the features of this portable unit will remind you, it has the plethora of features that users like you normally want to have in a quality portable unit.
Koldfront PAC802W Portable Air Conditioner
There are lots of reasons buyers with rooms of all sizes can find something to like in the Koldfront Portable Air Conditioner. It is available in three sizes, can churn out 8,000 BTU, 12,000 BTU, or 14,000 BTU, and has the ability to cool spaces between 250 and 500 square feet. This unit also comes with a remote control to make sure you can easily control its functions from your sofa. It lets you set a 24-hour timer and contains a digital display. It also works as a dehumidifier and is capable of eliminating up to 61 pints per day. Its Eco/Sleep mode is undeniably one of the unique selling points of this product. It increases the temperature of your room by 2 degrees an hour and maintains it for several hours. This functionality of the ac won't only let you enjoy a peaceful sleep but will also conserve energy.
User critique
Several users of this model complain that its single-hose functionality has taken a toll on this model's cooling ability. They gripe that even when they vent the hose outside, it still loses some of the heat indoors, causing a reduction in the AC's performance.
Pros
Digital display
Also works as a dehumidifier
Has a 24-hour timer
Final Verdict
All single-hose units require you to make special arrangements to vent them outside. This portable ac unit isn't any different. You should keep this fact in mind when deciding in favor of or against this product.
Frigidaire Portable Air Conditioner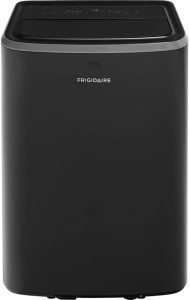 The Frigidaire Portable Air Conditioner will allow you to do much more than enjoy a comfortable living space. It comes with an anti-bacterial mesh filter that won't allow dirt, dust, and other environmental pollutants to set it. That is what allows this air conditioner to operate at maximum efficiency for long. Its ceiling-facing control panel with touch-controls is the epitome of user-friendliness. You only have to tap on it to activate the swing mode, set a ½ hour timer, and trigger the sleep mode. Also on offer is the 'mode' function that lets you choose between four modes – auto, cool, dry, and fan. Move towards the extreme right of the control panel, and you'd be asked to choose from one of the four fan speeds (auto, high, medium, low). Then comes the filter reset option which is followed by the on/off button. All in all, every option that you need to control this ac is right there on the control panel.
User critique
One very keen-eyed user has observed that this unit's ducting isn't insulated. That is a very good observation as the lack of insulation means that the hose will lose heat while transferring it out of the room. The resulting heat, then, will mess up with the conditioner's cooling. You might have to insulate the hose if you don't want to face this issue.
Pros
Touch-controls
Antibacterial mesh filter
Built-in timer
Final Verdict
Featuring touch-controls, three different fan, and cooling speeds, and an anti-bacterial mesh filter – not to mention the sleep mode and an easy-to-use remote control, the Frigidaire air conditioner has got most bells and whistles that users typically expect in a high-end product.
Portable Air Conditioner Buying Guide 
Are you aware of the features that separate the cheap portable air conditioners from the best room air conditioner? There's no need to worry if you don't. We're going to shed light on the factors using which you can get the best room air conditioner for your needs. 
Types of Portable Air Conditioner
Following are the types of these units:
Regular portable Air Conditioner
These devices are made for users who are looking for a standalone cooling device for their rooms. They have a hose that sucks in heat from your indoors, takes it through the air conditioner's compressor, and exhausts it into the surroundings. Such devices are ideal for large rooms. However, not all is hunky-dory about these devices. Most of them weigh a ton and the cheapest portable air conditioner makes a lot of noise. Their usage of a hose to exhaust air means you'd have little choice in their positioning. They require you to place them close to the window.
Pros
Best for large rooms
Easy to install
High rate of cooling
Ventless Portable Air Conditioner
Some users also refer to them as evaporative coolers. These are cheap portable air conditioners that suck hot air from your room, pass it over a bucket of water and then use the phenomenon of evaporation plus the cold air to cool down your room. But that's not all. 
Since these units always rely on a source of water, they add humidity to your indoor air. This is what separates them from your traditional AC that removes humidity. Hence the reason why, if you're using a Ventless unit, you might have little choice but to keep your windows open. 
Pros
Low running cost
Offer flexibility in placement
Eco-friendly
Cons
Make the indoor environment humid
Single Hose vs Dual Hose
As you have seen above, portable ACs are available in either single hose or dual hose configurations:
Single Hose
Most cheap portable air conditioners use single hose configuration. These units rely on the same exhaust hose to remove heat from your room and supply cold air to the compressor. Such units do cost less upfront but there's a catch you should know about. 
Their operating mechanism creates a negative air pressure inside the room where they are running. The negative air pressure, in turn, sucks warm air from nearby rooms through the gap in the window or seeps under the doors. That is why single-hose units aren't very efficient. 
Pros
Low upfront cost
Relatively lightweight
Dual Hose
As their name implies, dual hose units have two exhaust hoses. One of them sucks in hot air from the room and expels it outdoors. The other sucks in cool air from the surroundings and supplies it to the compressor to prevent it from overheating. 
Due to their design, these units tend to be bigger than their single-hose counterparts. But they justify the extra pounds that they have put on by doing a better job of cooling down enclosed spaces. Also, the issue of negative air-pressure is almost non-existent with these units.
Pros
Better at cooling
No vacuum-like effect
British Thermal Units (BTUs)
Most of you might already know that the number of BTUs an air conditioner might have decides the area in square foot it can cool down with ease. However, the question is, how many BTUs do you need for your room/home? Here's a rule of thumb to guide you as to what you should be looking for:
4,000 BTUs: Enough for 200sq foot area
10,000 BTUs: Enough for 500sq foot area
14,000 BTUs: Enough for 700sq foot area
FAQs
Q: How much electricity does a portable air conditioner use?
A: To calculate the electricity consumption of your portable AC, first calculate:
Amperage: It is mostly written on the package of the air conditioner. Consult its instruction manual if you can't find the amperage. 
Volts of electricity supplied to your home: Does your home receive 120v electricity or 240v electricity? Check out your electricity bill to find out. 
Once you have found out both these factors, use the following formula to calculate the electricity consumption of your portable air conditioner: 
Electricity consumed / hour (Kilowatt/hour) = (Amps * Volts /1000)
Q: Do portable air conditioners need to be vented?
A: As stated in the buying guide section, portable air conditioners need to be vented. That's because they suck heat from your rooms, cool it, and exhaust the cold air into the room and the moisture and remaining warm air into the surroundings. A vent is necessary for all this. 
Q: How to maintain a portable air conditioner?
A: Follow these tips to enhance the operating life of your model:
Clean its exterior regularly
Maintain and replace the filters on time
Don't let the exhaust hose get curled up
Store them in a shaded area and away from direct sunlight
Q: How long do portable air conditioners last?
A: Experts tell us that if you keep your portable air conditioner well-maintained, you can get as many as 15 years of service life out of it. You can get even more time if you don't keep it running all day and make sure that its cooling load is low. 
Q: Do you have to drain your portable air conditioner?
A: Most air conditioners that you see in this review come with an auto-evaporation system. That means they convert their condensate into cold air, thereby saving you from draining their water. Those that don't offer this facility do require you to drain their water several times a day if your ac usage is high. 
Summary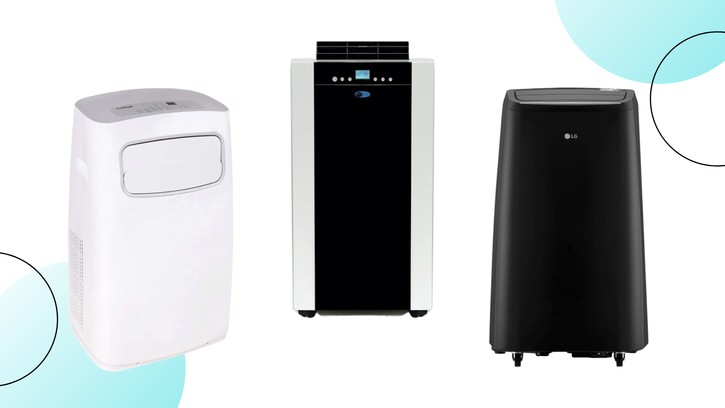 Article Name
Best Portable Air Conditioner Units
Description
The best portable ACs cherry-picked.
Author
Publisher Name
Publisher Logo