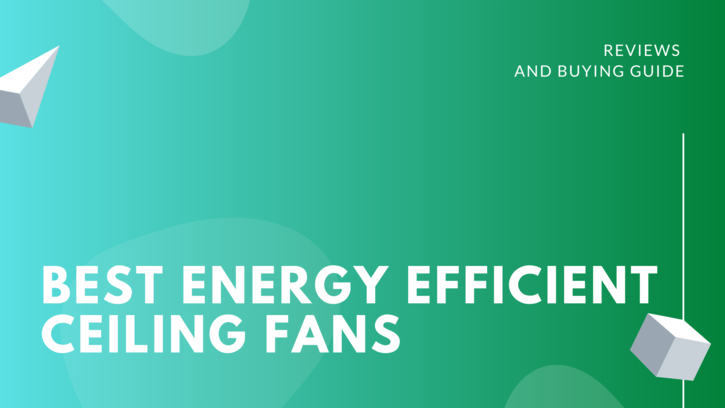 Everybody is looking for energy-efficient ceiling fans these days. They were once a luxury but have now become a necessity. The rising global temperatures and the periodic increase in electricity prices are to blame. But we aren't complaining.  
Apart from keeping our wallets bulky and our bodies sweat-free, the best energy efficient ceiling fans boast a reversible operation. They move in one direction (counterclockwise) in the summer and the other direction (clockwise) in the winter. This is what keeps them useful 365 days a year.  
To further sweeten the deal, their manufacturers equip these fans with the latest technologies and world-class motors. This allows these units to circulate air in your indoors quietly. So you can quickly (and comfortably) doze off with them running overhead. 
Minka-Aire F868L-ORB Sleek 60″ Smart Ceiling Fan – Best Overall
The Minka-Aire F8687-ORB is a smart ceiling fan whose price won't raise your eyebrows. Its oil-rubbed bronze finish makes it suitable for bedrooms and living rooms alike, and the slim and sleek blades of this model excellently complement its protruding profile. 
It takes full advantage of its 60'' blades by circulating 5655 CFM of air at the maximum speed setting. You don't have to worry about its energy consumption as well. That's because this model's contribution to your annual electricity cost will be in single figures.
Programming this model to be operated from your smartphone is a cinch. All you have to do is simply download the Bond Home skill app (for Alexa) or Bond Home Action app (for Google Home), follow the instructions and you can control its operation from your smartphone or smart home system.
The Sleek's design gives you the freedom to customize its looks. It does that by making its downrods available in 60'', 48'', 36'', 24'', 12'', and 3.5'' configurations. That means that you can use this model both as a hugger and as a traditional fan.
User critique
There are one or two aspects of this fan, which, although they don't affect its performance, have made its users uneasy. Most notable among them is the lack of LED button on the remote control. You have no choice but to open the app every time you want to do something with its built-in light. 
Pros
Compatible with smart home devices

Annual energy consumption in single figures

Huge airflow capacity
Cons
Remote doesn't let you control the LED
Final Verdict
The Minka-Aire F868L-ORB Sleek 60'' Smart Ceiling Fan is one of the most energy-efficient models on the market. But its excellent features don't stop there. This model is compatible with all the smart home devices you can think of, thereby making its operation a breeze. 
Hunter Fan Company Hunter 53091 52"Ceiling Fan 
Some energy-efficient ceiling fans you see on the market provide huge electricity savings but at the cost of airflow. Others do the opposite as they sacrifice energy savings at the altar of airflow. The Hunter Fan Company 52091 52'' Ceiling Fan is different. Here's how.
On the one end, this fan's energy consumption cost in dollars is in double digits. On the other end, it churns out a massive airflow of 3525 cubic feet. This means that the 53091 provides almost double the airflow of the next option on our list while having nearly the same yearly energy cost.
The good news doesn't stop there. This model also boasts a multi-speed reversible motor whose downdraft mode will keep sweat away from your body during summer. The updraft mode, meanwhile, will keep your indoors comfortable during winter. 
What's more, this fan doesn't pose any specific ceiling size to become useful. It comes with 2'' and 3'' downrods that let you adjust the fan's height based on that of your ceiling. This way it makes sure that the distance from the fan to the floor is optimum for maximum air movement.
User critique
Is there something about this fan that might compromise its performance? There isn't. But that isn't to say that everything is hunky-dory with this model. The absence of remote control in its package, for instance, is one thing that has troubled its users the most.
Pros
Huge airflow rate

Height-adjustable mounting

Reversible fan motor
Final Verdict
Nobody can deny the fact that this ceiling fan costs a fortune when compared with other models on the market. But that's where the bad news end. The Hunter 53091 has everything it needs to justify its otherwise high asking price. So you won't complain about its price tag once you start using it. 
Honeywell Ocean Breeze Ceiling Fan – Best Value
Unimpressed with the lofty asking price of the Hunter 53091? That's what we hoped. As it would help you appreciate more what the Honeywell Ocean Breeze offers in a budget. This fan is equipped with reversible blades that move in one direction in the winter and the other in the summer, remaining useful in both.
You might be pleased to note that its manufacturer has provided this model with two mounting options. Those of you with a standard ceiling can take advantage of the standard ceiling option. Others who have a sloped ceiling might want to give the angled mount option a go. 
Honeywell has also provided this model with two LED bulbs. Both of them are dimmable up to twenty percent and churn out 450lumens of bright white light. Their meager energy consumption of 4.5 watts means you can let them run all night without worrying about your electricity bills. 
Yet another notable feature of this model is its dual-finish blades. Both of their sides have a different finish to help you select one that best compliments your indoors. That the fan's material of construction is steel means you won't have any complaints about its durability.
User critique
As we were going through the reviews left behind by this model's users, we saw one complaint resurfacing constantly. Its users don't seem to be happy with Honeywell's choice of not providing a remote in its package. 
Pros
Has dimmable LED light

Meager power consumption

Dual-finish reversible blades
Final Verdict
When was the last time you came across a ceiling fan that offered so many bells-and-whistles? Especially one whose asking price was so affordable? Your own answers to both these questions might convince you that the Honeywell Ocean Breeze undoubtedly provides the best value for your money. 
Westinghouse Lighting 7861400 56-Inch Indoor Ceiling Fan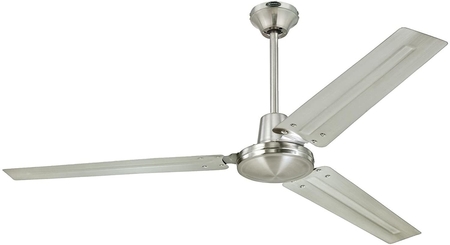 Have you ever come across an industrial ceiling fan whose energy consumption rivals that of the one running in your bedroom? That's what the Westinghouse Lighting 7861400 indoor ceiling fan claims to do. But do we believe in its claim? You bet we do. Here's why.
First of all, this model's yearly energy consumption is only a few dollars more than the ceiling fans we reviewed above. That should surprise you once you consider that its airflow (4,880 CFM) is higher than that of Hunter 53091 (3525 CFM) and Honeywell Bronze (997 CFM). 
After putting you off with its meager energy consumption and cooling you down with its massive airflow rate, this model aerates your room with its big 56'' blades. They are capable of mustering enough air for rooms of up to 18'-by-20' or 360 square feet in size. 
Next comes its five-speed wall control whose name conveys what it is supposed to do. Its brushed nickel finish blades complement most outdoor settings while the steel build of this model enables it to withstand the extremes of outdoor weather elements.
User critique
At least two users of this model have complained about what one of them referred to as the 'clunky looking' wall switch. They gripe that the size of the wall remote is huge and mars all the switch's attempts to blend in with its surrounding wall. 
Pros
Massive airflow

Excellent energy consumption

15-year motor warranty
Final Verdict
Aside from offering a 15-year warranty on the motor and a 2-year warranty on parts, the Westinghouse Lighting 7861400 industrial ceiling fan provides a rare-to-find combination of a massive airflow and meager energy consumption. What more can you ask for!
Honeywell Ceiling Fans 50195 Rio 54″ Ceiling Fan
The last three models you saw above have one shortcoming in common. They didn't come with remote control. You, therefore, have no choice but to get up from whatever you're sitting on, walk to the wall switch, and change the fan's speed. The Honeywell Ceiling Fans 51095 Rio 54'' ceiling fan is different. 
Does that mean that it comes with a remote control? You might have guessed it from the tone of the previous paragraph. And you were right. But you couldn't have predicted what's coming next: this model works with Alexa for voice control. Here's how this feature will benefit you. 
This ceiling fan has three speed settings, boasts a 'Smart Sync' mode for quick setup and has a 'Walk Away Light Delay' mode for when nobody is sitting underneath the fan. It also has two modes (updraft and downdraft) for summer and winter respective. All these features you can control via your voice.
Let us reiterate the last point to hammer home its significance. You no longer have to walk to the nearest wall switch or find and pick up the remote to control and activate all the features we just talked about. All you have to do is to say, "Hello Alexa," issue your command, and the fan would do likewise.
User critique
As you might guess for a model that comes with bells and whistles, the 50195 doesn't come cheap. It isn't the most expensive model on our list but it does come pretty close. That's the only complaint its users have about this feature-rich ceiling fan. 
Pros
Works with Alexa for voice control

Has a 'Walk Away Light Delay' feature

Boasts a quiet and reversible motor
Final Verdict
Did you roll your eyes after looking at this model's price tag? As long as your answer to this question is in the negative, we see no other reason why anybody might want to miss out on the offerings of the Honeywell Ceiling Fans 50195 Rio 54″ Ceiling Fan.
Harbor Breeze Mazon 44-in Brushed Nickel Flush Mount Indoor Ceiling Fan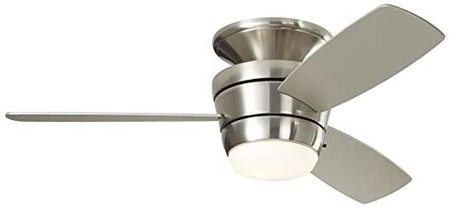 Here is another of those ceiling fans whose massive air flow rate does not affect their excellent energy consumption. Its quiet and reversible motor, the under 14'' pitch of its blades, and the latest technology powering it are the reason why. 
One feature of this model which you can't ignore is its reversible motor. It allows you to change the direction of the fan based on the season outside the window. This mechanism ensures perfect air distribution, whether it's sizzling hot or frigidly cold out there.
You get to maintain your ideal comfort level with the 3-fan speeds of this unit. You also get a built-in LED light whose dimmable feature guarantees your comfort.  The bright white light coming out of the bulb, meanwhile, goes one step ahead in ensuring the coziness of those sitting underneath it. 
The airflow rating and yearly energy consumption of this ceiling fan aren't any bad either. It moves around 2,069 cubic feet per minute of fresh air, enough to aerate rooms up to 100 sq. feet. The yearly energy consumption cost of this model, meanwhile, is the 2nd best of all models in this review.
User critique
One user of this model noted that the included LED light isn't bright enough. They also highlighted what they think is the reason. The frosted LED cover that shades the light isn't translucent enough, thereby shielding all the rays from getting through it. 
Pros
Dimmable LED light

Low power consumption

Huge airflow
Final Verdict
The Harbor Breeze 44'' Brushed Nickel Flush Mount Indoor Ceiling Fan might not churn out enough light to let you read small font texts underneath it but it does everything else that most people consider to be the main job of a ceiling fan. 
Big Ass Fans Haiku L Smart Ceiling Fan
What was the first thought that came to your mind on seeing this ceiling fan? Most people might have looked at its huge profile, read that its blades are 52'' and have deduced that this fan's energy consumption cannot be low. That assumption is simply not true. 
The Haiku L Smart Ceiling fan is equipped with a patented EC motor which allows it to use a fraction of energy compared to other 52'' fans. Its permanent magnet technology also places a bottom pressure on its power consumption. That's why it draws only 18.9 watts from your mains. 
What's more, despite having an exceptional airflow rate of 5,604 cubic feet per minute, this model produces less than 35 dBA noise at maximum speed. Its precision-matched airfoils give the fan the optimal balance to help it operate in a whisper-quiet manner. 
You might also find it good to know that it comes with built-in LED bulbs. All 16 of them have a life expectancy of 50,000 hours and churn out 988 lumens at the brightest setting. You can compare their brightness to a 65 watt incandescent light bulb.
User critique
The only complaint we or any potential users of this ceiling fan might voice about it is its astronomical asking price. You can add up the prices of the remaining six models in this review, and the resulting amount would still be less than the Haiku L's price tag. 
Pros
7 fan speeds

Three operating modes

Comes with a timer

Smart operation
Final Verdict
Aside from offering everything we have discussed above, the Haiku L boasts a smart operation. It lets you control its working with its manufacturer's smartphone app. You can also customize its settings with Amazon Alexa and Google Assistant for voice control. Little wonder, then, that it costs so much.
What to consider when buying an energy-efficient ceiling fan?
Here are some of the questions you need to ask yourself before you start searching for a fan:
How much energy do ceiling fans use?
The energy consumption of ceiling fans can be determined by looking at their energy guide. It is a small document that accompanies fans of reputed manufacturers and lists out the 'estimated' annual energy consumption of the fan. All the fans you saw above come with one.   Having said that, you cannot obviously select the fan with the smallest size if you're going to need it to aerate a large room. The fan's airflow just won't be enough. This means that when looking at a fan's energy consumption, you need to have one size on the size of your room. Here's how:
< 42'' ceiling fan:

 For very small rooms

Up to 52'' ceiling fan

: For an average size bedroom

> 52'' ceiling fan

: For a master bedroom or a TV lounge
What is its CFM (cubic feet per minute) rating?
Also known as its airflow rating in common parlance, a fan's CFM rating determines how much air it will circulate in its surroundings. The higher the number, the more air the fan will be moving. Standard ceiling fans boast the best CFM ratings. Low-profile (or hugger) models don't. 
What is the fan's airflow efficiency?
Any fan's airflow efficiency can be calculated by dividing its input over input. The input will be the energy consumed by the fan while the output is CFM or airflow. Make sure that when making the calculation, the final unit of both the readings are similar. 
For instance, as you're measuring the airflow in minutes, you also need to have the reading of electricity consumption in minutes. Only then will you get an accurate picture of the amount of electricity the fan will consume from your grid. 
Does the fan has reversible motor and blades?
Fans that offer this feature don't just settle for remaining useful in the summers and winters. They also justify their high asking price by saving energy. You can save up to 40% on electricity costs if you run your fan in counterclockwise direction in the summer. The saving costs in winter may touch the 10% mark if you run your fan in the clockwise direction. 
What is the fan's blade pitch? 
The fan's blade pitch – the angle of the blades at which they move the air – play a crucial part in determining its efficiency. If your fan has a relatively flat blade pitch (between 10 and 12 degrees), it would need less power to drive its motor and reach high speeds. 
On the flip side, models whose blade pitch is 14 or 15 degrees require a bigger motor to aerate larger rooms. But there's more to the blade pitch than its impact on energy efficiency. It also determines how quiet (or otherwise) your fan will be at higher speeds. 
Fans with a flatter pitch tend to produce more noise at higher speeds than those that have a steeper pitch. You may need to keep this fact in mind if you're a light sleeper. Otherwise, you may end up with an energy-efficient model whose noise will keep you up at night.
How quiet is the ceiling fan? 
After going through the previous question, you may be thinking that there's an either/or relationship between a fan's blade pitch and its noise rating. That you can either opt for a model that is more energy-efficient or you can get a fan that operates quietly at higher speeds. 
That impression isn't accurate. Energy Star would have been out of business if that was the case. The best energy-efficient ceiling fans offer you the best of both worlds (flat pitch, low noise at high speeds). You can make sure of that by checking their noise level (dB) rating.  Here's how: 
10 dBA

: Breathing

20 dBA

: Light wind in trees

30 dBA

: Low-voice conversation

40 dBA

: Running refrigerator

50 dBA

: Running washing machine

60 dBA

: Normal conversation

70 dBA

: Vacuum cleaner

80 dBA and above

: Extremely noisy
Summary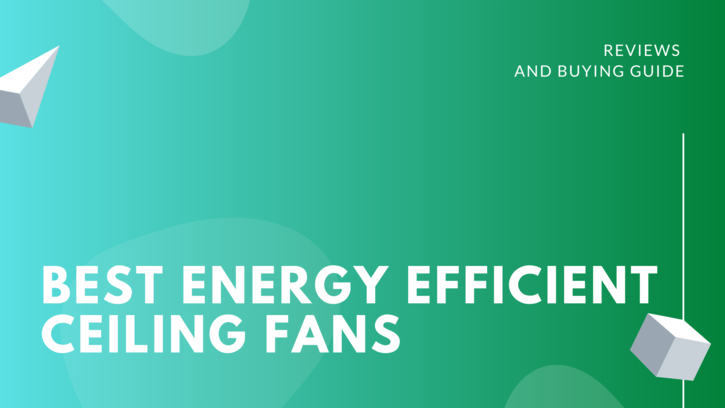 Article Name
7 best Energy Efficient Ceiling Fans
Description
We reviewed 7 of the most energy-saving ceiling fans. These models are not only about providing great airflow but also focuses on efficiency.
Author
Publisher Name
Publisher Logo