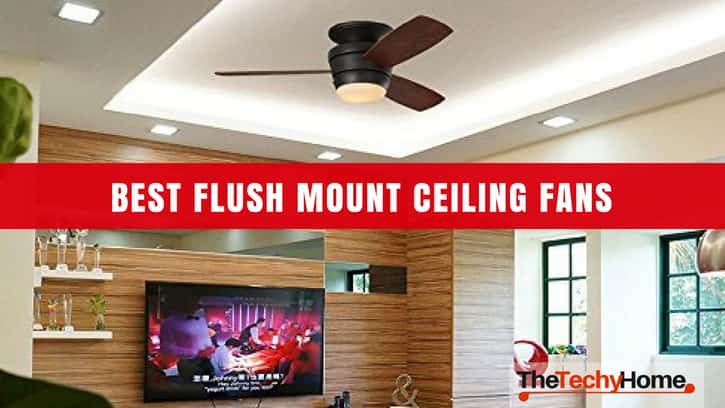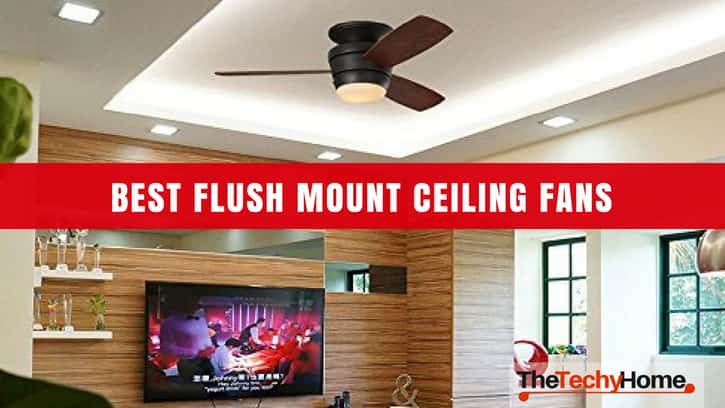 There are different types of ceiling fans. You can choose from all of them the one that best suits your needs. Flush mount ceiling fans are made for making the air circulate in a room. But each model has a variety of features. These features can go from size and height to styles and accessories. The chosen model will always depend on the customer's final decision.
The flush mount ceiling fan's purpose is to push air around a room and they are ideal for both cooling and heating. But you have to be careful when choosing a ceiling fan because you have to pay attention to the place you want to put it. If it is a big or small space, if you want an outdoor fan, if you want a damp-rated or wet-rated fan and if you want a specific style with a specific color range.
There are many styles from modern to old-fashioned flush mount ceiling fans. Right now let's see some types with different features:
Flush Mount Ceiling Fans With Light
Most of the flush mount ceiling fans have lights. There are different types of lights such as traditional or LED. There are also different sizes or even brands.
[supsystic-tables id=22]
Harbor Breeze Mazon Brushed Nickel With Lights And Remote.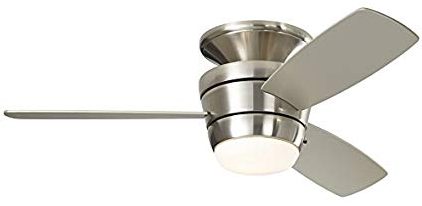 If you don't want to be changing the speed manually, this ceiling fan is ideal for you because you will have a modern flush mount with its light kit and also the remote. It only has one light source with an 18-watt LED bulb to bring good illumination to your room.  Its installation fits with low ceilings.
Its shape is 44 inches; this means that is ideal for rooms between 144 to 255 square feet. It has a traditional design but with a contemporary touch, with its compact mid-body layout, it fits very well for medium or small spaces.
If you are looking for a modern flush mount ceilingthis is the ideal for your, with its brushed nickel that follows today's décor trends. It also includes a motor with 3 reversible speeds that you can control with the control: low, medium and high. The airflow provided by this ceiling fan is up to 4,545.
If you are in the room you can also operate the lights with the control. It is good for both cooling and heating. So, you can use it either in the summer or in the winter. This flush mount ceiling fan will give a new style to your room.
Check the price
Read Customer Reviews »
Revel/Kira Home Gage Semi-Flush Mount Ceiling Fan Black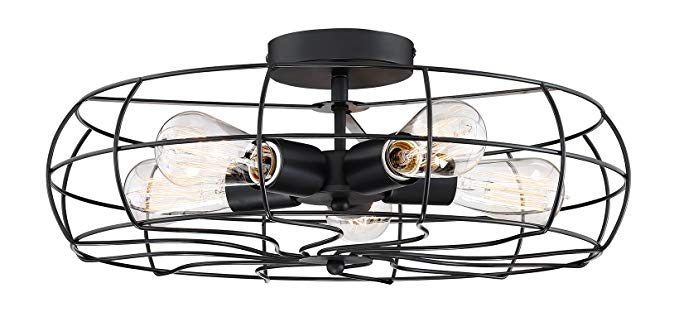 With its matte black finish, it gives the vintage touch to your room. Its dimensions are 18.5-inch (D) x 4.5-inch (H). Ideal for small places in different areas of your home such as the kitchen, living room, hallway, etc. It is a very unique piece that has a rustic touch on it.
This semi flush has a 5-light capability surrounded by an industrial cage that can be not only matte black but also brushed nickel. Uses LED or CFL bulbs (also up to 60W bulbs), but it depends on the brightness you need for space. It matches perfectly with other decors.
Check the price
Read Customer Reviews »
Mazon Oil-Rubbed Bronze Flush Mount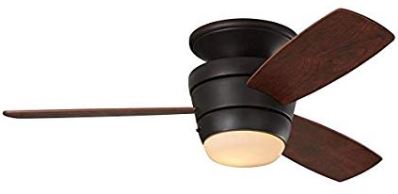 This 3-blade ceiling fan is perfect for your modern décor. With 44 inches, it is ideal for rooms 144-225 square feet which means small and medium rooms applications. It's oil-rubbed bronze colors have the perfect balance to a color range of browns, whites, beiges, blacks and other colors. It can be used in the bedrooms, kitchens, living rooms, etc.
It includes a motor with 3 reversible levels of speed so if you get tired of one you can pick up your remote control and reverse them. It moves a nice amount of air. The control remote also is used to control the needed brightness. Includes one 18-watt LED module light kit that you don't have to change. Its electricity uses 58 watts. Ideal for indoors.
It doesn't bother when sleeping because it is exceptionally quiet and no rocking. Also the installation is very easy, it takes less than one hour. It has no chains and its design is very compact.
Check the price
Read Customer Reviews »
Minka Aire Flush Mount Modern Ceiling Fan, White
Its white color gives your trend décor the final touch. It can also be found in brushed nickel, oil-rubbed bronze and polished nickel finishes. Made by metal, glass and plastic and featured with 3 white finish molded ABS blades that moves the air in an expected way either if you want to cool or heat the room. It is ideal for rooms with low ceilings with a contemporary style. It can be used for home or office.
Its 52-inch blade span which is the right size for medium to large rooms (225-400 square feet). The type of bulb is LED and is bright enough to read. With an airflow of 3,759 cubic feet per minute, it will maintain your room fresh and features with three speeds: low, medium or high.
The most remarkable feature of this fan is that you have the option to go with or without the light. It also runs silently and is very stable. The installing process is very easy.
Check the price
Read Customer Reviews »
Kalri Industrial Ceiling Fan Chandelier Pendant Light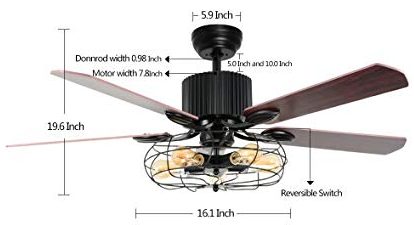 This 52-inch semi-flush mount ceiling fan has 5 lights (without bulbs included) and also features with the classic 5 blades. Gives a natural air flow because is low power for environmental protection. It is very quiet and stable. Ideal for rooms between 107-215 square feet like small rooms at home, office or even restaurant.
With a vintage-retro style it will give your décor an old fashioned style. With the 5 lights, you can get the needed illumination, the recommended power per bulb is between 20-60 watts. It is also 30 days' guarantee if you aren't satisfied with this product you can send it back for refund or replacement. The colors of this fan can be picked between black and bronze. With a premium wood leaf material that will fit your parquet floor perfectly.
The installation process is very easy. And also it is ideal for saving power and money.
Check the price
Read Customer Reviews »
Flush Mount Ceiling Fans Without Light
Fans can also be ordered without light. They cost less than fans with light so homeowners can save money and at the same time they can maintain the house's planned illumination. Sometimes the people are just looking for saving money while they can cool or heat their house. And they don't really need the lights on the fan. This is why it is important to know some flush mount ceiling fans without light.
Hyperikon Brushed Nickel Ceiling Fan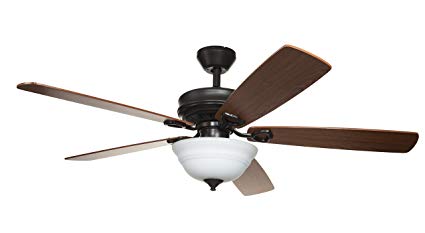 This ceiling fan has five blades. These are reversible so you can change them choosing between sandalwood and dark walnut finish (4 different colors). It an airflow of 4,450 CFM very useful to both cooling and heating the air. You just have to use the switch housing to use the feature. It also counts with three speeds: high, medium and low.
Another accessory is the remote control that comes with this fan. This will allow you to increase or decrease the speeds from anywhere in the room. With brushed nickel finish, this 52-inch ceiling fan will add a modern touch with technology to your room or home. Ideal for medium and big rooms (225-400 square feet) with an airflow efficiency of 71.79 CFM/W that provides the needed heat or cools depending on the season.
It counts with three mounting options: flush mount, downrod mount and angles mount for different types of ceilings (low, high and up to 15-degree angles). It also has a 5-year unlimited warranty. With wood that will suit your trendy décor. It also features with blades that you can flip and change the finish of them.
Check the price
Read Customer Reviews »
Honeywell Palm Island Tropical Bronze Ceiling Fan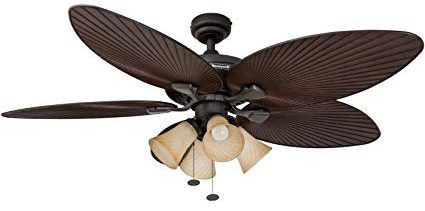 This exotic fan is perfect to suit your tropical décor. Ideal for both indoor and outdoor spaces. It features with five blades shaped in the form of big palm leafs to give that "tropical" style. The bronze color adapts to a range color of white, brown, beige, black, etc. But it is not only a unique piece but also has different features.
With a shape of 52-inch it is perfect for medium and big spaces, even open spaces. It also has different mounting options: standard mounting, angled mounting, close mounting. Depending on your ceiling you will need the different types of mounting. It counts with different speed options because of its powerful motor that is also reversible for both heating or cooling. It is also very easy to install for you to start relaxing and enjoying the indoor or outdoor spaces with good décor.
It has pull chains to control the speed settings. But, for more comfort, you can use the Honeywell ceiling fans remotes to control the airflow in the space. It comes with limited lifetime warranty.
Check the price
Read Customer Reviews »
Hunter 51059 Ceiling Fan for small rooms
This 42-inch flush mount ceiling fan is ideal for small room shape. It comes in different colors but one of the most looked for house owners is the white model because it fits different types of décor. The other color you can find is pewter. It counts with five blades that are also white. It is perfect for indoor spaces.
It is low profile IV. Ideal for an 8 to 7-foot ceilings. It is very quiet and compact because it has a whisper-quiet reversible motor. You just have to downcraft for cooling and updraft for heating. It was made to adapt to very small rooms. Combines design with technology. Ideal to decrease cooling and heating costs. With 2,902 CFM airflow, it brings the needed flow of air in the space with three different speeds.
It will give a modern and clean touch to a trendy decoration.
Check the price
Read Customer Reviews »
Casa Orbitor Flush Mount Ceiling Fan No lights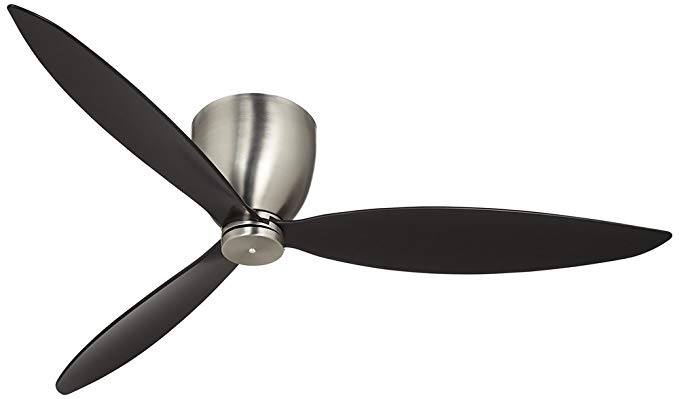 This 52-inch fan is made for bringing fresh to the spaces during the summer or the winter. It is made specifically for the big rooms. Its brushed steel is perfect to match with a modern décor and furniture. So, if you and a contemporary style without lights this is the right fan for you.
Its silver color adapts to different color ranges. It features with 3 ABS molded blades that are made to bring the needed airflow to large sized rooms. It also includes one important accessory: the wall control.  This is very important to increase the comfort of this flush mount ceiling fan because it is not necessary to use the typical pulling chains to control the speed.
It is perfect to save money related to cooling or heating costs. Also, for more saving, is important to turn it off when leaving the room.
Check the price
Read Customer Reviews »
Windspun Walnut Nickel DC Hugger Ceiling Fan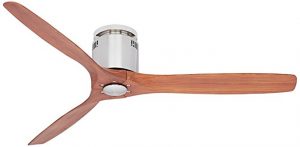 This very modern fan has a brushed steel finish that mixes modern with technology. It is 52-inch so it is perfect to large sized rooms at home such as living room, bedrooms, hallways, dining rooms, etc. It will be the first topic on your guest's list because it is very impressive. Combines the silver color with the walnut.
It counts with three blades that bring the airflow needed with the 5-speed control remote. It features also with a very huge motor of 165x16H DC. It doesn't have the light kit. It brings the possibility to give fresh air during the summer but also has a heating feature you can change during the winter.
There are different tastes while choosing a flush mount ceiling fan between the house owners. It is important to pay attention to the ceiling fan's shape, height, blades, styles, finishes, accessories and types of installation. Also is good to know the airflow and motor's quality. If you want to add some brightness to the room you will need the fans with light but if you want to save money without changing your light plans you can choose a no light fan.
Check the price
Read Customer Reviews »
Summary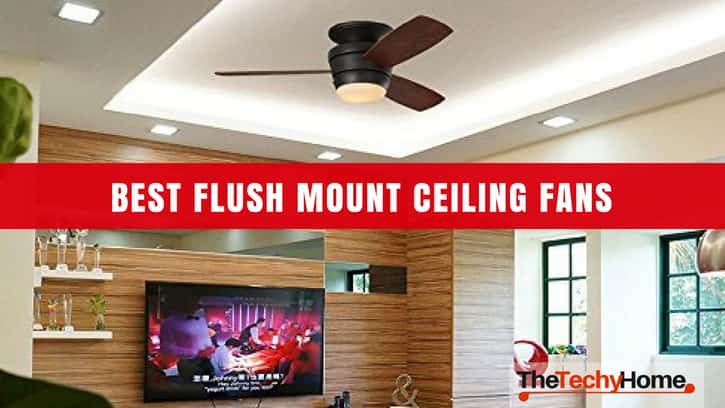 Article Name
Best Flush Mount Ceiling Fans
Description
Best Flush Mount Ceiling Fans
Author
Publisher Name
Publisher Logo