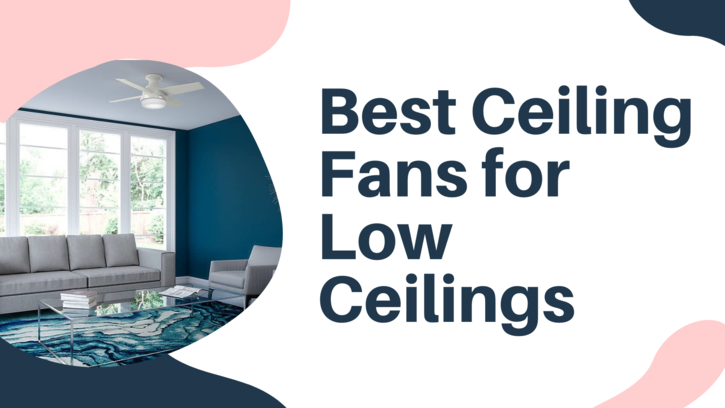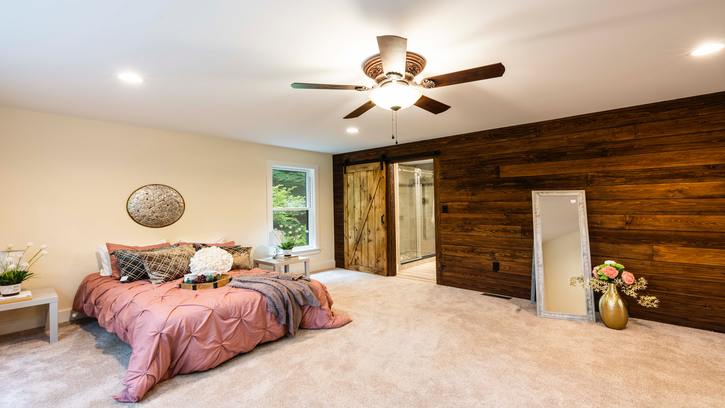 Most people feel lost when they visit the market to shop for a low profile ceiling fan. Phrases like blade pitch, blade span, Energy Star rating, etc. send their mind into a tizzy. And they still have to answer multiple questions like: Big or small? Number of blades? Wall control or remote control?
All this technical jargon might overwhelm you if you have never bought a ceiling fan before. But you cannot skip it if you want to make the best ceiling fan choice possible. These factors play a crucial role in making sure that you get the most out of your model. 
Not sure you can do all this? Then you've certainly arrived at the right place. Here you'll find everything you need to know about hugger ceiling fans. We have also rounded up the seven best ceiling fans for low ceilings. You've literally got everything under the same roof. 
Best fans for low ceilings review
Hunter Dempsey Indoor Low Profile Ceiling Fan – Best Overall
Multiple features of Hunter Dempsey Indoor Low Profile Ceiling fan justify its selection as the best among its peers on the market. Its cased white glass casing and contemporary looks enable this fan to complement most interior decors with aplomb.
This modern ceiling fan features a multi-speed reversible motor. The downdraft mode will come handy during the summers, whereas the updraft mode keeps indoors comfortable when it's frigid out there. Its remote control lets you adjust the speed of the fan.
You might find it pleasing to note that this model is backed with a lifetime motor warranty. It boasts an airflow efficiency of 69 CFM, which is enough for most with ceilings between 8 foot and 9 foot. The built-in LED-light of this model is dimmable via remote to give you full control over its brightness. 
User critique
One user of this model has taken an exception with its installation instructions. They complain that the installation instructions do not explain the purpose of the balancing kit. So you'd have to undertake a hit-and-trial method to figure out what it does. 
Pros
Dimmable LED

Reversible fan motor

Limited lifetime motor warranty
Final Verdict
There aren't many low-ceiling fans on the market that offer multiple dimmable LEDs, a reversible fan motor, and a universal handheld remote. Aside from offering all of that, this model backs its motor with a lifetime warranty as well. What more can you ask for!
Prominence Home 51429 Benton Hugger/Low Profile Ceiling Fan – Best Value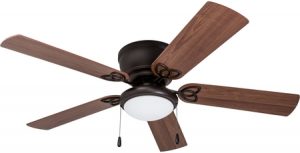 One of the defining features of the Prominence Home 51429 Benton Hugger Ceiling Fan is its affordable asking price. You can get almost two of these for the price of one Hunter Dempsey fan that we reviewed above. But that doesn't mean that this unit has cut any corners to keep its asking price low.
Need proof? It is equipped with a frosted globe and LED whose 3000K color temperature and 80 CRI (color rendering index rating) enables the LED to emit light that is close to midday's. This is the light that is best for multiple applications, including work, sporting activities, etc. 
You can also count on this model to cut down on energy costs in the winter. That's because it features a reversible fan motor that will aid in the rotation of warm air in winters. You can get this product in either walnut or chocolate maple blade finish and install it in less than an hour. 
User critique
While going through the reviews of this model, we found two users making the same complaint. Both were adamant that the output of its frosted light is dim. However, there was that another user who complained that it was so bright that it put a glare. So both these points contradict each other. 
Pros
Easy to assemble

80 CRI light

Reversible motor
Cons
The light might feel dim to some users
Final Verdict
Having said everything that is there to say about this ceiling fan, it should be clear by now that it is a competitively priced model aimed at budget-minded users. Hence the reason why you don't get the 'nice-to-have' features like a remote control in its kit. 
Hunter Fan Company 59243 Hunter 44″ 
One glance at the Hunter Fan Company 59423 Hunter 44'' low ceiling fan is enough to convince that it is designed for the modern homes. The black blades of this hugger alongside its energy-efficient LED light bulbs enhance the ambiance of most newly built homes. 
There's more to this fan than its futuristic looks. It is equipped with a multi-speed reversible fan motor that keeps it handy 365 days a year. The motor's downdraft mode comes handy in the summer (by circulating cold air) and its downdraft mode keeps winters comfortable (by circulating warm air).
Add to the equation its universal handheld remote – which lets you adjust the fan's speed and the brightness of its dimmable LED bulbs, and you have got a model that won't only keep your surroundings but also your life comfortable. As you won't have to go to the wall socket to adjust its speed.
User critique
One glance at its user reviews was enough for us to know that this unit doesn't operate in silence. Two reviewers complained that its humming noise, while not downright unbearable, was audibly higher than other, non-Hunter fans in their life.
Pros
Remote controlled

Multi-speed reversible motor

Dimmable LED light bulbs
Final Verdict
Aside from boasting a fashionable design, this
super low profile ceiling fan
has the features as well as the performance to be a must-have for newly built homes. Sure, its price is a bit high, but Hunter softens the blow on your pocket by offering a lifetime warranty on the motor.
Prominence Home Alvina Ceiling Fan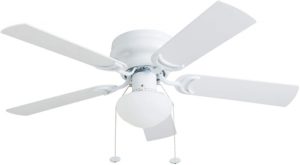 Most people go for low-profile ceiling fans for one of two reasons. Either they need extra space in their rooms or their ceilings hang low. The 42'' blades of the Prominence Home Alvina Ceiling Fan justifies its selection on both counts. You can easily install it in the most cramped of rooms.
One feature of this ceiling fan that surprised us in a good was its reversible fan motor. We were surprised because this model's ultra-low asking price convinced us that it wouldn't offer any bells and whistles. We were wrong. It has enough features to compete with any astronomically priced unit.
Other models you see on the market only offer a reversible motor. This one goes the extra mile. It offers reversible ceiling blades to let you select (and mount) that side that best complements your room's interior décor. You get a pull-chain to turn it on/off, and it works with universal remote controls. 
User critique
Corners have been cut to keep this model's asking price low. We were made aware of this fact as we were going through its user reviews. It doesn't come with remote control, and the LED included in its kit isn't bright enough for at least two of this fan's users. 
Pros
Whisper-quiet

Has pull-chain

Reversible blade design
Cons
Doesn't come with remote control
Final Verdict
All in all, this low-profile hugger is a competitively priced unit that punches above its meager price tag with features like a reversible motor and double-sided blades. Although it asks you to buy the remote control separately, even then, its asking price remains extremely low. 
Harbor Breeze Mazon Flush Mount Indoor Ceiling Fan
The Harbor Breeze Mazon Flush Mount Indoor Ceiling Fan is a contemporary take on the traditional ceiling mounted fan. Its compact dimensions, easy-flowing exterior and shiny blades enable this model to sit perfectly in most small or medium rooms, as well as office settings.
Yet another benefit that this model offers is its dimmable LED light kit. The 18W bulb that you get in its package provides ample brightness to lit-up most small and medium-sized rooms. The fact that it is dimmable means you can regulate its output based on your needs. 
To further sweeten the deal, this unit offers the best of both worlds. On the one end, it offers a remote control to let you regulate its output from your comfort zone. On the other end, you also get a wall cradle to house the remote. You also get a reverse air-flow option and three fan speeds. 
User critique
One very annoyed user of this model has more than a few words to say about its remote. They weren't happy that the remote comes in a beige color, as according to them, it doesn't sit well with most walls. The quality of the remote that sits on the wall was also questioned. 
Pros
Stylish design

18W LED bulb

UL Safety certified
Cons
Average quality of the remote holder
Final Verdict
The Harbor Breeze Flush Mount Ceiling Fan isn't aimed at the traditional buyer. Both its fashionable looks and sleek-layout make sure of that. That means that only those of you who want to spice up your room's or office's interior décor might like to have a go at it.
Portage Bay White West Hill Ceiling Fan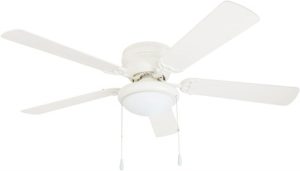 Are you looking for the lowest profile ceiling fan available? Then you'd appreciate the fact that the Portage Bay White West Hill Ceiling Fan measures a mere 11.5 inches from ceiling to the bottom of its light fixture. That means it won't pose a safety hazard on the lowest of ceilings. 
Turning our attention to its light, the LED bulb is protected with a frosted case and is dimmable from 100% to 10%. Its maximum output of 600 lumens and a 200-degree beam angle is more than enough to illuminate common size spaces. You can even replace the LED bulb with a CFL bulb. 
Aside from that, it is equipped with a reversible fan motor that lets you change the direction of the airflow based on the temperature out there. A matte black finish enhances its dual-side blades on one side and walnut finish does the same on the other. 
User critique
A couple of very annoyed users of this product raised questions about the quality of its built-in LED light. One of them stated that its output was as bright as a candle. The other complained that since the bulb-holder is rated at 6.5W, they cannot use replace the supplied bulb with a more powerful one. 
Pros
Easy-to-install

Reversible blades

Replaceable LED bulb
Final Verdict
Whether you have a small, medium or average-sized room, this 52'' low-profile ceiling fan from Portable Bay will aerate it brilliantly. The issue that we have highlighted about its light can simply be cured by installing a more powerful LED. 
Hunter Fan Company 53327 52'' Low Profile Ceiling Fan
Thanks to its 52'' blade span and a low-profile design, the Hunter Fan Company 53327 52'' Low Profile Ceiling Fan will aerate large rooms in your home without overwhelming them. Its bronze finish and three-LED design allow this model to enhance your room's ambiance further. 
You have two options to regulate the fan's speed and one option to optimize its brightness. Both the pull-chain as well as the remote control let you increase/decrease its speed at will. But you'd have to turn to the latter if you aren't satisfied with the brightness of its 3LED light kit. 
Another notable feature of this product is its WhisperWind motor. It boosts 3-speed settings and is reversible to make sure that the fan remains useful around the year. The motor also delivers whisper-quiet performance, meaning you can sleep comfortably with the fan running over your head. 
User critique
What is that one area where its users think this model could have done better? We dived into the reviews and found out that one of them wasn't impressed with its installation procedure. Their tone suggested that it took them quite a while to get this model up and running. Aside from that, we didn't come across any major complaints about this unit. 
Pros
3-LED light kit

Pull chain control

Classic looks
Cons
Installation might take some time
Final Verdict
There aren't many ceiling fans manufacturers out there that enjoy as good a reputation among their users as Hunter Company. Models like this are the reason why. Its whisper-quiet performance, 3LED light kit, and classic looks make it a must-have for most rooms. 
What to consider when buying a low-profile ceiling fan?
Here are some of the questions you need to ask before you start searching for a fan:   
Which size ceiling fan do I need?
  First thing first, the size of the ceiling fan is measured from the tip of one blade to that of the other. For instance, a 42'' fan will measure 42 inches from one blade tip to the opposite tip. A bigger blade size means that the ceiling fan will aerate a larger area.  Here's how you can select the ceiling fan's size based on the size of your room:
If you have a very small room

: Up to 42'' ceiling fan

If you have a moderately small room

: Between 42'' and 48''

If you have an average-size bedroom

: Up to 52''

If you have a large bedroom or living room

: Between 52'' and 56''

If you have a TV lounge or large living space

: 56'' and higher
What is the size of the downrod?
  Make sure that the size of the fan's downrod is such that the distance between the floor of your room and the blades of the fans is not less than 7 feet. Otherwise, the fan might become a 24*7 hazard as your head might collide against its blades  Use this list to select the size of the fan's downrod:
9' ceiling

: Up to 12'' downrod

10' ceiling

: Up to 18'' downrod

11' ceiling

: Up to 24'' downrod
Where do you intend to install the fan?
  Here's how answering this question will influence your selection:  
  Provided you're going to install your fan in one of the rooms, your best choices are UL Dry-rated fans. These models are made of furniture grade wood and last for decades. 
Aside from that, indoor fans are available in a broad range of designs, sizes and color patterns. You can easily select one according to your taste and requirements.     
  If the area where you're going to install remains wet most of the time, you need to go for a model with a UL Wet rating. Such fans can withstand intense showers, ice and even snow.
Conversely, if you intend to mount your fan in a humid (but covered) porch, those fans that come with UL Damp rating will serve you well. They can withstand moisture and humidity with ease. You can also choose a low profile ceiling fan without light for the outdoors.     
Will you need a light?
  If that's the case, you have three options: 
LED lights have a shelf-life of 25,000 hours and draw minimal power from mains. They are also cool-to-touch after use and can last for as many as ten years with proper maintenance. 
The running cost of LED lights is also the lowest of the three lighting options that you see in this review. Their only downside is the slightly inflated upfront cost of these lights.   
In stark contrast to the negative press that they receive, fluorescent lights aren't exactly power-hungry. These models consume less power than incandescent lights and consume only 15% more than LED lights. 
The operating life of these lights isn't too bad either. On average, CFL lights last 8,000+ hours with proper maintenance. That might be less than that of LED lights, but it's still almost equal to the next option on our list.  
One of the reasons why we never recommend halogen bulbs to our readers is their power-hungry nature. Whereas an average LED bulb draws 8W of power, its halogen counterparts consume a whopping 90W.
You might be surprised to know that the shelf life of these models is less than half (10,000 hours) to that of LED lights. Halogen bulbs also contain harmful chemicals, thereby posing a safety hazard.     
How do you wish to control the fan's movement?
  Ceiling fans for small rooms with low ceilings will give you one of these four options: 
Remote control

: This option is extremely convenient as it allows you to increase/decrease the fan's speed and turn it on/off from your comfort zone. Provided your model comes with a built-in light; you can even use the remote to increase/decrease the light's output.

Wall control

: The wall control option is best for families with small kids or those homes that have pets loitering around. It is more failure safe and unlike your remote control, you can never misplace something that is mounted on the wall.

Pull chain

: Ceiling fans that are designed to be mounted in guest rooms come with a pull chain for added convenience. However, we can see the reason why some people are against pull-chains as they'll look out of place in a dining or living room. 

Reverse rotation

: Ceiling fans with a reversible motor are equally handy in summer (when they circulate cold air) as they are in winter (when they move about warm air). That way you can keep on using your ceiling fan 365 days a year. 
What is the blade pitch?
  Knowing the blade pitch – the blade's angle as they move the air – is crucial. It tells you how powerful or otherwise you need the motor to be. For instance, if your fan has a relatively flat blade pitch (between 10 and 12 degrees), it would reach high speeds without requiring an extremely powerful motor.
Conversely, if the blade pitch is higher than 14 or 15 degrees, the fan will require a bigger motor to achieve higher speeds. Also, while the fan with flatter pitch would get overworked at high speed (and may produce more noise as well), that won't be the case with a steeper pitch fan as long as its motor is powerful enough.   
Summary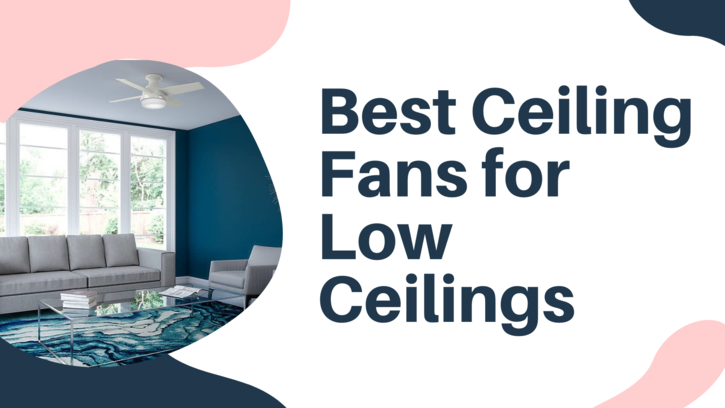 Article Name
Best Ceiling Fans for Low Ceilings
Description
Discover the best deals of ceiling fans from all the major brands in one place so you can bring cool breezes and a modern look to your home.
Author
Publisher Name
Publisher Logo