This series aims to discuss some of the top Harbor Breeze ceiling fan models available online today and highlight the core benefits and disadvantages of each model through precise Harbor Breeze ceiling fan reviews.
These fans are designed to provide a touch of contemporary elegance and an antique look either indoors and outdoors, which is one of the main features which makes each of the units unique in its own way. Each of the 7 models which would be reviewed herein are discussed under each section below.
Harbor Breeze Ceiling Fans Reviews
Harbor Breeze Mazon Ceiling Fans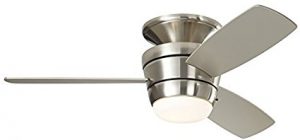 Check the price
Read Customer Reviews »
Being the first of the series of Harbor Breeze ceiling fan in this review, we've certainly chosen this product due to its beautiful appearance and its inclusion of 18 Watt LED modules for a 44 inch fan. Not only are the lights dimmable but it also comes with a 3 speed motor and a remote controller which makes operation a breeze.
The secret to its plywood blades lies in the fact that they are finished with silver and brushed with nickel and as its complimented with an opal glass light kit its capable of illuminating a room of up to 225 square feet in addition to blowing a fresh breeze of air around as well.
Its flush mount design makes it ideally suitable for low ceiling environments. Although certain users have pointed out that this model tends to give a slight humming noise from the motor, its most of the time negligible and may not necessarily be a distraction from a good night's sleep.
Power: – 58W
Speed :– 3 levels
Recommended room size :– up to 100 square feet
Harbor Breeze Kingsbury
Check the price
Read Customer Reviews »
This model of habor breeze ceiling fan not only comes with free shipping but its antique wooden like appearance makes it the perfect choice for living rooms and literally any space which would make do with a bit of nature.
The fan also requires two bulbs and comes with a remote controller which is capable of reversing the direction of the fan as well. As they are dual channel remotes, they could operate two fans with two remotes, however although untested it may also be able to operate two fans with a single remote.
The only major drawback about this ceiling fan is that its not designed for outdoor use and is therefore only recommended to be used indoors. As it operates with a DC motor it doesn't have any hum or sound as compared to other AC motor fans, which makes it even a perfect ceiling fan to have in a bedroom.
Although the unit could be used without the down rod, its not recommended to do so because that would drastically reduce the amount of air that the fan can move thereby reducing its efficiency.
Incandescent bulbs are recommended for this unit and they could be easily dimmed using the remote, however if CFL's are used it may not necessarily be dimmable especially after being used for a period of time.
Habor Breeze Sail Stream
Check the price
Read Customer Reviews »
This three blade indoor Harbor Breeze ceiling fan is not only designed with a modern futuristic look but also incorporates the use of energy efficient LED lighting and has been recognized by the industry for its contemporary design.
It offers speed control of up to 3 variations with the possibility to reverse the air flow so that you can either get the warmer air or the cooler air sent downwards. Its flush mount installation has been designed in order to suit rooms which do not have lower ceilings.
The ceiling clearance of the unit is around 6-8 inches and it uses halogen bulbs, mini candlebrabase (E11), and it should also be noted that the maximum power of the bulbs should be restricted to within 75W as anything above that could cause it to over-heat and burn the electronics of the remove receiver.
It does not have LED bulbs or plastic blades, and although LED bubs could be used its not recommended as the maximum amount of light you could get within 75W would only be around 450 lumens with LED units which may not be sufficient to adequate illuminate the whole room.
Power :- 75W AC
Speed :– 3 levels
Harbor Breeze Outdoor Ceiling Fan
Check the price
Read Customer Reviews »
This is an amphibious version of the Harbor Breeze ceiling fan as it's been designed to be used not only indoors but outdoors as well, and its five blades which have been bronze finished provides a harmonious and streamlined look to complement almost any environment.
This unit is also designed in such a way that it could be mounted either with the down rod or without it using the flush mount. As its rated by Energy Star, it does not consume much of electricity either which makes it the perfect choice for homes.
Then fan direction could be changed by the switch located at the top of the motor housing and brightness of the lights could be increased by holding the center button of the remote and it could be dimmed by holding it down after reaching the brightest setting.
Although the fan comes with rubber stoppers to prevent water from entering the housing it's not recommended to operate the device in a place where it could come with direct contact with rain or snow.
Operating the fan could only be achieved using the remote controller as it does not come with pull chains, and the fan could also be used without the lights switched on.
Harbor Breeze Ceiling Fan With Light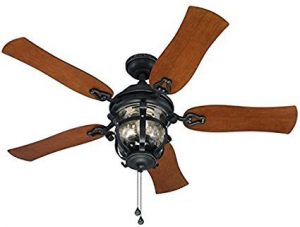 Check the price
Read Customer Reviews »
This age old Harbor Breeze ceiling fan not only provides ample illumination for the room with its light kit and clear glass shade, but its blades are styled with a cinnamon/mocha finish to compliment the look of the unit and allow the user to change its style without buying new blades.
This fan is also suitable for both indoor and outdoor use and has a airflow efficiency of 76 CFM/watt, due to its powerful yet quiet motor.
Although it does not come with a remote controller, it has a pull chain which could be used to operate the device; however this also implies that it cannot be used in large hotels and luxury homes which have a considerable large ceiling height. On the flip side, the lighting of this unit is not bright enough and although it could be angle mounted it may require a larger down rod depending on the angle in which it's placed.
As this unit does not come with a remote, it could be wired to the wall and it's recommended to use two switches, for the fan and lights respectively. A remote could also be purchased for a small amount in the market if necessary.
Power: – 120W
Harbor Breeze Twin Breeze

Check the price
Read Customer Reviews »
The design of this Harbor Breeze ceiling fan is certainly not just unique to the series but is unique to literally ceiling fans in general as well, as it has basically separated into two distinct sections with the light portion in the center.
It's primarily targeted for outdoor use although it could also be used indoors even though its contemporary style may not necessarily match nuances indoors.
It has 6 blades in total, three on either side and its been designed such that its style could easily be changed without purchasing new blades. Due to its length of 74 feet, it's suitable for considerably large rooms and comes included with the 4 in L down rod. Its light kit is based off of a frosted glass shade to help it get a bright glow.
As this unit is designed using two separate motors for each section of the fan, even if one motor stops functioning the other motor could continue to work and the down rods do not spin while the fan is working. The widest point of any of these blades are 26 inches and approximate distance between the two fans is around 12 – 16 inches.
Power :– 120W
Harbor Breeze Lake Placido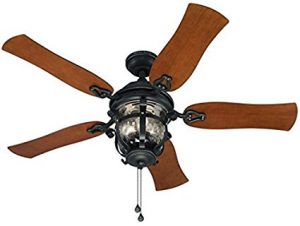 Check the price
Read Customer Reviews »
Being unique in its own way and style is not necessarily attractive to everyone, as this harbour breeze ceiling fan clearly demonstrates with its awkwardly looking lights bulging down from the center.
However if this matches your taste when choosing a contemporary, rustic ceiling fan for your home then this model certainly deserves a part of your time. Its built with 5 reversible blades similar to other models with a cinnamon/mocha finish that could easily changed without purchasing new blades.
It's clear glass shade and light kit gives it the ability to illuminate the room and draw attention towards it. This does not come with a remote controller but it could work with any inexpensive universal remote controller after it has been installed with the fan.
The 4 in L down rod which is also included could even be installed as a flush mount if necessary. The pull chain of this unit not only compliments the fact that it doesn't come with a remote by default, but it also gives an extra level of rustic charm by being present in the room where its being used. The assembled diameter of the fan stands at just over 50 inches.
Power :– 120W
Speed :– 3 levels
In conclusion of this Harbor Breeze ceiling fan reviews, it should be noted that although each of the units which have been highlighted and discussed herein are notable and unique in its own way they have their own drawbacks and benefits as well.
Therefore when making the final decision on how to choose the ideal fan for your home, office or other property its essential that the requirements and specifications are met in order to ensure that you get the right product for your needs. Based on our analysis of this review, we've chosen several factors which need to be considered when making the final decision on choosing any one of these fans; they are listed below,
· Contemporary look – The unique touch and grandeur style of each of these ceiling fans are designed to provide a rustic appearance to any indoor or outdoor neighborhood. However choosing the incorrect style for the incorrect environment could disrupt the architectural design of the property and thereby make the fan itself to appear ugly.
· Budget – The price ranges of each of the units which have been described in this post varies considerably according to specifications, style and other factors. Therefore careful attention needs to be placed when deciding on a most suitable fan for ones needs without exceeding budgetary requirements.
· Air flow – A common issue with ceiling fans that contain light fittings is that they do not turn as fast when compared to regular ceiling fans without any lighting fixtures. Although the air flow of all of these units are considerably fast and smooth, if the primary need for a ceiling fan is for maximum air flow then this needs to be re-considered in further detail.
· Remote vs pull chain – The pull chain mechanism of some of the units are not only designed for easy operation but also to complement its antique like appearance, and as all fans are compatible with remotes there isn't any major issue which needs to be considered here.
· Colour & Style – This is also another unique feature of these fans as although the blades are designed with a given style, they could easily be changed according to user needs without having the purchase new blades. This is a maximum improvement in terms of overall cost of the fan.
· Indoor vs outdoor use – As only some of these units are designed to be used outdoors, another important factor to be considered is that even units which are recommended to be used outdoors need to be placed with caution.
This is because if they do come with contact with bad weather conditions it would malfunction and cause the unit to misbehave. Therefore if the device is to be used in adverse weather areas or near a beach outdoors due caution needs to be taken when choosing the respective unit.
Related Posts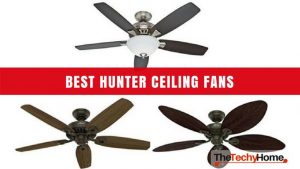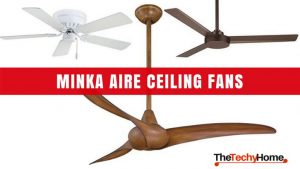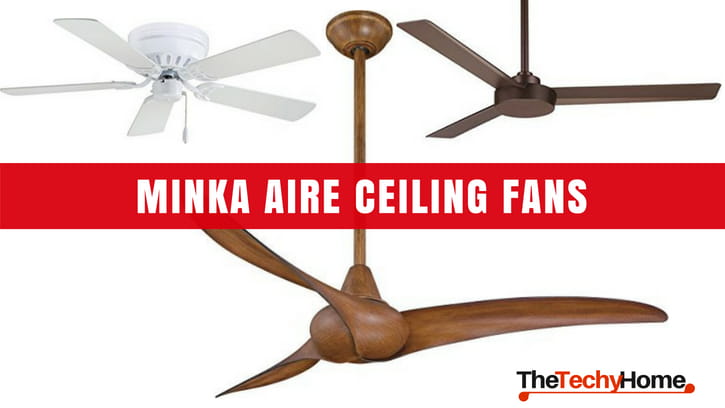 Summary
Reviewer
Review Date
Reviewed Item
Harbor Breeze Ceiling Fans
Author Rating