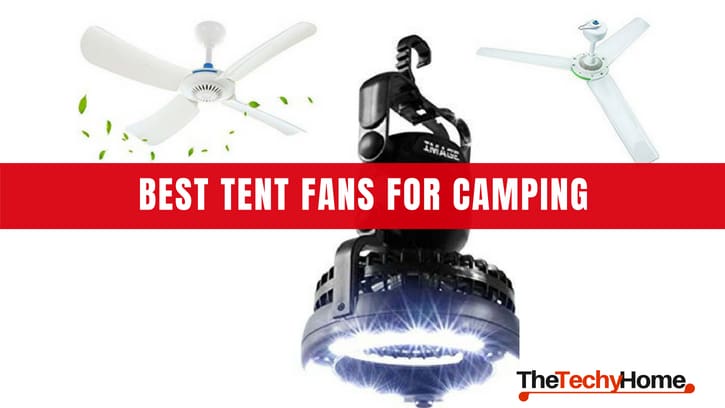 Going camping is one of the best activities to get in contact with nature. Many people enjoy camping, but some of them don't enjoy all the discomforts that come with it, especially if they're camping with kids. Some of those discomforts are the heat and mosquitos. Luckily, these issues can be solved with camping fans for tents. These devices are specifically designed to work in the outdoors and have special adjuncts that make them easy to install and use inside a tent. Of course, according to the conditions of the camping and the tent, there're different models that can suit you best. IF you're looking for a tent fan that covers all your needs, keep reading this article to find out which are the best tent fans available in Amazon
Best USB/Battery powered fans for camping – Coleman Freestanding Tent Fan
A great relation price/value, this little Coleman freestanding tent fan allows making those camping nights a bit more comfortable. While it's not designed for big tents with too many people, it suits perfectly a 2-person tent and two of them will get you really comfortable in a 4-person tent. As it's a battery powered fan for camping, it saves a lot of energy lasting up to 21 hours in full-speed with one set of batteries. Also, it's convenient for using with kids, as the blades are foam-made. Finally, it stands by itself and folds for a very comfortable storage, so it's really convenient for short quick trips.
 Pros 
 Tilting head allows directing the air and also folding easily for storing.
 The blades are soft to the touch and won't hurt even in high speed.
 Includes low and high speed for comfort.
It's fairly quiet for an outdoors camping fan.
 Includes screw set for mounting on the wall if or shelf if needed.
 Cons 
 It uses 4 D-cell batteries that sold separately and may be expensive. Also, it doesn't work with rechargeable batteries.
Fairly powerful but not so much it could cool down a big tent or a too heavy
heat. It vibrates if not put in a well-balanced surface, which might be a problem in the wild.
Check the price
Read Customer Reviews »
O2 Cool 10 inch Battery or Electric Portable Fan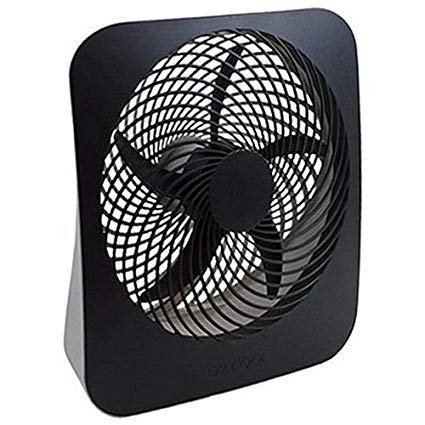 A considerably more powerful model than the previous one, this is one of the best camp fans in the portable series. Even though it's not foldable, due to its design, it's very small and the squared shape makes it ideal for storing in any backpack. While its blades are not foam as the Coleman model, thanks to its protective cover, it's still very safe to handle around kids, while bringing a considerably more potent breeze. It would be enough to acclimatize a 4-person tent when the temperature is not TOO high.
 Pros 
 It's a battery powered fan for camping but it also can be connected to AC for using indoors.
 While it works with 6 D-cells batteries, its power-saving technology makes them last for even days to full speed while maximizing the airflow.
 2 air speeds, high and low.
 The materials are really strong so it will endure several travels.
 Easy cleaning with a dry cloth.
 Cons 
 The 6 D-cell batteries may be very expensive.
 It's not foldable.
 The battery compartment cap is weak.
Check the price
Read Customer Reviews »
MILIJIA LED Camping Lantern, USB Rechargeable Tent Light with Ceiling Fan (2rd Generation) 
This is a two-in-one lantern fan that provides a very decent airflow for a 2-3 person tent. While it does work for both purposes, even at the same time, it's more recommendable as a lantern, since it lasts 30 hours when only the light is working, but that time reduces to 6 hours for only fan and only 3 hours for both light and fan.
Nevertheless, it has the advantage of working with rechargeable batteries and a
USB power connection, so if you have access to this kind of power, then it's a great fan with much better airflow than the previously reviewed models.
 Pros 
 Very powerful airflow and LED lights (sadly the lights unavoidable weaken
when used simultaneously).
 Uses 3pcs AA batteries (rechargeable or not) and can be used with USB power (cable included) and no batteries or used for charging the AA rechargeable.
 360° angle for directing the light and fan, and can also be hanged.
 Simple to use, with one button you can change from off/fan on/lights on/fan and light on.
 Cons 
 The battery runs out very quickly when using the fan.
 Fan and light can only be used simultaneously with LOW lights.
• You need to use the USB power to recharge the batteries before they get below 10%.
Check the price
Read Customer Reviews »
Portable LED Camping Lantern with Ceiling Fan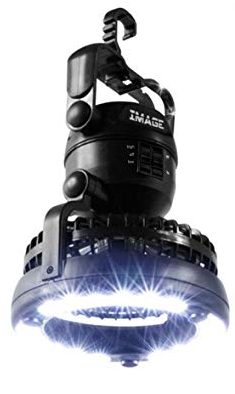 One of the best tent fans in the market, this is a lantern fan and at the same
time a very safe and powerful hanging tent fan. While not ideal for a tent bigger than 2-3-person, this fan offers a considerably longer range of duration than the previous model. The light and the fan are controlled separately, avoiding the dimming light when used simultaneously and offering the possibility of changing the fan speed from low to high. One of the best features is that it can be used with a set of 2 D-batteries or simply 1 D-battery (while obviously lasting shorter) so you won't have to spend too much on batteries if going for a shot hike ride.
 Pros 
 Very bright light even when used simultaneously with the fan.
 Two fan speeds are powerful enough for 3-person tent.
 360° adjustable head for directing light and air.
 It can be adapted to use both hanging and as a freestanding fan.
 It offers some white noise while not TOO loud.
 Cons 
 You might need more than one if you own a 4-6-person tent.
 It's a little bit heavy with the batteries on.
The plastic covers are a bit weak.
Check the price
Read Customer Reviews »
Opolar 9 Inch Battery Operated Metal Desk Fan For Hurricane &Amp; Camping, 5200 Mah Capacity
As some may say, there's a reason why some traditional products keep being
best-sellers and this camping fan is one good example. While being the classic reitent fan, that only offers the innovation of being USB rechargeable, this tent fan provides an incredible quality when it comes to airflow. Perfect for a 4-6-person tent, this fan stands by itself and it's highly durable
thanks to its industrial grade metal structure. Also, it works with rechargeable batteries and can be adapted to USB power and even wall adapters.
 Pros 
 Two very powerful low and high speeds.
 Rechargeable lithium batteries included.
 360° adjustable head for directing the airflow.
 Can work with one battery for 3-6 hours and with 2 batteries for 6-9 hours.
 Very quiet while still producing a light white noise.
 Very quick charging time with a red-turn-blue notification light.
 Cons 
 You can't charge the batteries while using it.
 Blades are plastic, not metal.
 The batteries could last longer.
Solar powered fans for camping If you're more into environmentally friendly products, then you're going to love these camping fans for tents as they're solar powered fans. These are the best tent fans for the green wage lovers:
Check the price
Read Customer Reviews »
Sunlar 12V Dc 19.7&Quot; Inch Ceiling Fan With Switch Outdoor-Camping Suit For 12V Battery Power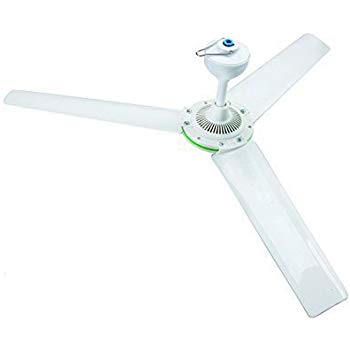 While it looks like a ceiling fan that could never be installed on a tent, this 12V camping fan is so incredibly lightweight and easy to hang that it can be installed in a big tent very easily. Even though this hanging tent fan works with a 12v batteries, it can also be connected to a solar panel which is what we're looking for in this section. The airflow on this fan is moderate-to-good and it's completely energy saving, able to store power from solar panels thanks to its battery. The material is flexible
plastic very safe and durable.
 Pros 
 Can work with a 12V battery and connected to a solar panel, this way can run permanently.
 Moves fair amount of air while not being noisy.
 Very easy to install with safety anti-shock cables and a controller.
 Is very lightweight so it can be installed even in tents. (Make sure the tent is high enough, 6-person tent at least).
 Good flexible materials.
 Cons 
 Not powerful enough for too much heat.
 Solar panels are not included, must be purchased separately.
Check the price
Read Customer Reviews »
DC 12V Ceiling Fan Portable USB Fan for Camping Outdoor Indoor Using, Energy-saving Mini Ceiling Cool Fan For Solar Power 12V Battery
A slightly better version of the previous model, this 12v camping fan is also for hanging but with a much more modern design that allows a better breeze. Of course, the airflow is very soft too but it makes it ideal for those humid spaces where the heat is intermediate but the breeze is non-existent. Also, it's strong enough to repel mosquitoes what makes it ideal for traveling with kids. The best quality on this fan is that even when it seems impossible to hang, it can be supported by any tent and it can operate with several power methods. If the sun is out there is good, you can connect it to a solar panel and make it run endlessly; if it's cloudy you can still use it with its 12V battery and if you're camping on an RV and have an available USB connection, you can charge it that way too.
 Pros 
 Very energy saving lasts longer with the battery use and runs non-stop with solar panels.
 Really lightweight can be installed in any kind of tent as long as it's high enough (6-person tent will do).
 Several power methods.
 ABS plastic fans are flexible and durable.
 Cons 
 Doesn't include the battery and charger, must be purchased separately.
 It's considerably small.
Check the price
Read Customer Reviews »
Acelane 4 in 1 Portable LED Camping Lantern Flashlights Rechargeable Light and Fan with USB Power Bank Survival Kit

This multifunctional solar tent fan is one of the best purchases any camping lover can make. Really small and portable, this is one of the best tent fans as it not only includes the cooling system but also a lantern flashlight and works as a power bank for charging other electrical devices. Charge it with its included solar panel on top or connect it to an electric output.
It's collapsible to make it even easier to store. The Acelane 4 in 1 is a complete camping kit in one small product.
 Pros 
 Several uses for camping purpose and will last up to 15 hours of continuous use with the solar charge.
 Convenient handle for carrying while walking.
 While the fan is really small, it's powerful enough for repelling mosquitoes.
 You can use it as a power bank/solar panel for other Tent fans or flashlights.
 Light is very powerful.
 Cons 
 Really small.
 The military ABS is not as durable as expected.
 The fan is noisy for the amount of breeze, it would be ideal for white noise
though.
Check the price
Read Customer Reviews »
3 in 1 Cooling Fan Camping Lamp- Multi-functional Solar
Table Lamp Flashlight Torch with Eye-Care LED
This 3 in 1 solar tent fan is very basic yet very useful as it offers a good airflow while working as a not dazzling lantern, but it can also become a powerful torch if needed. Really small and portable, it includes a handle for carrying comfortably and stands for freestanding purposes. Even though it is solar powered, it can also be charged with 110AC connection and holds up energy for use during the night and without a connection.
 Pros 
 Light and fan have an adjustable position system for directing the air and light to where it's needed.
 Really powerful fan for its size and torch is amazingly strong while lantern is bright enough to not be dazzling.
 Lasts up 6 hours with light and fan at a time, 8hrs with only one.
 Easy to charge and carry due to its small size.
 2 ways of charging.
 Cons 
 The materials could be better.
 The battery could last longer.
Check the price
Read Customer Reviews »
Multi-function Solar Fan Electric Outdoor Fishing Fan with Radio/MP3/Table Lamp/Torch/Cell Phone Charging Function
Definitely the most versatile and best tent fan in the market. It includes every feature needed for camping from the very basic fan and light to even charging other devices and listening to music! This is one of the best camp fans also because with its solar panel, it can be constantly recharged and lasts a fair period with every feature; 7 hrs fan, 9hrs light, 6-8 hrs music and charges at least a whole battery of an external digital device.
While the small size doesn't allow it to have a so powerful airflow as a big fan,
it definitely will fight hot weather if used in a 4-person tent and will repel mosquitoes when needed.
 Pros 
 Earphone jack for listening to music.
 Music can come from integrated FM radio or connect USB devices or SD cards!
 The fan is fairly powerful for its size.
 Very silent airflow performance.
 110V electric connection option.
 Charger for audio devices and cellphones/tablets.
 Lamp AND torch.
 Cons 
 A bit heavier.
 If all the features are used at a time battery will die very soon.
 It needs 13 hours exposed to sunlight to fully charge.
Check the price
Read Customer Reviews »


Summary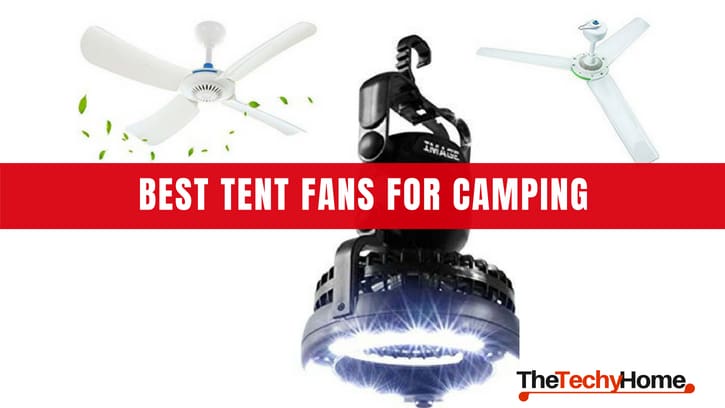 Article Name
Best Tent Fans For Camping
Description
Best Tent Fans For Camping
Author
Publisher Name
Publisher Logo