Outdoor standing fans are ideal for spending a great time at the yard during the summer, especially these outdoor misting fans which offer the possibility of cooling the air. They are the comfort tool any barbecue or garden lover would be pleased to have.
Also, most of them can be used for both dry and mist cooling so buying one of these fans could become killing two birds with one shot as you can also get cool at night while sleeping.
Let's see what the best outdoor standing fans are:
5. NewAir AF-520B Oscillating Outdoor Misting Fan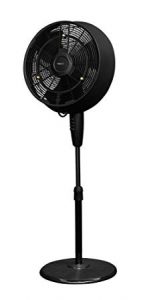 While being a great outdoor standing fan for a great yard, it could not be used as a misting fan for indoors or small gardens. The mist/air flow that has a huge range for cooling more than 500 ft square, would get any small space really soaking wet.
Also, if you try to use it as a sleeping fan, you'll get disappointed as users report that it's too noisy for nights (the noise coming from the blades, not the motor).
On the other hand, the NewAir fan models are very decorative in an Antique way, that makes them look like a classic column or lamp. So, finally, this fan is definitely a great option for remaining outside as both cooling system and decoration.
 Pros 
•Tilting head and adjustable height make it very customizable and targetable.
•The oscillating system allows covering a great range of space.
•User-friendly controls.
•7 decorative models
UV resistant all-weather paint for durability.
Wet protection.
 Cons 
Too noisy for indoors.
The misting can't be used in small spaces as it will get everything too wet.
Not what the offer promised.
Check the price
Read Customer Reviews »
4. Holmes Outdoor Misting Fan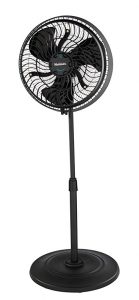 A more restrained outdoor standing fan, the Holmes still provides a great range of cooling, while not necessarily getting you soaking wet. Ideal for barbecues, pool afternoons and a relaxing time in the garden, this model do offer a misty effect (which is not ideal for inside purposes as it's still too humid for indoors)
It's very easy to use and the misters are easily de-attachable for inside or dry air, while the airflow is great with 40.000 BTU of cooling air. The head is tilting and adjustable as well as the pole so you can direct the air wherever you want.
The base made out of metal makes it very stable which is great because the oscillation is really fast and could throw the fan to the floor if it wasn't stable enough.
 Pros 
•3 speeds setting
•Standard hose connection
•You can adjust the misters; using one, two or the three of them according to your needs.
•It's not noisy so it can be used inside.
 Cons 
•The misters may drip or be too much if not well adjusted.
•Short power cord.
Check the price
Read Customer Reviews »
3. Arctic Cove 18V Lithium-Ion Powered Cooling Bucket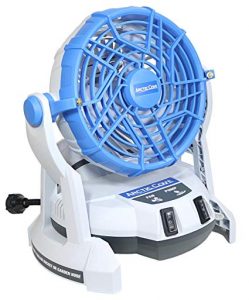 This couldn't be called and outdoor standing fan because it actually doesn't have a pole, but instead, it's meant to be placed over a bucket in order to suck the water for the mist. Nevertheless, it does have a hose adaptor in case you don't have a bucket that fits. This is good news as pumping systems tend to fail and that would leave the fan useless.
One interesting thing about this model is that it's powered by a battery, which can be upgraded to grant a longer duration. Also, it includes protection for the battery so it won't have any issue in case of leaking.
 Pros 
•Two speeds for both the mister and the airflow.
•Adjustable head for picking the angle of your preference.
•The bucket system avoids issues with water pressure.
•It's very quiet.
 Cons 
•Pumps systems tend to get damaged soon.
•It's limited by the battery system.
•Users report battery charge issues.
Check the price
Read Customer Reviews »
2. SPT Oscillating Misting Fan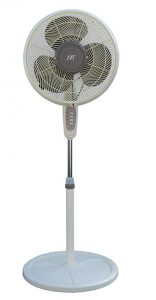 Even though it's a bit pricey, it offers an excellent option in outdoor standing fans. With 3 speeds and a 90º oscillation, you get to cool down a large enough space, while not getting all soaked wet.
This is only the only outdoor standing fan in this list with 4 misters that are also UV, and rust resistant. With its 40,000 BTU of cooling power, it offers a fair mist for really big spaces.
 Pros 
•It offers great quality misting.
•The height is adaptable.
•Can run really long periods without overheating.
•Easy to assemble
 Cons 
•Lose hosing; you might need to make some adjustments.
•It's made out of plastic and may not be too durable if not treated well.
•The base is bowl-like and it might collect water.
Check the price
Read Customer Reviews »
1. Lasko 7050 Misto Outdoor Misting Fan
A very different outdoor misting fan, the Lasko is not standing but it has a very low profile and resembles a small box. The best option in misting fans for outdoors as it does offer a real mist instead of spraying water everywhere. It doesn't cover a very big space, though, it's ideal for small spaces. Nevertheless, you can still expect some moist, but when the weather is too hot, you'll be grateful for it.
The system on this fan can cool the hot air up to 20 degrees and it's ideal for gardens, patios, barbecue, decks, etc. While it's a bit noisy, it won't be so much that you can't have a conversation and it's still good for using inside (but it's obviously made for insides).
 Pros 
•3 speeds allow you to choose the misting effect according to your comfort.
•It can be used only as a fan too, which is ideal for indoors.
•The misting kit is detachable without tools so it's really to clean and maintain.
•Really compact and easily portable.
•The misters can be turned on and off.
 Cons 
•Short hose fitting tool.
•The oscillation is only for the fans, the mist doesn't oscillate.
•The mist effect could be affected by the humidity in the area.
Check the price
Read Customer Reviews »
Best Portable Misting Fans
Outdoor standing fans are really powerful and useful for home, but are not very practical to carry around. If you need to fight the heat while traveling, shopping or going to the park, handheld mist fans are your best option for staying cool.
Water misting fans are portable and you can usually find very affordable battery operated misting fans that give you the autonomy you need. Also, some of these personal misting fans are actually fans that spray water mist while throwing air at your face, while others are simply mist cooling fans. Whatever, there's no better way to keep yourself cool when outside.
Among the best personal misting fans you can find:
4. O2COOL Deluxe Battery Operated Misting Fan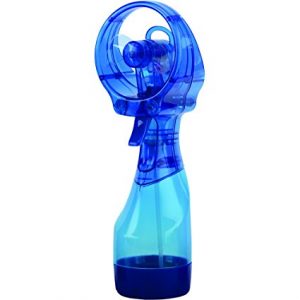 The older brother of the previous mist fan, this version is a bit more resistant and it's ideal for long trips or the beach. With a stronger air misting and similar water spraying system and capacity, this water spray fan must be used with caution when it comes to kids.
The blades are made from hard plastic and even though they count with a protective cover, if the children put the finger on the blades, they may get hurt. It works with batteries and, unlike the previous model; it can hold the charge for a lot longer! Also, even if the bottle hole is not TOO big, you will be able to get a couple of ice cubes for a more refreshing experience.
 Pros 
•The bottle is big enough for providing up to 1,000 mists of water.
•It works with 2-AA batteries that last for a long period.
•Stronger plastic blades provide a better air mist.
•You can add ice to the bottle.
 Cons 
•Plastic blades may break if the fan falls down.
•Blades, while fairly safe for adults and grown kids, may hurt toddlers if touched.
•Spraying water button is weak.
Check the price
Read Customer Reviews »
3. iEGrow Hqm-MY001 Handheld
While this is an excellent water misting fan, the price is really high and even it's actually handheld, the actual size of the product can be a bit too big, tiring the hand if held for too long. Those are the reasons why we place it in #3.
Other than that, this is an incredible fan that sprays water mist as it's not like the previous models where a button-activated mechanism throws the water, but this actually sprays the water automatically in a very refreshing mist. Nevertheless, sometimes it comes with defects that are not acceptable for the price.
The best part of this fan is that you can select from only water, only air and both air and water, by only hitting a button.
 Pros 
•USB chargeable and very quick to hit full-charge.
•The three options guarantee your freshness.
•The mist is soft enough to not make you wet and uncomfortable but not so soft that it won't get you fresh.
•The design allows keeping it stood for desktop fanning.
 Cons 
•It may leak even to the charge port making it a safety hazard.
•The waterhole may get blocked with use.
•It's a bit heavy.
•The combined air-water function won't work with the low battery.
Check the price
Read Customer Reviews »
2. Funme USB Foldable Rechargeable LG Battery Operated Electric Fan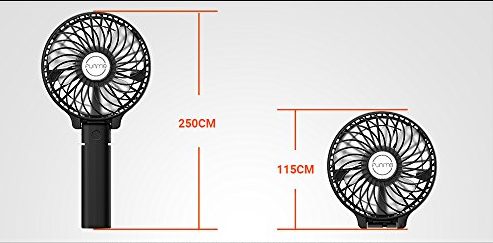 This product is not exactly a mist fan, but it's a very affordable fan. It's also a great a portable friend for moderate heat in prolonged periods. Unlike other mist cooling fans, this one doesn't spray water, but it counts with three air misting speeds that are fairly strong.
Even though it doesn't spray water, the air is cold and as it's really affordable, extremely portable and very affordable, it couldn't be less than #2. The foldable mechanism is also a plus as it can work both as a handle and desktop fan, and thanks to its large-durability rechargeable battery it can last a lot working non-stop.
 Pros 
•Foldable for multi-purpose.
•Long lasting battery charges with USB cable or universal charger.
•It blows cold air instead of hot and the speeds are very powerful.
•LG battery assures quality and duration.
•It's one of the best rated top-seller Amazon products.
 Cons 
•It doesn't spray water.
•The strongest speed will only last 3 hours.
•Third speed can be a bit noisy.
•While it has a string hole, it doesn't come with any string.
Check the price
Read Customer Reviews »
1. TianNorth Misting Fan Mini
Among all the fans that spray water mist, this is without a doubt the best product. Even though it's a bit pricey, it includes all the best features of the previous models and more, without the cons.
This fan not only sprays water and blows wind but also includes its own mini air conditioner. With this fan, you are SURE that you will get cooled even in the strongest summer. With 3 wind speeds and 2 misting options, it's as customizable freshness as you can get.
Also, it's really portable and small so you won't have problems carrying it.
 Pros 
•USB chargeable.
•Stay stood for desktop purposes
•Continuously spraying and intermittent spraying.
•Mist is soft enough to not get you wet and strong enough to cool you down.
•The battery is highly durable.
•AIR CONDITIONER!
 Cons 
•Auto off when spraying for 10 minutes or intermittent spraying for 20 minutes
•Waterhole may get blocked or leak.
Check the price
Read Customer Reviews »
Summary
Article Name
Best Outdoor Misting Fans
Description
Best Outdoor Misting Fans
Author
Publisher Name
Publisher Logo