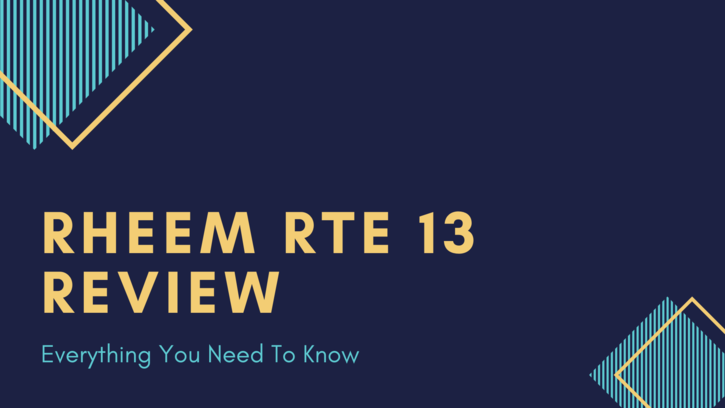 Tankless water heaters are incredibly underrated. Very few people are aware of the benefits that they offer to their users. Their simple looking design and the absence of any storage tank make non-users feel as if these units cannot meet the hot water requirements of an entire household.
Models like the Rheem RTE 13 show that that's simply not true. These units are more energy-efficient, require less storage space and are easier to maintain than their traditional counterparts. They also offer an endless supply of hot water and that too while keeping a lid on their energy consumption.
Having doubts about these claims? Then check out our Rheem RTE 13 review. It contains everything you need to know about this electric tankless water heater. You'll get to know the unit's flow rate, its energy efficiency, control options and more.
Rheem RTE 13 Review – Pros and Cons
Here are the positive and negative points of Rheem RTE 13:
Pros
Energy Star rated

Low-flow activation

Rugged heat exchanger
Cons
Hot water output might not be enough for large households
Rheem RTE 13 Review – Features
Here are the worth-noting features of Rheem RTE 13:  
  One of the best things about this unit is that it provides a flow rate of 4GPM (gallons per minute) at all times. The outside temperature has no effect on the water churning out of this model. Here's why.
Rheem RTE 13 relies on electricity and not on gas to heat the water coming in through its intake pipe. As long as the electricity is present, so will be the supply of hot water.     
  Products that come with the Energy Star logo don't etch it just for marketing. This logo stems from a program the US Environmental Protection Agency and Department of Energy started in 1992.
It therefore suggests that the product bearing it provides at least 15% – and at most 90% – energy savings to its users. You should then be pleased to note that Rheem RTE 13 bears this logo.     
  Yet another notable aspect of this model is that it doesn't leave you guessing about whether it's working or not. The LEDs on the unit make everything crystal clear.
Apart from indicating whether the built-in heat exchanger is doing its job or not, the LED indicators also tell you when/if the unit is in standby mode and therefore saving energy.     
  One issue that some users have with tankless water heaters is that they don't operate below a specific flow rate. That is fortunately not the case with Rheem RTE 13. Here's why.
It comes with a low-flow activator that turns on its heating element as soon as the unit starts getting an uninterrupted supply of water and electricity. You therefore don't have to open all taps to get hot water.    
  Built into the front of the unit's panel is a temperature control option using which you can regulate the temperature at which the unit should churn out hot water.
Also located there a thermostat dial. You can use it to adjust temperature over nine settings. These are the only control options – apart from the standby mode, that you get with Rheem RTE 13.     
  Your traditional water heater doesn't know when to stop. It keeps on consuming electricity even when the temperature of the water inside it has reached the setpoint. The Rheem RTE 13 is different.
This model is equipped with a standby mode using which you can tell it to stop chugging out hot water. This, in turn, makes sure that the unit isn't needlessly consuming electricity.     
  Although we cannot see it, the material of construction of a heater's heat exchanger plays an essential role in the durability of the unit and how well it raises the temperature of incoming water.
It is fortunate then that Rheem RTE 13 has a rugged brass/copper heat exchanger. The amalgam of both these metals has resulted in a strong heat element that is warrantied for 10-years by Rheem.    
  Provided your friends with your plumber, they might tell you the benefits of investing in a heater with ½'' water connections. The unit will fit seamlessly with all your water pipes.
That is because ½'' connections are standard for water pipes across the country. Having a heater that supports these connections means you won't have to make any modifications during installation.     
  Every tankless heater you see on the market comes with two warranties. One that covers its heat exchange and the other that covers the parts. Rheem RTE 13 is no different.
Its limited heat exchanger warranty makes you at ease about the heat exchanger for the upcoming decade. The parts warranty, meanwhile, covers them for a respectable 1-year period. 
Rheem RTE 13 Review – Installation
Here's how you can install this tankless water heater:   
  Take the unit out of its box and make sure all the installation instructions and the necessary mounting hardware are present. Only proceed once you're sure.     
Step 2: Shut-off water supply
  Take the water heater to the water pipes and mark the spots where you intend to make the connection. Use a permanent marker for this task.     
  Once you've mounted the unit to the wall, attach it to the water lines using supplied compression fittings.     
Step 4: Remove air in the line
  To do this, open the main water supply valve and let the water run through all the lines for at least 2 minutes. This will clear the lines of any air.     
Step 5: Make the electrical connection
  We recommend that you hire a qualified electrician for this step. As they would make sure that no electrical problems surface along the way.     
Step 6: Turn electricity back on
  Once the electrical connections are set, turn the electricity back on and make sure that the green 'Stand By' light is on. Then, turn on the tap from where you intend to get hot water, and make sure that the red 'Activation' light comes on.     
Final Step: Set the temperature
  Set the temperature to your desired level and start enjoying the endless supply of hot water. 
Pro Tip: Hire an expert for installation. They might charge you a steep amount but will save you from doing anything that could void the warranty. 
Final Verdict
As you might have guessed from our detailed review of Rheem RTE 13, it is a dependable electric tankless water heater whose meager electricity consumption and considerable water output are enough to make it a must-have for most small- to medium-sized households. 
Summary
Reviewer
Review Date
Reviewed Item
Rheem RTE 13 tankless water heater
Product Name
Rheem RTE 13 tankless water heater