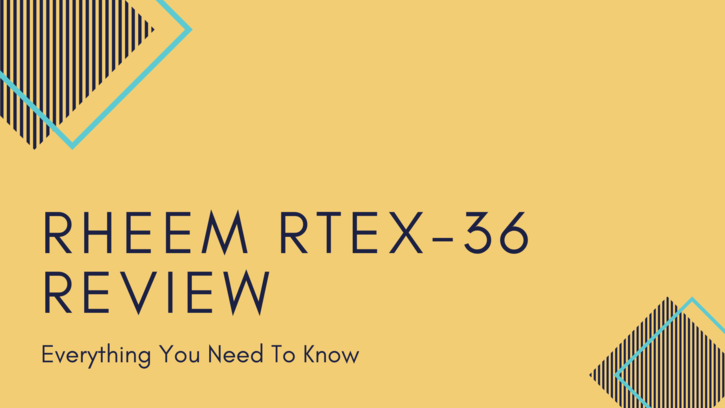 Apart from being incredibly compact and easy to install, the Rheem RTEX-36 tankless water heater gives you on/off dial control. You have the freedom to adjust its temperature in increments of 1*F and the on-demand heater also offers the facility of simple and hassle-free installation.
This model also features advanced self-modulation that enables it to regulate its water temperature according to your needs. Its durable copper heating elements as well as a digital display and temperature control are other features that set it apart from its competitors.
Want to know more? Scroll down to check out our Rheem RTEX-36 review.
Rheem RTEX-36 Review – Pros and Cons
Here are the positive and negative points of Rheem RTEX-36:
Pros
External digital control
Threaded for easy replacement
Most advanced self-modulation
Cons
Won't activate at low water flow rates
Rheem RTEX-36 Review – Features
Here are the worth-noting features of Rheem RTEX-36:  
  One of the best features of this unit is that it offers enough water for the whole household. The 8.8 gallons water that it churns out per minute won't merely meet your washing or cleaning needs. You can count on it to deliver enough water to meet all your water-related requirements.
You can run seven water-consuming devices at the same time with this unit. They include a water-saver shower head (1.5GPM), standard shower head (2.0GPM), standard hand sink (0.5GPM), kitchen sink (1 – 2GPM), dishwasher (1 – 2GPM), washing machine (1 – 1.5GPM) and bathtub (4GPM).     
Robust and durable construction
  Two parts of every heater make it clear how durable, or otherwise, is its construction. The first is the material of construction of its heating element. That's where RTEX-36 impressed us as this model features a copper immersion heating element that is corrosion-resistant and rustproof.
The second part which gives a glimpse of how long a heater will last is the material of construction of its top. Once again the Rheem RTEX-36 doesn't disappoint. It has a brass top that is threaded for easy replacement and has the sturdiness to increase the entire model's shelf life.     
On/off control with digital display
  Models that belong to other manufacturers come with an analog display. There is nothing wrong with it per se but such controls don't give you the same control over the heater's performance – and the same information about its goings-on – as digital display provides.
Ease of use is another noticeable feature of a digital display. You don't have to turn a chunky-looking knob and look closely through a glass to note the temperature reading. Everything that you need to know about this heater will be there on its digital display.   
  Another feature that helps this model set itself apart from its competitors is its ability to self-modulate. It has a built-in water sensor that takes into account the water usage of your entire household. The sensor then sends the information it gathers to the temperature sensor.
Both of them then work in tandem to increase/decrease the temperature as well as the flow rate of the outgoing water.  Such an arrangement enables this heater, after the first few days of its working, to meet the water consumption needs of every member of your house at all times.     
  Almost every tankless heater that is worth its salt gives you this feature. It is the one where you can increase or decrease the rate of water coming out of the unit. It shouldn't be surprising to note given its versatility that the Rheem RTEX-36 doesn't lack on this count as well.
This tankless water heater lets you increase the temperature of water by up to 98*F at a flow rate of 2.5 gallons per minute. The temperature that you can get this heater to raise then goes down, before finally succumbing to a modest 41*F at 6GPM.     
High flow-rate activation
  Unlike the other Rheem tankless heaters that you see on this site – including RTEX-18 and RTE 13, this one won't give you a supply of hot water as long as your water consumption doesn't touch the 2.5GPM mark. That's both a strong as well as a weak point of this tankless water heater.
It's a strong point because it showcases that this model can meet the water consumption needs of medium-to-large size households. It's a weakness or deal-breaker for those of you living in a small household or one where the hot water needs aren't huge.    
Energy-efficient operation
  One of the main reasons why users trust Rheem to produce quality tankless water heaters is the energy-efficiency of its models that are currently being used in households around the world. These are models that heat your water but not at the cost of blowing a hole in your pocket.
We are happy to report that the Rheem RTEX-36 isn't any different. Its durable heating element, premium construction of pipes, and high-end technology have combined to make this model up to 99.8% energy efficient in most climate conditions.     
  For a unit that requires 150amps for its working, the RTEX-36 is incredibly easy to install. The credit for that has to go to its threaded top and ¾'' NPT water connections. Both of them make sure that this model would connect seamlessly with your water pipes.
Does that mean you could install it on your own? You could if you have the license to show that you're a qualified plumber. Homeowners would do well to hire a plumber because while you can save money by installing this model on your own, you could also end up voiding its warranty if things go south.  
Final Verdict
A report claims that the tankless water heater market, which was worth $2.8 billion in 2018, is expanding at a rate of 7.5% per annum. The advent of the pandemic might have slowed down the growth rate but hasn't wiped it, as you can see by the number of people buying tankless water heaters every day.
The reason why tankless water heaters enjoy such a good reputation is because of models like Rheem RTEX-36. Such units deliver what they commit and provide 24*7 access to hot water. What more can you ask for!
Summary
Reviewer
Review Date
Reviewed Item
Rheem RTEX 36 tankless water heater
Product Name
Rheem RTEX 36 tankless water heater