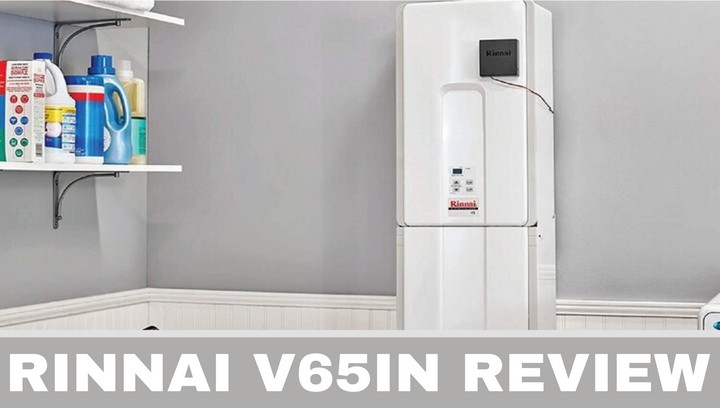 Nothing comes close to the soothing effect of a hot shower. Even doing the dishes and laundry is more doable with warm water. But if you live with someone, you might end up paying costly bills with no hot water or lukewarm at best. Even if you live alone, you wouldn't want to wait in the showers for hot water. So, to get rid of these nuisances, people often go for tankless water heaters for their ever-increasing hot water demands. Contrarily, the manufacturers do their best to come up with efficient and innovative solutions. Rinnai, a Japanese-based company, is one such brand bringing their water heaters into play. One of their top models is the sleek yet powerful Rinnai V65iN. The compact unit is capable of delivering a maximum of 6.6 gallons per minute of hot water immediately while taking up little space. Also, you can expect the tankless water heater to save you a lot of bucks in bills. Well, that's not everything about the Rinnai V65iN.  What else does the tankless water heater bring to the table? You will find everything in this elaborate review of the Rinnai V65iN. 
Rinnai V65iN Review – Pros and Cons
Here are the positive and negative points of the Rinnai V65iN tankless water heater.
Pros
High energy-efficiency 

Protection against leaking and freezing

Mobile App remote control

Energy Star compliant

Ecofriendly with low NOx burner

Compact design saves an ample amount of space
Cons
Needs flushing of hard water from time to time

Not suitable for large house consumption

Costlier than other models
Rinnai V65iN Review – Features
Here are the noteworthy features of the Rinnai V65iN.  
Impressive Performance
Although the unit is pricey when compared to other models in the market, it does its job with style. The Rinnai V65iN utilizes 10,300 to 150,000 BTUs of gas to provide an undisrupted hot water flow at 6.6 gallons per minute, which is enough to cover the needs of a small or medium-sized home. However, keep in mind that you will need a 60-Hz voltage capacity to ignite the heater. Rinnai V65iN is capable of functioning as a central water heater for homes with two bathrooms and two kitchen taps. In that setting, you get hot running water in all the fixtures without any wait, isn't that great? Another thing to appreciate is that the Rinnai V65iN is completely noiseless, no matter how much load it is carrying. So, it is well-designed to be an indoor water heater.   
High Efficiency – Energy Star Compliant
Like all the tankless water heaters, the Rinnai V65iN wastes no energy in heating water after storing it. The Rinnai V65iN does not disappoint as it uses 40 percent less energy than the traditional tank carrying models The tankless water heater boasts a high energy efficiency factor in the range of 0.79 to 0.82. On top of that, the Rinnai tankless water heater is Energy Star qualified, meaning that it is certified to be efficient and ecofriendly. Plus, propane or natural gas is affordable and well-refined. 
Low NOx Burner
If you come across people against the use of gas in water heaters, they will tell you that they would rather go gasless and pay more than pump the toxic nitrogen oxide into the atmosphere. Well, unlike several conspiracy theories, this claim holds a lot of ground. Usually, gas water heaters do damage the ozone layer with nitrogen oxide. Thankfully, the Rinnai V65iN is an exception. You have to thank its ultra-low NOx burner for that, which keeps the poisonous gases away from the atmosphere. The Japanese company shows formidable concern for health and safety.  So, you can enjoy your hot showers without the guilt of ruining the environment. 
Low-flow Activation
A water heater is as efficient as the amount of water wastage it reduces. While other tankless water heater models require you to increase the water supply to ignite the burner, the Rinnai V65iN minimizes the water flow to turn on itself.  The Rinnai tankless water heater ignites at a teeny flow rate of 0.4 gallons per minute and keeps the hot water running at levels low as 0.26 gallons per minute. That is how it will keep a steady stream of hot water if your demands are extremely low.       
Easy and Smart Temperature Control with Mobile App
Rinnai has kept things simple on the unit. You will find an LCD screen that displays the real-time and accurate temperature of the water. The tankless water heater comes with a pre-set temperature of 120 degrees Fahrenheit, but you can tweak the temperature between 98- and 140-degrees Fahrenheit. Rinnai provides an app to control the water heater remotely. You can set the temperature and schedule while sitting in your room and even with your voice. Also, the app brings with it a safety feature in which you can put a parental lock on the temperature. It comes in handy if you have kids messing around with the heater.    
Exclusive Condensing Technology
Not many tankless water heaters come with two heat exchangers. The Rinnai V65iN isn't one of them as it comes with stainless steel and copper heat exchangers to heat the water instantly. So, you don't have to wait for the water to heat up. Also, this technology makes the water heater more efficient. 
Water Leak Detection and Anti-frost protection
A tankless water heater requiring maintenance now and then is a bad deal. You would be spending more than you are saving on the water heater. However, the Rinnai V65iN takes care of itself by switching off the water when it automatically shuts down to prevent leakage. Also, the anti-frost protection is like icing on the cake as it keeps the water from freezing to help the unit last for long.  
Final Verdict
In this detailed review, we have disclosed everything you wanted to know about the gas tankless water heater. For a small and medium-sized home, the unit certainly delivers. Rinnai built this model to last longer and save you bucks while you take hot showers. What else do you want from a water heater!
Summary
Reviewer
Review Date
Reviewed Item
Author Rating