You wouldn't want to go through the horror and frustration of cold water running in the showers because someone at your home consumed all of the hot water in the tank. To make matters worse, you have to pay a hefty bill at the end of the month.   So, that's why people prefer tankless water heaters. Not only do you get an endless amount of hot water on demand, but you can save hundreds of bucks in electricity bills; a win-win situation! Hence, several manufacturers are working hard to provide high-performance and cost-effective tankless water heaters. One such manufacturer is the Stiebel Eltron putting their prowess German engineering into the tankless water heaters play. One of their well-engineered tankless water heaters, amongst the extensive range, is the Stiebel Eltron Tempra 24 Plus.  Read on to know more
Stiebel Eltron Tempra 24 Plus Review – Pros and Cons
The following are the positive and negative aspects of the Stiebel Eltron Tempra 24 Plus tankless water heater.
Pros
Energy-efficient

Advanced Flow Technology 

Digital display temperature control with microprocessor

Self-modulation

Durable German engineering
Cons
It doesn't work the best in cold regions

You cannot install in homes with old piping.
Stiebel Eltron Tempra 24 Plus Review – Features
Following are the admirable features of the Stiebel Eltron Tempra 24 Plus water heater:
Huge and Instant Hot Water Flow
If you receive your water at around 80 degrees Fahrenheit, then the Stiebel Eltron Tempra 24 shows peak performance. In warmer regions, the tankless water heater can deliver up to 5 gallons per minute of on-demand and uninterrupted hot water. Thus, it will do the job of a central water heater for the entire house.  However, when the water temperature goes down, as it does in the freezing climates, the tankless water heater starts to struggle. Nonetheless, for temperatures at 60 degrees Fahrenheit or below, the Stiebel Eltron Tempra 24 Plus can provide a reasonable 2.5 gallons per minute of hot water, which is enough for running two showers simultaneously.       
Highly Energy-efficient
As mentioned earlier, the Tempra 24 Plus embodies German machinery with state-of-the-art technology. Therefore, naturally, like the German cars and machines, you would expect the best and the most efficient performance from the Stiebel Eltron Tempra 24 Plus. Well, the tankless water heater delivers a 99 percent efficiency.  The efficiency is on par with the best-selling tankless water heaters, of which the Tempra 24 Plus is also a part. Thus, you can expect reduced electricity bills after installing this one. The manufacturer claims that you can save up to 20 percent in energy costs, a number which the users also concede. However, colder climates will beget some increase in expenditure.   
Ventilation-free design
One reason for the high running costs of conventional water heaters is the requirement of a vent system. Usually, such systems need air for combustion, and it pulls down the efficiency. However, tankless water heaters do not need venting. Thus, you don't have to pay an extra 10 to 20 percent on running costs. 
Self-modulating Mechanism
You don't have to do much to lessen your electricity bills. The Stiebel Eltron 24 Tempra Plus does the job for you. It has a self-regulating mechanism that controls the amount of energy it spends on heating the water. Also, this mechanism contributes to the high efficiency of the tankless water heater.  What the tankless water heater does is that it controls the amount of water and heats only when needed. Since it is tankless, Stiebel Eltron Tempra 24 Plus does not store any unused water. So, consequently, you do not end up spending unnecessarily on wasted water. 
Advanced Flow technology
Stiebel Eltron boasts its exclusive Advanced Flow Technology in the Tempra 24 Plus tankless water heater. Are you wondering if it does anything or is it just a flashy name? Well, here is what you need to know. Advanced Flow Technology consistently maintains the temperature of the water, even if it exceeds the capacity. So, what does that do? If you reside in colder regions or even in warmer areas, usually, the water temperature fluctuates. In most cases, the fluctuation stresses out the system. However, the Stiebel Eltron Tempra 24 Plus remains unaffected and works like a charm. Also, it saves you money on maintenance charges.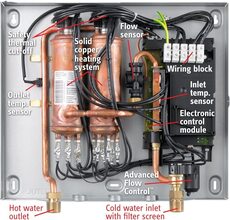 Microprocessor-controlled Digital Temperature
When it comes to hot water, some people are sensitive to a change as small as 1 degree. Nowadays, manufacturers have scrapped conventional dials for digital controls. Stiebel Eltron Tempra 24 Plus comes with digital temperature control, as well. Therefore, you can precisely set your desired temperature. Also, a microprocessor present in the tankless water heater ensures that you get the selected temperature. You can adjust the temperature between 80 to 140 degrees Fahrenheit. However, higher temperatures put forth a risk of scalding, which is dangerous, especially for kids. Hence, the Stiebel Eltron Tempra 24 Plus limits the temperature to 109 degrees Fahrenheit for safety purposes.    
7-years Warranty
Stiebel Eltron offers a warranty of 7 years for leakage and 3 years for parts on the Tempra 24 Plus. Although it may seem less, however, if you follow the instruction manual, then you will not void the warranty and keep your water heater running for long.  
Final Verdict
Let's wrap up what we have discussed thus far. Although the Stiebel Eltron Tempra 24 Plus may not seem budget-friendly, it is one of the best performing tankless water heaters for an average-sized house in a moderate climate. Also, it offers an impressive 5 gallons per minute flow of on-demand hot water. 
However, despite being powerful enough, in colder climates, it is more efficient as a point-of-use water heater. Nonetheless, you will be saving noticeably on the electricity bills. Plus, you can always rely on German engineering to build classy machinery.
Summary
Reviewer
Review Date
Reviewed Item
Stiebel Eltron Tempra 24 Plus
Author Rating