Having an uninterrupted supply of hot water is one of the finer things in life. Not only does it make the showers heavenly, but you also feel cozy while washing the dishes and doing your laundry. However, you will need a water heater to make all that happen. Sounds simple, right? But that is not entirely the case. 
Getting any water heater is not going to make things easy. Instead, you might end up paying hefty bills, even without the comfort of hot water. Such is the case with gas tank water heaters. They only store an amount of water, and you would run out of it after consuming it for one chore.  All you need is a reliable tankless water heater for an endless supply of hot water on demand.
One name that pops up frequently is the latest from the German brand, the Stiebel Eltron Tempra 29 Plus. The tankless water heater comes in a sleek and compact design to last for long. So does the Stiebel Eltron Tempra 29 Plus do the job? Read on to find out. 
Stiebel Eltron Tempra 29 Plus – Pros and Cons
Since everything has both good and bad, here are some of the positive and negative sides of the Stiebel Eltron Tempra 29 Plus.
Pros
Comes with Advanced Flow Technology for consistent heating

Highly energy-efficient

Digital display temperature control with microprocessor

Self-modulation to work efficiently 

Reliable German engineering for durability

No need of venting
Cons
An average performance cold areas

Requires expensive 2×6 wiring
Stiebel Eltron Tempra 29 Plus – Features
Here is everything that you can expect from the Stiebel Eltron Tempra 29 Plus. 
Huge and Instant Hot Water Flow
With the Stiebel Eltron Tempra 29 Plus, you get an endless supply of hot water. Is it endless and hot? Well, we will get to that later. If you live in a warmer region, then you should have no trouble with this one. For a temperature of 75 degrees Fahrenheit, you can get a massive 6.5GPM flow rate. 
However, the gallons per minute start to drop with the temperature. But you can still get 3 gallons per minute of on-demand hot water at around 40 degrees Fahrenheit.
The tankless water heater can serve as a point-of-use device for running two hot showers simultaneously. However, the Tempra 29 Plus struggles at low temperatures. 
Microprocessor-controlled Precise Temperature and Digital Display
It can be frustrating if you don't get the desired temperature. Even a difference of a couple of degrees can make the water too hot or too cold. However, Stiebel Eltron Tempra 29 Plus takes care of it as it comes with a dial and digital display to set the right temperature effortlessly. 
There is a microprocessor that makes sure that you get the temperature you have set. You can set the temperature of your choice ranging from 86 to 140 degrees Fahrenheit. Moreover, it doesn't cost much to increase the temperature as the heater keeps a smooth flow throughout.  We discuss next how it does the trick.
Advanced Flow Technology
Do you know what the "plus" in the Stiebel Eltron Tempra 29 means? The premier "plus" models feature the manufacturer's patented Advanced Flow Technology. A lot of users confuse it with the self-modulating technology, but it is different from the said term. The exclusive mechanism ensures that the water heating remains constant, regardless of the change in the use. 
If the flow of water exceeds the capacity of the water heater, then it adjusts the supply accordingly. So, if you live in a climate where the temperatures often fluctuate, the feature comes in handy to provide an undisrupted stream of hot water.
Conversely, it will adjust the heat even if the water flow is within range or irregular. Nonetheless, in both cases, you get an endless supply of hot water.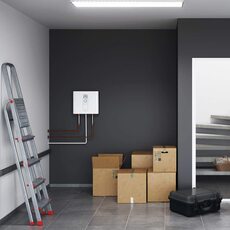 Self-modulation Process and High Energy-efficiency 
There is no point in getting a tankless water heater if it doesn't save you money on electricity bills. So, Stiebel Eltron has done its homework to make the Tempra 29 Plus a money-saver. Tankless water heaters tend to lower the electricity bills by using a minimal amount of energy to heat the water.
Tempra 29 Plus uses a self-modulating process to ensure that it does not heat the unused or extra amount of hot water, and it ensures that it only heats the water that is under consumption. Consequently, it is 99 percent energy-efficient and can reduce the electricity bills by 15 to 20 percent. That is how you save bucks! 
Warranty
You should always purchase a tankless water heater that comes with a warranty. After all, it is a representation of the manufacturer's credibility and confidence in the product. Stiebel Eltron is offering a warranty of 3 years on the water heater parts. Additionally, the manufacturer provides a 7-year warranty on leaking. 
Final Verdict
The Stiebel Eltron Tempra 29 Plus does its job well. It provides you instant hot water on demand, keeps the hot water flow continuous, and saves you money when it comes to electricity bills.
For an average-sized home in a warm climate, this might be the central tankless water heater for you as it checks all the boxes. However, for a cold region, the performance of this unit is rather inconsistent. Nonetheless, for temperatures nearing 40 degrees Fahrenheit, the Stiebel Eltron Tempra 29 Plus is effective as a point-of-use tankless water heater.
Plus, the exclusive and patented Advanced Flow Technology maintains the hot water temperature. What else do you want! By putting together everything that the tankless water heater has to offer, you will realize that in terms of efficiency, performance, and cost-effectiveness, the Stiebel Eltron Tempra 29 Plus is one of the best tankless water heaters in the market.
Summary
Reviewer
Review Date
Reviewed Item
Author Rating




Product Name
Stiebel Eltron Tempra 29 Plus (3rd New Generation)
Price
Product Availability