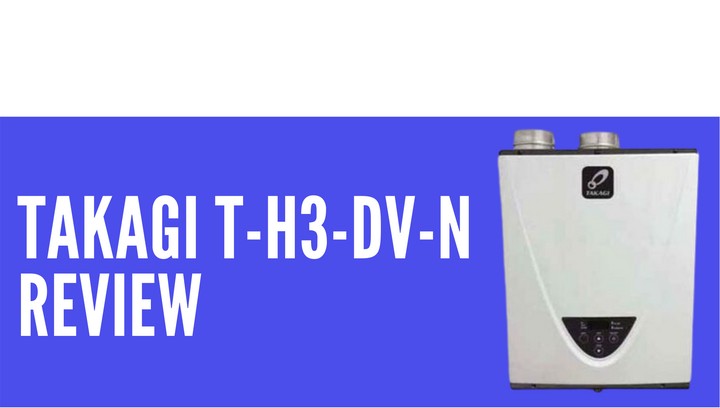 A lot of people have bid farewell to the tank water heaters. After all, you wouldn't want the hot water to run out, would you? Although the tank water heater models have lower price tags, their tankless cousins save bucks on running costs. That's why tankless water heaters are selling like hot cakes in the market.  If you search for a tankless water heater, one name that pops up is Takagi, a Japanese manufacturer. They bring their top-performing Takagi T-H3-DV-N tankless water heater to the table. Why is the Takagi unit so prominent, I hear you ask? For starters, consider its massive 10 gallons per minute output flow.  Well, the good stuff doesn't stop there. The Takagi T-H3-DV-N tankless water heater comes in a durable and compact body. So, you can save an ample amount of space by installing this indoor gas tankless water heater. Thanks to the stainless-steel body and copper wiring, you don't have to worry about rust Do you want to know more about the Takagi water heater? Then this detailed review is for you. 
Takagi T-H3-DV-N Review – Pros and Cons
No tankless water heater is perfect, and this one is no exception. Here are the positive and negative points of the Takagi T-H3-DV-N.
Pros
Huge hot water output of 10 gallons per minute

Highly energy-efficient with 0.95 factor 

Ultra-low NOx burner

Compact design

Protection against overheating and freezing
Cons
Takagi T-H3-DV-N Review – Features
Here are the notable features of the Takagi T-H3-DV-N tankless water heater. 
Huge and Instant Hot Water Output
Let's start with what you already know. The Takagi water heater can provide a whopping 10 gallons per minute of hot water instantly. This unit can support the hot water needs of four bathrooms if they are in a medium to a large-sized house in a moderate climate. You don't get that much with other water heaters. The good stuff about the water heater doesn't end here. Since it is tankless, Takagi T-H3-DV-N, with its copper heat exchanger, wastes no time in heating the water. You can get water as hot as 185 degrees Fahrenheit.  It is important to mention here that the unit uses 199,000 BTUs of gas input to provide 10 gallons per minute in warmer climates. For colder regions, you can expect a drop in the hot water flow, but still, it is enough for two bathrooms. In both cases, it does the job of a central whole-house water heater.      
Energy Star Qualification
The reason most people are shifting towards tankless water heaters is their energy efficiency. Why would anyone want a water heater that burns away the money? The Takagi T-H3-DV-N outdoes the tank water heaters (and some tankless ones) with its ultra-high energy efficiency factor of 0.95. In simple terms, it efficiently utilizes natural gas. It is worth mentioning that the tankless water heater is Energy Star approved. Perhaps, this is why you can be sure that you will be saving a lot by running this one. In comparison to tank water heaters, you can save up to 40 percent in energy-related costs. So, the remarkable hot water flow rate is no excuse for spiking up the bills.
Ultra-low NOx Burner
Are you an advocate for climate change action? If yes, then you will condemn gas water heaters for pumping poisonous gas into the environment, and you are absolutely on point if you do. Gas water heaters do put the toxic nitrogen oxide in the atmosphere, which in turn damages it and causes health problems. However, fortunately, the Takagi T-H3-DV-N comes with an ultra-low NOx burner. This water heater does its job with concern for the environment. It does not produce the poisonous nitrogen oxide, which damages the ozone layer. 
Condensing System
How many heat exchangers do you think manufacturers put into a water heater? This one has two heat exchangers. One heat exchanger is the heat resistant HRS35 Copper alloy. This one is far more durable and harder than the regular copper alloys. It's not going to leak, that is for sure. The other heat exchanger is made of stainless steel. This one is responsible for preventing corrosion due to lower temperatures, whereas the copper heat exchanger transfers energy 25 times more rapidly. the gist of all the condensing system is that it quickly heats the water.
Protection Against Surge, Freezing and Overheating
If you save money on bills and running costs, you shouldn't be spending it on fixing and maintaining the tankless water heater. The Takagi T-H3-DV-N is a true money-saver in this sense. It comes with sensors and troubleshooting diagnostic codes to protect the water heater from scalding, freezing, and higher water pressure. Nonetheless, even if something goes wrong with your Takagi water heater, the company takes responsibility for it. You can contact the customer support for the warranty. The manufacturer offers a 15-year warranty on the working of the heat exchanger. Additionally, there is a 5-year warranty on the parts of the Takagi T-H3-DV-N tankless water heater.   
Final Verdict
After you consider everything and put it into perspective, you will concede that Takagi T-H3-DV-N does its job. Although it is pricier than most tankless water heaters, it saves money on the running costs. It uses a heat resistant copper heat exchanger, which makes it durable and efficient. So, it works well for both commercial and residential usage.
The installation costs are somewhat high for this unit, but you won't have to spend much on it in the future. Also, it is super energy-efficient with 0.95 factor and Energy Star qualification. It saves you money, provides a massive flow of hot water instantly, and is not harmful to the environment. The Takagi water heater does its job, and it does it well.
Summary
Reviewer
Review Date
Reviewed Item
Author Rating