If you are looking for a food sealing system, FoodSaver 4840 Vacuum Sealer is something worth considering. The FoodSaver 4840 is a 2-in-1 model that offers suction type vacuum sealer which is fully automatic and includes an accessory port with a built-in handheld sealer.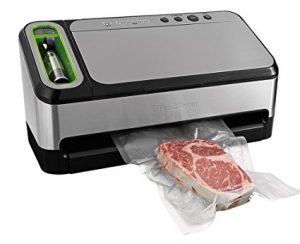 When it comes to versatility, this vacuum sealing system has no match. FoodSaver 4840 can handle bag rolls, pre-cut bags, and zipper bags as well used for refrigerated foods. You can seal as well as reseal food items without any hassle. One of the best uses of this food sealing system is that it can be used for external sealing as well. You can use it on jars and canisters to preserve the food in them. You can even buy an optional Quick Marinator. However, that is sold separately.
If you would like to see the price -> Click Here!
You can use this vacuum sealer for all types of short and long term food storage needs. This FoodSaver 4840 can be used for heat sealing portions of meat, fish, and poultry for long term storage. If you need to store dairy products like cheese and other materials, you can use the handheld sealer provided with this amazing product. This vacuum sealer is designed in a way that it keeps all the air and the harmful particles in it from damaging the food items. If you wish to keep your silver jewelry items from tarnishing, you can use this system to keep your silver jewelry new for a long time.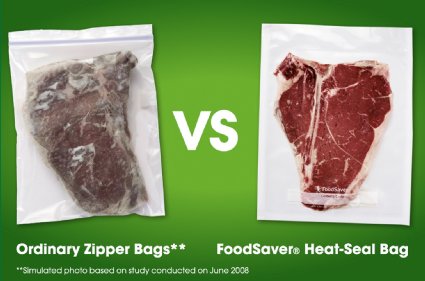 Features
Following are some of the best features of FoodSaver 4840:
User-Friendly – FoodSaver 4840 is a fully automatic machine with one-touch operation functionality. The indicator lights make it very easy to operate and use. The left side of the front panel includes two buttons for vacuuming and marinating and a folding handheld vacuum device. The built-in roll storage and bag cutter allow the user to select and cut the appropriate size bag every time.
Smart Operation – You just have to cut the bag size while the machine will automatically adjust the size of the seal based on whether the contents are wet or dry. This smart function of the machine makes it very convenient to use.
Less Maintenance – This machine requires very less maintenance. The indicator lights give off warnings to empty the dip tray. However, before cleaning the machine, it is strongly advisable to unplug the machine.
Multipurpose Sealing – This machine although, is best for sealing food items but you can use it to seal and preserve other items as well. You can vacuum-seal your important documents, jewelry items, and many others.
Dishwasher Safe – You can easily clean the machine's tray as it is dishwasher safe. Keeping a vacuum sealing system cleaner was never this easy.
Besides these features, this machine comes at a very affordable price. As compared to other sealing machines, FoodSaver 4840 is very economical in price. One of the best things about this machine is that it has optional accessories as well that you can buy separately.
Conclusion
This is one of the best food vacuum sealing systems available in the market. The utility it offers is more than the price. By bringing this system in your homes, you can make your life much easier and preserve the food items for the long term. The weight of this machine is only 10 pounds so you can easily carry it with you. The size of the machine is the same as the regular printer and you can accommodate it in your kitchen without any difficulty.
Don't miss the 28% discount on Amazon -> Click Here!

Summary
Reviewer
Review Date
Reviewed Item
Author Rating