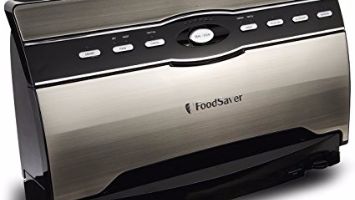 You need the FoodSaver V3880.
The FoodSaver V3880 is a vacuum sealing system that changes your food storage game. With its stainless steel, metallic look, it is perfect for a professional kitchen. Literally.
It has the power to be used in any commercial kitchen. It has both sous vide and marinating options. And weighing 11.2 pounds and measuring 9.1 x 21 x 13.3 inches, it can fit into any nook or cranny in your kitchen that you need it to.
Even using it is easy. The FoodSaver V3880 has an automatic function with two speed settings for any food you need to save.
It can even be used on both wet and dry food! And to make it easier to monitor the progress of storing your food, the handy LED light on the appliance helps you know exactly when your food to safe.
This vacuum sealing system comes with a ton of accessories to get started including an 11″ x 18″ FoodSaver roll, 12 Quart sized bags, a removable accessory hose, a cutter, a bag opener and a roll holder.
All of these things make it easy for you to jump in and start storing and saving you food.
Pros and Cons of the FoodSaver V3880
Pros
Professional quality lets you have the same appliance as a commercial kitchen with several professional settings.
Automatic function with two speed settings makes it easy to use with any food.
LED light makes monitoring your progress easier.
Can be used on both wet and dry foods.
Fast speed can have your cleanup over with faster.
Marinating setting is easy to use and makes marinating your food super fast.
Included accessory hose makes this appliance easy to use with containers and canisters.
Its weight and size and stainless steel appearance makes it easy to fit into any kitchen.
Cons
The automatic function does not allow you to customize your settings for optimal food storage.
The bag-maker options can actually end in a mess instead of being helpful.
The FoodSaver V3880 is a handy appliance that you would love to have in your own kitchen. Having it is like having a professional quality appliance disposable to you at any moment.
It is a great quality device that professionals use, so why shouldn't you? It's reasonable price make buying it a no brainer.
Nobody likes wasting food and with the FoodSaver V3880, saving your food becomes less of a hassle and more of a luxury that takes no time at all.
Summary
Reviewer
Review Date
Reviewed Item
FoodSaver V3880 Vacuum Sealing System
Author Rating




Tired of fumbling around for matching storage containers and lids? Does it feel like saving your food is more of a hassle than throwing it away?