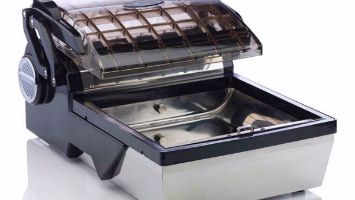 food sealer
. If you are looking for one that is durable, simpler, and offers maximum features, you should consider VacMaster VP112.
VacMaster is one of the most acknowledged names when it comes to kitchen appliances especially vacuum food sealers. They are offering a plethora of models that offer all the unique features that you seek in a vacuum sealer. In this review, we will discuss some of the best features of VacMaster VP112. Read on to know about the features, benefits and price of VacMaster VP112 Vacuum Sealer.
Features of VacMaster VP112
Portable – This vacuum is designed keeping portability in mind. It weighs around 50 pounds and the design of this vacuum sealer is very simple so it can be placed easily on the counterpart of the kitchen.
Stainless Steel Body – The weight of this vacuum sealer does not describe the body of it. It is made with top quality stainless steel. No matter how old it gets, it will not get rusty. The stainless steel body also makes it easier to clean and it will not get any scratches as well.
Seals All Food Types – The vacuum sealer is equally suitable for both dry and liquid rich foods. All you have to do is put the food item in the bag, enter the bag in the lid and let the sealer remove all the air inside the bag. Please note that it will NOT suck out the liquid in the food.
Allows Marinating – VacMaster VP112 can also be used to marinate foods like meat and vegetables. Because of the better sealing abilities, it can easily marinate food items.
Multiple Sealing Options – This vacuum sealer is not just for sealing bags but it can be used to seal canisters, jars, and containers even. It will remove all the air from such containers and preserve the food inside them for a long time.
Warranty – One of the best features of VacMaster VP112 is that it comes with one-year warranty. Even if you witness a problem, there is no need to call a technician. All you have to do is contact the service center of VacMaster and they will resolve the problem as early as possible.
Easy Operation – It is very easy to operate VacMaster VP112 because of the simple UI. You don't have to read any manuals or browse the web to watch videos on how you can operate it. The control panel explains everything that you need to know to start using the vacuum sealer.
These are some of the best features of VacMaster VP112. After the features, lets discuss some of the benefits of using this vacuum sealer.
Benefits
It has the following benefits:
1.The cost of bags used in this vacuum sealer is very low and affordable.
2.The same bags can be used to marinate food items.
3.The cycle time is very quick and you can use it for a long time in one go.
4.Seals  superbly.
With the above features and benefits, it is obvious why VacMaster VP112 is a good vacuum sealer to invest in. You can get this amazing vacuum sealer in under $700 which is very low as compared to other sealers with the same qualities.
Summary
Reviewer
Review Date
Reviewed Item
Author Rating




Vacuum chamber sealers are becoming equally popular in homes and businesses like restaurants and cafes. They make it easier to preserve the foods with all their freshness. Finding the right vacuum sealer can be a daunting task considering the number of choices available in the market. However, not every vacuum sealer can offer all the features that you expect in an ideal