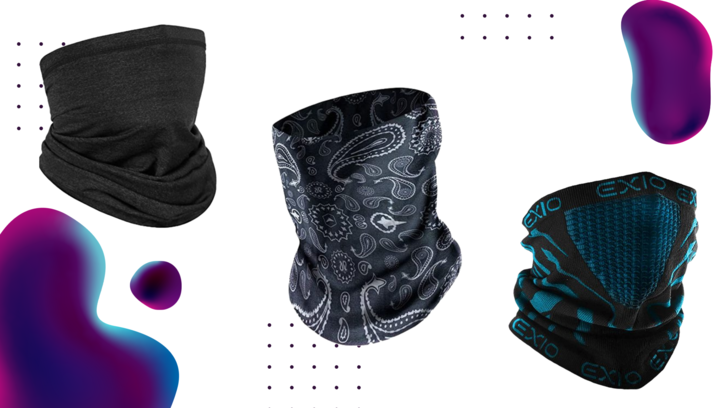 In times where face masks are rarely in stock, a neck gaiter is your smart, safe alternative. Whether it's obligatory or not in your state, it is crucial to cover your face in these times to keep yourself and others safe.
A neck gaiter is first a good companion for life adventurers. Whether to protect yourself from the cold weather and your skin from the hot sun, or block dust and pollen. Neck gaiters come at handy to serve you and keep you comfortable during your outdoor activities.
Whether you're done with fogged up glasses, or can't find the tight-fitting or loose fitting neck gaiter you want. We got you all covered!
We have reviewed dozens of products and cherry-picked for you the 7 best neck gaiters you can get right now. In our review, you will find the essential information required to choose the neck gaiter that best fits your needs.  
 The COVID situation is shaping a new routine that requires taking necessary actions for one's safety. Social distancing remains the ultimate option to stay safe and protect your beloved ones. We cannot, however, completely avoid going out. Be it to run essential errands or go for work or even for a morning jogging.    
Neck gaiters, although not as effective as medical face masks, are a good substitute and serve the purpose. It is one of the options that has been recommended for non-health care workers. You can always double-layer the fabric or slip in filters for better protection.   
Wearing a neck gaiter will first protect the others by preventing us from further spreading the virus. Therefore, covering one's face is a responsible thing to do.     
Best Neck Gaiters Review
1. WindRider Neck Gaiter and Face Mask- Our Pick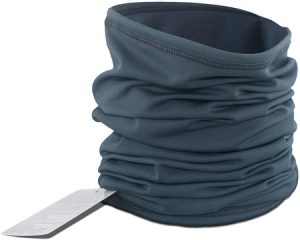 Our pick Windrider is a best seller and a highly rated product on Amazon. It offers excellent protection for an affordable price compared to other neck gaiters. With UPF50, you can use it to cover your neck and face from the burning sun, as well as keep yourself warm in cold winter. 
This neck gaiter has multiple uses that will benefit you. It is a nice substitute for a face mask during these times, and you can easily use it whenever you're heading out. 
Made of polyester and spandex, it's an effective moisture-wicking product that dries fast. The fabric is well hemmed, which guarantees you long-lasting. It's a soft product perfect for everyday use. If you are wearing eyeglasses, however, it can fog up your glasses.
User critic
Consumers find the neck gaiter affordable for the quality provided. Others find it a bit pricey. Besides ordinary uses of the neck gaiter, they think of it as a good alternative for face masks with the current shortage of medical masks. Some users complain about the tight ends, while others find it loose-fitting for their smaller faces.  
Pros
Good quality
Affordable price tag
Multiple uses
Lightweight
Final Verdict
Windrider neck gaiter is our favorite product for the quality protection it offers, the versatile uses, and the affordable price.
2. Tough Headband UV Face Mask – Neck Gaiter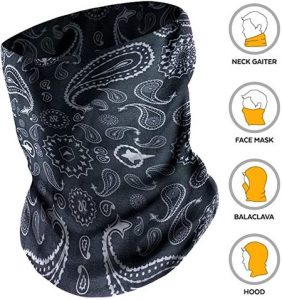 Tough Headband 12-in-1 Headwear is one of the most popular neck gaiters around. With the quality offered for the price, no wonder it has cultivated a large fan base on Amazon.   
If you are looking for a multifunctional neck gaiter, you only need the Tough Headband 12-in-1 Headwear. Besides a neck gaiter, you can fold it and use it as a balaclava mask and also a hood.   
It's highly adaptive; you can use it both in the warmest temperatures as well as the coldest ones. You will need it if you enjoy running, hiking, cycling, or any other activity where you need to protect your head, face, or neck. With over 12 functions, it's your rightful companion in every outdoor activity.  
This neck gaiter is also a good alternative for face masks during the current pandemic. You can use it on your way to grocery stores, at work, or while walking in the neighborhood. To avoid catching and spreading the virus. For better protection, you can always fold it to double-layer the fabric.   Another reason it is the favorite of many, the stretchable moisture-wicking neck gaiter, comes in different colors and beautiful designs.   
User Critic
Some users complain about the fabric stretching out after they washed it. To avoid this, do not throw your neck gaiter with your other clothes in the washing machine and make sure to hand-wash it instead.    
Some found it short when they used it as a balaclava, and the fabric wouldn't cover the whole neck. Others prefer that the neck gaiter was thicker, yet you can always fold it for better protection.   
Still, most users compliment the good quality and breathability of the fabric, as well as its versatility.
Pros
Good quality
Affordable
Versatile
Breathable
Cons
Risk of stretching if you machine wash it
Some may find it thin
Final Verdict
This is one of the best products with multiple ways to wear it, it can be short, however, if you decide to wear it as a balaclava.
3. OUYZY Neck Gaiter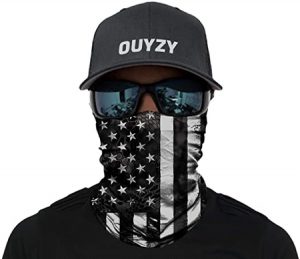 Worried about social distancing? The bold designs of OUYZY Face Scarf Cover Mask will do the trick. Try the intimidating shark design. It will keep people away from you. And that's exactly what you need for now. You can use it as a face mask to protect yourself and others, and avoid spreading the virus.  
Perfect for runners and motorcycle lovers. Not only does it block the dust, but this is the neck gaiter you will need during sunny days. It will prevent the ultraviolet rays and keep you comfortable with its sweat-wicking fabric. 
OUYZY Face Scarf Cover Mask is very versatile and comes in one size fits all at a very reasonable price. The stretching material is made of Polyester Microfiber. You can wear it as a neck gaiter, a cap, a headband, scarf, balaclava mask, and many other ways. 
Users critic
Many users were surprised by the quality of the product. While some customers complained about the thin fabric and raw edges. Others found the neck gaiter too tight for them. 
Pros
Affordable
Dry quickly
Guarantee money back if not satisfied
Cons
Raw edges
Can be tight for some
Final Verdict
This product is for you if you seek protection from sun rays and like bold designs.
4. EXIO Winter Neck Warmer Gaiter/Balaclava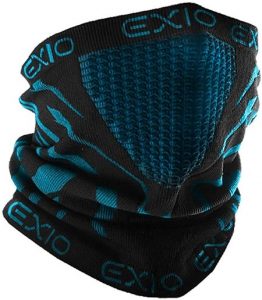 EXIO Winter Neck Warmer Gaiter Balaclava is not only a cool neck gaiter you can get at a reasonable price, but it's also one of the best neck gaiters for glasses.  As its name suggests, this neck gaiter will serve you best in colder weather. It is wind-resistant, and the fabric will keep your head, face, and neck warm.
This neck gaiter is excellent for winter sports. You can use it while skiing, snowboarding, running, or motorcycling. With a breathable mesh around the mouth, the neck gaiter will leave you comfortable when practicing outdoor activities. And if you are wearing eyeglasses, no need to worry, the neck gaiter will offer you great breathability without fogging up your glasses. 
You can use it as a face mask as well, and for better protection, you may opt for the two-pack option or slip in a filter under the elastic. It comes in two colors: Black and Grey, that will match any of your clothing.  
Users critic
According to some users, the neck gaiter may fall off the face while running. It would have been better if it were tighter. On the other hand, with no insulation layer, the fabric can be thin, and that wouldn't block the dust.  
Pros
Great breathability
Very comfortable
Sweat-wicking
Easy wash
Dry quick
Cons
A thin fabric, cannot block much the dust
Not tight enough for some
Final Verdict
This neck gaiter is what you need in cold temperatures. It will keep you warm during your winter activities.
5. Achiou Neck Gaiter 
One of the best sellers on Amazon, no wonder Achiou Neck Gaiter made it to our list of the best neck gaiters. The soft fabric is made with cotton and polyester, which feels good on your skin and makes you very comfortable.   
This is your pick for the next adventure. It is UV-proof (50+ UPV), wearing this cooling neck gaiter will help you protect yourself from the sun on hot days, and would block the dust, sand, and mosquitoes.  
Not only a cooling neck gaiter, but you can also use it as a balaclava mask, pirate hat, face scarf, cap. There are many other ways to wear it. Your imagination is the limit. It is one size fits all and comes in five different colors.   
This neck gaiter can also be used as a face mask to protect yourself and your surrounding from coronavirus. You can use it at work or whenever you're heading out, It is large enough, so you can always double it.  
Users critic
Some users find it to be thin and large for smaller heads. Others complain about the slippery fabric. It kept on falling down their neck. But it can be doubled for better coverage. Overall, most users find the neck gaiter to be of good quality. 
Pros
Lightweight
Easy to wash
Very comfortable
Windproof and breathable
Double-stitched seam

Loose-fitting
Cons
Missing washing instructions
Slippery
Loose-fitting: Can be large for smaller heads
Final Verdict
Achiou is a UV-proof soft neck gaiter that will protect your skin from the sun. It can be slippery, check the dimension to make sure it's a perfect fit.
But if you prefer the loose-fitting neck gaiter, then this one may be for you.
6. JOEYOUNG 3D Neck Gaiter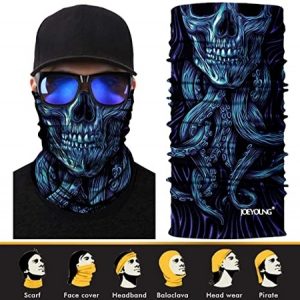 If you're tired of plain and sober neck gaiters and you prefer fun designs, JOEYOUNG 3D Neck Gaiter will make you stand out with cool 3D effects. It is made of stretchable material that will stay in place and fit you right.    
Grab one for your outdoor adventures. It will protect your skin from being overexposed to the sun when going for a run, cycling, hunting, fishing, climbing, and even for yard work. It also absorbs moisture and dries quickly, and you can carry it around easily.   
It will also serve you during cold weather and will keep you warm, but it is not designed with thermal effects. It is moderately thick, so you can easily breathe through it.  
This product, too, has various purposes according to your needs. From headwear to balaclava, to a bandana. You can also use it as a face mask, and with filtered masks, it can add more coverage when you cannot stay at home during the pandemic. 
Users critic
Users prefer this stretchable tight-fitting neck gaiter over other large ones. However, the print is from both sides and not that vivid. The edges are unhemmed and it can be too tight and uncomfortable for some.
Pros
Very stretchable
Cool patterns and design
Tight-fitting
Cons
Not as breathable as other neck gaiters
Final Verdict
This one is a fun tight-fitting neck gaiter. If you are into 3D cool designs you will like this neck gaiter.
7. Buff Multifunctional Headwear Sports-Headbands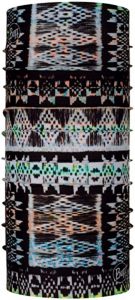 For a more elegant sporty look, I definitely recommend this Buff Multifunctional Headwear Sports-Headbands. You will get to choose from various beautiful and colorful designs to fit any of your clothing and make it more fashionable.   
There are many ways you can use the buff neck gaiter. One way will be as a face mask. It will help you cover your face when you're outdoors. However, it can be slippery, and you may consider tightening it up with an elastic. On the other hand, if you suffer from allergies, this product can be quite useful at blocking dust and pollen too.   
When hiking, The buff neck gaiter will keep you warm during cold times, and protect you from sunburns in summer. The fine fabric is soft on the skin, and it provides the right comfort by its moisture-wicking feature. It is also easy to clean and use. This is one of the most expensive neck gaiters on our list. However, with the value you get, it's worth every penny.   
User critic
Users expected it to be a better face mask, but the neck gaiter kept falling from the face. Others find it to work pretty well and perfectly fit the small and larger sizes.  
Pros
Good quality
Elegant design and multiple choices
Fits all
Moisture-wicking
Cons
Imported
Pricey compared to other neck gaiters
Final Verdict
Our last pick is the multifunctional buff. You can choose from various beautiful designs and use it in multiple ways.
Factors To Consider When Buying A Neck Gaiter
Multiple Use
You will better enjoy a versatile neck gaiter that is good for both cold and hot temperatures. With various ways of wearing the garment, it will be more useful in different settings.  
Breathability
This is an important feature to consider when picking your neck gaiter. It must be easy to breathe through while it stays up your face. The product can be made of different materials, while you seek to stay warm, make sure to pick the one that is moisture-wicking for better airflow. 
Size and Fit
Most neck gaiters come in one size fits all. Some are more stretchy than others and can fit a broader range of people. Still, checking the dimensions will give you a better insight into whether the product will fit you or not.
Materials
Materials vary according to each product. Some are made of wool, fleece synthetic, these ones are meant for cold winters. During summer, you may go for the ones made of polyester, cotton, spandex. Also, make sure you're not allergic to any material used in the neck gaiter to avoid skin irritation. 
Design and Style
You may be into sober colors; many neck gaiters are either black or grey. If you prefer to stand out with a unique elegantly designed piece, you can find multiple choices that would fit your needs.  
Frequently Asked Questions
Can I use a neck gaiter as a mask?
Neck gaiters can be a good alternative to face masks and serve the main purpose of covering one's face. They are not, however, as sufficient as medical masks. For better protection, choose a thicker one or fold it if it is too thin.   
How often should I wash neck gaiters?
Depending on how much you use it, you can wash it every other day. They are also odor resistant, so you don't need to worry about the smell. Still, it is better to wash it after each outdoor use during the current pandemic. You can throw it in water and soap, most of them dry quickly.  
Are neck gaiters machine washable?
Some neck gaiters are machine washable, while others require hand washing, depending on the materials they're made of. They come with washing instructions where you'll explicitly find how to clean it. 
What's the use of neck gaiters
The primary purpose of neck gaiters is to keep you comfortable in cold and hot weather. They protect your face, neck, and head from intense sun rays and block the wind, dust, insects. They dry quickly and keep you cool with their moisture-wicking feature. 
Who needs a neck gaiter?
You will need a neck gaiter for your outdoor activities: running, hiking, motorcycling, fishing, hunting. And especially winter sports: snowboarding, skiing. Neck gaiters are also for everyday use to keep warm or cool outside.
Summary
Article Name
7 Best Neck Gaiters in 2021
Description
Whether you are into biking, fishing, or hiking, using a soft neck gaiter is a must-have if you want to keep your neck warm during your trip into the wild. There are so many neck gaiters and our detailed guide will help you choose the best one for your next adventure based on their style, fit, breathability, and materials.
Author
Publisher Name
Publisher Logo