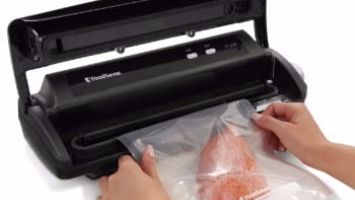 Features
The device operates much like many food  vacuum sealers on the market today. The food is placed inside the plastic pouch where the air is extracted and the opening sealed. The V2244 is manually operated and is purposefully designed to be user-friendly.
Quiet Operation
Hose Pose: Ensures Air is Fully Removed
Liquid Retaining Tray: Ideal for Broths and Soups
Accessory Port: Allows for Food to be Marinated
Uses Pint, Quart, & Gallon Bags
12-Month Warranty
The model itself comes in black which fits perfectly into most kitchen décor. It also has performed well compared to other food vacuum sealers.
Advantages & Disadvantages
There are numerous advantages to using the V2244, starting with the one-year warranty that ensures any defected models are replaced quickly by the company. However, there are many other advantages as well.
Durable
Quiet
Precise Manual Operation
Drip Tray Catches Excess Water
Removable Tray
Easy Cleaning
All these advantages add up to a food vacuum sealer system that is easy and intuitive to operate while handling even large bags. Add to this the drip tray which is removable and you have an easy to clean device as well.
However, not everything about the V2244 is perfect and there are a few disadvantages that you need to consider before purchasing this unit.
Does not use Vacuum Zipper Bags
No Automatic Operation
Larger, Bulkier than many other Vacuum Sealer Units
While none of these disadvantages are a deal-breaker, it should be noted that those who are used to automatic vacuum sealers will have to make a few adjustments to get use to the manual sealing operation of this unit.
Conclusion
Overall, the FoodSaver V2244 Vacuum Sealing System works beautifully on small to large food items that range up to a gallon. Plus, the ability to handle broths and soups makes this a versatile unit despite its rather large size. While it does not have an automatic sealing feature, the manual operation is easy and offers more control when sealing up different types of foods. The drip tray is another welcome feature in making clean-ups a breeze.
For those who are looking to save money by storing more food safely, the V2244 is the answer you have been looking for all this time. It's quiet, easy-to-use, and provides excellent versatility in handling different types of food products.

Summary
Reviewer
Review Date
Reviewed Item
FoodSaver V2244 Vacuum Sealing System
Author Rating




Are you looking for a convenient method to One way to save money on food purchases is to buy when it is on sale and store it properly until ready. However, conventional methods of storing, including freezing are often not very effective as it subject the food to freezer burn or dehydration. Vacuum sealers however, offer several advantages which include avoiding freezer burn and reducing the space the food occupies so you can store more of it longer in your freezer. The FoodSaver V2244 Vacuum Sealing System promises to be a simple to use and highly effective device. However, is it the right device for your needs when it comes to the safe storage of food?