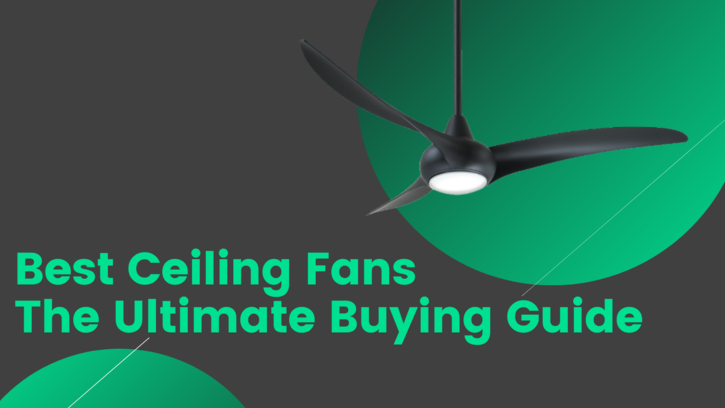 Getting the best ceiling fan is the way to have good air circulation in your home. When air is evenly distributed throughout, you'll feel like the r
oom you're in is larger and lighter, which is a very pleasant experience to have.
You're probably looking for the top rated ceiling fans so that you make the best choice.
In order to pick the one that best suits your needs, I've written these ceiling fans review, which can serve you as a guide as there is much to say about these rotating blades devices.
The Best Ceiling Fans For Overall Quality And Performance
When looking for the best ceiling fan on the market, the characteristics you should consider are:
Quality

Airflow (CFM)

Efficiency (CFM/Watts)

Electricity Use (Watts)

Wind Speed (MPH)
But there are also two factors that need to be taken into consideration: the place where the fan is going to be used and the style desired.
After doing research, I have selected twelve of the best ceiling fans according to specialists and which are also highly rated on Amazon. You can, for sure, find other fans that are close in comparison to these, but it's safer to shop what customers are recommending out of experience and which professionals have labeled as high quality, performance, and durability in their category. These ones are also among the quiet ceiling fans out there.
Emerson Carrera Grande Eco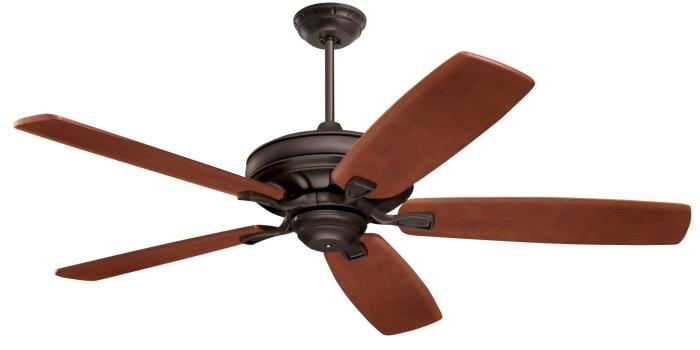 We start with the top of the list. The Emerson ceiling fan wins on our best ceiling fans reviewed today. It's a high quality fan that will move lots of air all by running smoothly and quietly without wobbling. The U.S. Government Energy Star program awarded the Emerson Carrera Grande Eco for being "Most Efficient".  This fan's DC motor is 3 times more efficient than a typical ceiling fan motor as it uses only 33 watts of electricity at high speed.
It's also a very nice looking ceiling fan which style will fit in almost any interior design, especially if you have wood plank flooring. This fan's style is customizable as there are blades in various furniture grade finishes which you can purchase separately. This makes it able to fit many styles as well as any medium to large size room, as the blades are available in 54″, 60″ and 72″ sizes. Inside this nice looking device is a powerful and efficient DC ECO Motor which allows the fan to produce over 7,100 CFM of airflow (tested with 60″ blades).
The EPA (Environmental Protection Agency) efficiency rating of the Carrera Grande Eco is 360 CFM/Watt. A 6 Speeds remote control is included with this Emerson fan and which has a reverse function and light dimmer for more convenience.
If a ceiling fan with lights is what you're looking for, a variety of light kits are available to choose from that you can add to this fan. Fluorescent, incandescent, Halogen and super efficient LED are all options you can choose from.
A down rod is included with the fan and measures 4-1/2-inch. If you plan to hang it on a pitched ceiling, then you will have to buy separately the Emerson Sloped Ceiling Kit. 
User critic
This Emerson fan impressed many users because of its mammoth flow rate. They go ahead to call it splendid as it does all this quietly without any wobbling. They are happy to say that the unit is worth the money. 
Pros
A superb 7200 air flow rate

Comes with a lifetime motor warranty

Very very energy efficient (33 Watts on high speed)

The blades are customizable with various furniture finishes

The motor supports 6 speeds
Cons
Comes with a high price tag

LED lights are purchased separately

The angling kit is also sold separately
Final Verdict
A fan with a 7200 flow rate is not one you turn a blind eye to. The variety of furniture finishes available also makes your ceiling look elegant. You will benefit a lot from this fan and, therefore, it's worth spending your money on.
Harbor Breeze Hydra Ceiling Fan 
It is more convenient to have one beastly fan than three miniature ones hanging off your ceiling. The Harbor Breeze Hydra 70-inch is a relatively large instalement, that will deliver the power of multiple typical fans all on its own. 
This it manages with the great features it comes packed with, which include 8 nickel toffee-finish blades, with a 70-inch diameter.  The blades not only efficiently move air but also give your ceiling that warm elegant look.
It gets better when the fan starts to move as it works at a whooping 6376 CFM rate. With such a speed, it can sufficiently ventilate the largest of rooms even with the highest of ceilings. 
That is not all, for optimal comfort, it comes with a unique Natural Breeze mode. This feature optimizes airflow, resulting in what feels like a natural breeze. All that it does silently, and makes no noise even in reverse airflow mode. 
Very important to mention is that it has 6 speed settings which are easily varied using a handy remote control. A 4.5-inch down rod is included for hanging and also for adjusting the angle of the fan. 
To seal the deal, the fan features an LED smart light. The brightness can also be adjusted accordingly using the remote control.
User critic
I came across many reviews, most of which praised this model. According to the users, the fan offers awesome air movements for large rooms. Some find the Natural Breeze mode so exotic. However, there are those who complained that the down rod was not long enough and that the lighting was a bit dim.
Pros
An impressive air flow rate

A Natural Breeze mode that takes comfort to another level

6 speed variations

The remote control allows easy functioning

The motor comes with a lifetime warranty
Cons
Quite pricey

Only suitable for large rooms

Big and a little hard to handle
Final Verdict
Of course, quality comes at a price. Although some products are expensive for no particular reason, you will see the worth of every coin spent on the Harbor Breeze Hydra 70-inch. Users are impressed by the great performance, and if you want your large sitting-room properly ventilated, this could be your next big thing.
Hunter 53091 Builder Deluxe Ceiling Fan With Light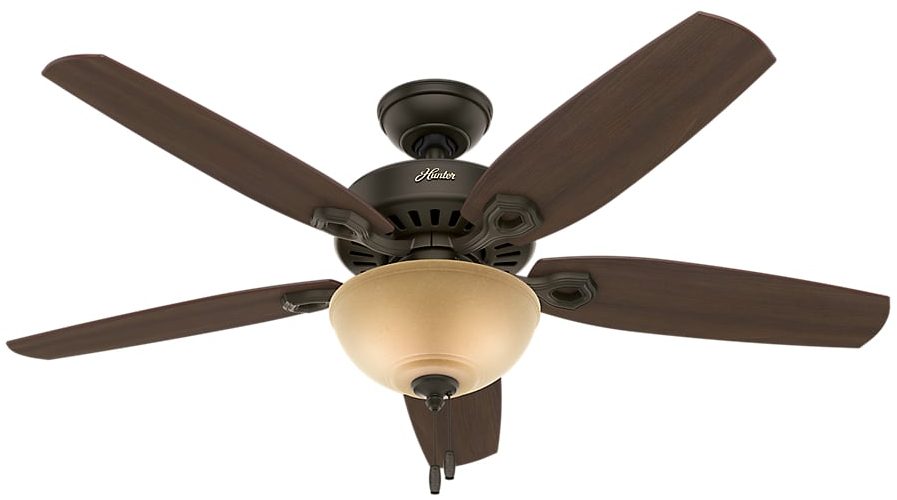 Hunter is a company that has over 25 years in the fan industry. Destined for rooms up to  between 125 and 250 square feet , the Hunter Builder Deluxe is a high rated ceiling fan that comes with two 60W candelabra incandescent bulbs and a remote control to change between its 3 speeds. The motor is able to run the fan in reverse and is one of the quiet ceiling fans you can find in the market.
The Hunter 53091 produces airflow at more than 5000 cubic feet per minute with 64 watts max of electrical usage. This means the airflow efficiency is slightly higher than average as it's equivalent to 80 CFM per watt.
In order to install the Hunter Builder Deluxe, your ceiling should be at least eight feet high. You'll find included with the fan an installation manual, a balancing kit and instructions to balance the blades appropriately.
In case you experience some wobbling, follow the directions given by the manufacturer.
User critic
More than 1700 have reviewed the Hunter Builder Deluxe on Amazon and the rating score is 4.3 out of 5 stars which is a high rating in comparison with many ceiling fans in the market. What impressed the users more was the clear installation instructions and how easy the blades balanced.
Pros
2, 60 Watt Candelabra bulbs

One of the most quiet fans in the market

Quick to install and balances easily, courtesy of the balancing kit 
Cons
Not suitable for rooms with ceilings less than 8 feet high
Final Verdict
5000 CFM flow rate makes this fan convenient for most people. Combined with a reversible motor, this fan will do you well. Since it is not so pricey, you may want to give it a shot.
Honeywell Sabal Palm 52-Inch Tropical Ceiling Fan
The Honeywell Sabal Palm 52-inch is an all fashionable fan, designed for those who love style. It boasts of five hand-carved wooden leaf blades, that break the monotony of the dominant plastic blades. These blades are carefully carved from artisan bass wood and feature a bronze finish. 
To complement this beauty, a Tuscan sand glass bowl is used for lighting. Inside the bowl lies 3, 40 watt bulbs.
It features a powerful reversible motor that blows air at 5038 CFM. For varied flow rates, the conveniently quiet motor supports 3 speeds.
The whole unit is energy conservative as it only consumes 66 Watts of energy.
On the upside, the wooden leafed fan is triple-mount compatible. That is, it can be mounted with the included 4-inch down rod, angle mounted or close mounted.
User critic
Users refer to this model as a beautiful piece of functional artwork. A good number of them claim they can't stop staring at its beauty. Apart from that, they were impressed by the easy installation and the whisper quiet motor.
Pros
A beautiful work of  art that decorates your house

Offers a fairly good air flow rate

Suitable for up to 450 square feet houses

Competent 3*40 watt bulbs

Easy to install
Cons
It doesn't come with a remote controller

The bulbs are not dimmable
Final Verdict
Though there are a few downsides, at least the model matches both power and beauty. If you have always wanted to put some decorative chandeliers on your ceiling but kept procrastinating, this one's for you. The fan will ventilate your house, illuminate it and spruce it up.
Westinghouse Alloy 42-Inch Three Blades Ceiling Fan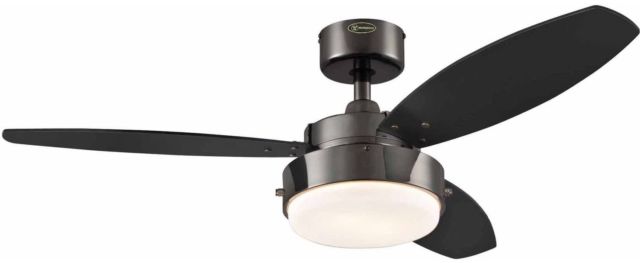 The Westinghouse Alloy is a number one Best Seller on Amazon in the ceiling fans category. With this smart, simplistic three blades fan you can enrich the modern look of your room. The Westinghouse Alloy features an opal frosted glass fixture that gives a beautiful lighting.
The black/graphite blades of this fan are reversible via a switch and its motor is a silicon steel with a dual capacitor that provides an airflow of 4,083 CFM Ideal for small rooms up to 100 square feet with standard 8 ft. ceilings.
According to Westinghouse company, the energy usage of this model is 51 watts (without lights) and the airflow efficiency is equal to 80 CRM per watt.
A 78-inch lead wire and a 3/4-inch by 4-inch down rod are included with the fan as well as a 40-watt light bulbs. The price of this fan is also very interesting especially with the discount that Amazon has put on it. It's also available in "Brushed Nickel" with wood texture blades. 
User critic
The unit has many positive reviews on Amazon.  Reviewers say that it runs all well without any problems. 
Pros
It gives your room an elegant modern look.

It has an Opal frosted glass fixture that saves on energy.

A reversible fan with a dual capacitor

A variety of wood texture blades are available
Cons
Not suitable for large rooms
Final Verdict
If you've been looking for an elegant looking fan that occupies little visual space, here it is. It is important to note, however, that it's ideal for small and medium-sized rooms.
Casablanca Indoor / Outdoor Ceiling Fan with LED Light and wall control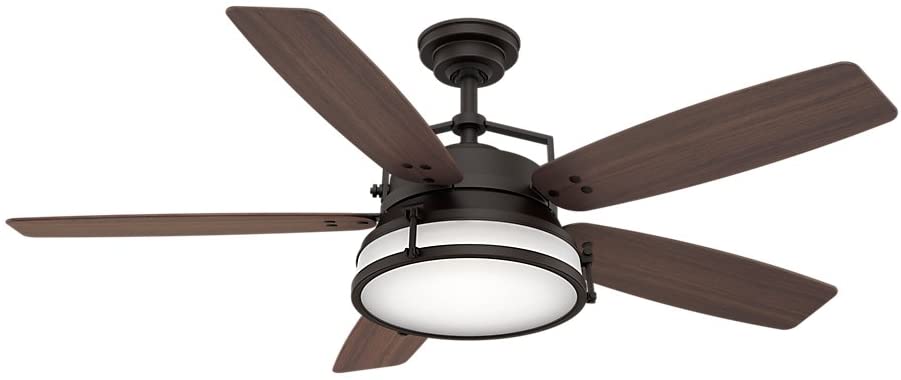 Casablanca have been in the industry for decades now, and their fans are known for silent wobble-free movement. If busy noisy fans annoy you, then this 56-inch fan will do you good. 
It utilizes a Direct Drive motor which gives steady power and a smooth quiet movement. The motor is backed well by 5 Smoked Walnut blades which result in an impressive to a 5020 CFM flow rate. This makes the electric fan suitable for the largest of rooms and also for outdoor usage.
In order to warm your room during winter, the ceiling fan also rotates in reverse. A wall control is included to easily change the direction of movement and also adjust the fan's speed. 
The fan hangs with a proper distance from the ceiling, courtesy of the 6-inch down rod. You will benefit even more from this rod if your room is low-ceilinged.
Also featured is an integrated light kit and 1 LED bulb. Though people complain that the bulb can be annoyingly bright, you can adjust this using the wall control.
For power, the Casablanca fan consumes 51 watts and 120 volts.
User critic
This product is so much praised in the review section. Reviewers are impressed with it as it functions well. They also recommend it as it does its job quietly.
Pros
Runs smooth and quietly

Powerful enough for large rooms and outdoor usage

It offers a reverse movement function for warmer winters

The angle can be adjusted for more optimal air breezes

Built of heavy duty material therefore durable

The wall control makes it easy to do adjustments
Cons
Though there are instructions, setting it up on the ceiling can take a while

The wall controller is fragile

Makes a loud humming noise when on the highest setting
Final Verdict
We all love silence and serenity, and this fan is worth credit for its quiet running.  Indeed, you can sleep with it on as long as it's not running at the highest speed. We recommend this as one of the best ceiling fans.
Westinghouse Lighting 7217700 Longo 54-Inch Brushed Nickel Indoor Ceiling Fan
Those who love precision will fall in love with this fan. To occupy minimal space, it only features 2 Wengue blades with a nickel finish. The blades are sleekly designed to have a full modern look. 
Surprisingly, the 2 blades can hit an average flow rate of 5736 CFM. You can, therefore, use the fan for rooms up to 400 square feet large. 
The motor is energy efficient as it consumes 61 Watts of power. It is also reversible and offers four speeds, which comes as a unique function. 
On the versatility end, the included remote control makes it easy to perform operations.
This fan runs quietly without getting noticed, and on top of that, it includes a dimmable LED light kit. The light kit uses frosted Opal glass, which saves a lot of energy.
User critic
According to the majority of the reviews, the fan is an excellent performer. Users comment that the unit looks as it is advertised online. They love the quick installation and the optimum ventilation offered by the unit.
Pros
Occupies little space, therefore, suitable for low-ceilinged rooms

A massive air flow rate

4 motor speeds

Frosted Opal glass lighting, that saves on energy
Final Verdict
While you might underestimate the fan because of its two simple blades, it is useful in ventilating your room. The four speeds offer you more comfort, and since you navigate between them with a remote control, you don't even have to leave your seat. That said, if you have a little more to spend, you can consider this model.
Minka-Aire F843-WH Wave 52" Ceiling fan
A fan is not only praised for smooth air circulation but also for beauty. Designed with three white unique-shaped blades, it easily blends in any kind of room furnish. 
Packed in the box is a 3.5" and 6" down rod for you to choose from. There is also an angled ceiling adaptor, that allows you to tilt your fan for up to 21°. If you want to angle beyond this, you can buy an A245-WH adapter, which can do 45°.
A hand remote control is included for increased versatility. The remote allows you to easily switch between the 3 speeds. However, for reverse movement, you will have to use a manual switch on the motor. 
One thing important to note is that the  fan doesn't include lights. The remote, nonetheless, comes with a lighting control button which most users termed as pointless.
The 3-bladed fan can manage a good 6585 air flow rate.This is quite remarkable for a 3-blade motor and makes it suitable for large rooms. 
It is surprising that the motor achieves such a high flow rate with only 66 Watts power usage. 
User critic
Judging from the many reviews, what impresses the users most is the sufficient air circulation and the super quiet operating of the fan. According to one of them, you can watch a movie without worrying about motor or wind noise. 
Pros
Ample air flow and smooth quiet running

2 rods for you to choose from

Comes with an adaptor for angling

Comes with a lifetime warranty
Cons
Lacks a lighting feature

The remote cannot affect reverse motor rotation

It's expensive
Final Verdict
Compact ceiling fans that can move air at beyond 5000 CFM  are rare. This fan will occupy very little space and ventilate your house to the maximum. Though the fan lacks LED bulbs, its primary role is not lighting. And for the reverse rotation, how many times do you require to switch to updraft mode? The price is all worth it.
Minka Aire Wave Three Blades in Distressed Koa
Coming with a new ceiling fan design is a big challenge for brands today. The design of the Minka Aire Wave has impressed me and it will probably inspire other designers to produce a similar style. I'm almost sure that it will impress you as much as it did to me and the use of koa wood on this Minka Aire is such a great idea as the wood smoothness gives a very nice light shininess on the beautiful forms of the fan. This fan comes without a light, but there is the same model with a light which is called Wave Light.
The Minka Aire Wave is destined for indoor use only. One thing that can be tricky on this ceiling fan is when you want to reverse it you have to get a ladder to use the reverse switch on the fan itself as it doesn't have auto reverse on the motor.
The motor of this ceiling fan is a 172mm x 14mm one with a 48 Degree blade pitch designed to produce a nice AirFlow. It Includes a remote control with 3 speeds, 3.5″ and 6″ Downrods as well as an Angled Ceiling Adapter. It' s also available in "Silver" and "White" (click the button below to check them out).
User critic
Many users are happy to buy this fan and love the unique look. The amount of air it pushes and the straightforward remote integration also impresses them.
Pros
It comes with  a unique design

48° blade pitch for better  airflow

Installation and integration is easy like pie
Cons
It lacks lights

The remote control does not affect reverse location
Final Verdict
This fan is worth your money as it is unique. Most fans are similar, made  of plastic and the same monotonous design. It is always good to look unique and, on top of that, you get quality features.
Honeywell Carnegie 52-Inch LED Ceiling Fan
One thing that makes a fan complete is the lights and what will catch your eye first is the clear glass integrated drum light that this stylish fan comes with. Inside the drum light are 3 E26/B10 Ederson LED bulbs that are dimmable between 100 and 20%. This way, you can customize the lighting in your room to your own tastes. 
Another benefit you will get from this fan is optimum ventilation. No matter  how big your table-room or office is, the 52-inch blade combined with a massive 5480 CFM flow rate will provide ample cool air breezes.  Better yet, the fan can be tilted to focus air in targeted places.  A 4-inch down rod is included to offer better distance from the ceiling. 
You are as well assured of silent running. 
The motor is reversible and comes with three speeds. To adjust the speed or change to reverse motion, you will use an included  handy remote control. 3 speed settings, namely, smart sync, walk away light delay and light dimmer are featured for faster and easier controls.
The Honeywell Carnegie will also cut down on your electric bills as it only runs on 5 Amps of power.
User critic
Those who have bought the fan mainly praise it for its quiet operating. However, many complained that installation is quite cumbersome. They were also not satisfied with the installation instructions given in the  user manual.
Pros
Powerful enough to ventilate rooms up to 18*20 

Can be angled for better air breezes

It is easy to perform actions using the remote control

3-speed quick settings

It features 3 Ederson LED bulbs that light up your space with great detail
Cons
It is difficult to install, more so the remote receiver
Final Verdict
Even though you will struggle a bit with the installation, there are so many things to benefit from. We recommend this one as operating a fan has never gotten so easy. Combined with the splendid Ederson lights, you will see the value of your money. Also coming with a 25,000 hours lifespan, it is safe to invest in this product. 
Monte Carlo Discus 5DI52WHD-L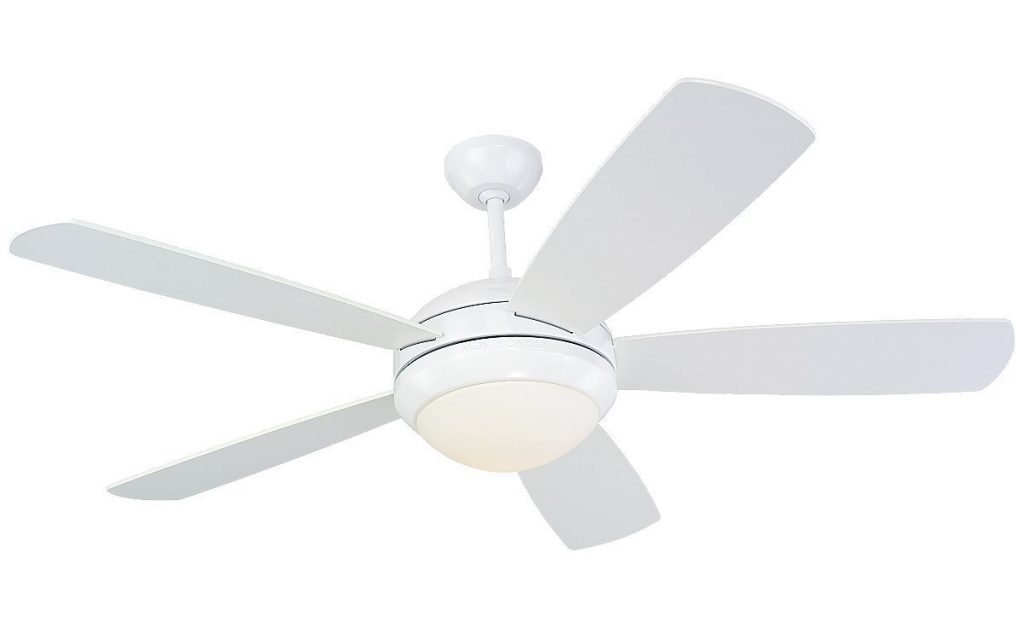 The Monte Carlo 5DI52WHD-L Discus is a very simple looking ceiling fan designed for indoors, especially for contemporary style. On the photo is the white one but it's also available in Matte Black, Polished Nickel, Roman Bronze and Brushed Steel which I like the most. It's a 5 blades style which is pretty quiet according to many owners. The airflow efficiency of this fan is 81-Cubic Feet per minute per-Watt and is able to provide 5,209-Cubic Feet per minute.
It has the standard pull chain control to choose from 3 speeds. You can reverse the motor to run clockwise in order to keep your home warm in the winter but the reverse switch on it is manual and not automatic as in other ceiling fans. It measures 52 by 17 inches and the pole is 6″ long. It comes with a 75 watt bulb halogen light and there are other color variations which you can check here.
User critic
This model is well rated on Amazon. Users say that it moves lots of air and also has a bright light. However, there are complaints that the installation manual is not very clear and also misses some instructions.
Pros
Looks modern and all classy

A pull chain to switch the three speeds

A beautiful halogen light with various colour variations

A reversible motor for warm breezes 
Cons
Switching to reverse rotation is done manually via a switch on the motor.
Final Verdict
This fan is powerful and has a classy look. If 5209 CFM is sufficient for you, this could be an ideal pick. 
Hunter Fan Company Low Profile IV Traditional  Ceiling Fan
Small rooms require fans the most. That is why Hunter Fan Company manufactured this  compact 5-bladed fan, which comes advantageous to people whose houses  are low-ceilinged and have limited space. Since there is no head rod, the fan hangs high enough to leave ample headroom.
However, despite the simplicity, this fan is capable of compelling air at a 2902 CFM rate. This might seem little but it is good enough for your table room, office or bedroom. 
Moreover, the fan can run  at 3 speeds. The speed is adjusted easily using a pull chain control. Even better, the direction of spinning can be changed from downdraft to updraft, and vice versa. This makes winters warmer and summers cooler. And silent as well since the fan is powered by a Whisper Wind motor, which does its work quietly. 
User critic
What impressed many reviewers was the easy and straightforward installation. They said that the fan did not only spare their space but also decorated their ceilings.
Pros
Compact therefore occupies little ceiling space

Easy to install

Very affordable

3 speeds and reverse rotation capability

Wobble-free and silent 

Long lasting
Cons
Not ideal for big high-ceilinged rooms
Final Verdict
The Hunter Low Profile IV is not the most powerful fan in the market but will impress you if you use it for a small-sized room. You will buy it at a little cost and install it all by yourself. With that said, if you are a bachelor, living alone in a single room, this one will circulate cool air satisfyingly
.
Ceiling Fans: Buying Guide
Benefits Of A Ceiling Fan
There are so many reasons as to why you should buy a ceiling fan:
They guarantee properly

ventilated rooms

. You see, opening the windows alone will not always get rid of all the stuffiness. Ceiling fans come with amazing air flow rates, which give the room a cool resuscitating breeze.

They are

cheap and affordable.

The prices of ceiling fans start from as low as $50. Although less money means less quality, a fan will always do its job no matter how cheap it is. 

They are convenient as they are permanently

mounted on the ceiling.

This way, they are less prone to damage like their table-placed counterparts.

They are

easy to start and operate.

Most of them are operated with a remote control which allows you to adjust the speed and perform other tons of functions.

Ceiling fans can also

warm your room.

They come with a reverse rotation feature which brings warm air breezes, therefore, making winters less harsh.

Majority of the ceiling fans come with

light bulbs

. These bulbs are dimmable and allow you to set the brightness to your preferred set point. Some of them have high quality bulbs that light up your house beautifully.

Ceiling fans are

energy efficient

. Some quality ones use less than 35 Watts of power, hence, cut down your electric bills.

Some ceiling fans have a

battery option

and your room will remain ventilated even in the event of a blackout.

You also have a long list to choose from. There are so many brands of ceiling fans, which come with different designs. Some are so beautifully designed and can be really decorative. Therefore, you can choose the one that best satisfies your tastes.

Lastly, ceiling fans can help

get rid of annoying insects

like mosquitoes and flies. 
Factors to Consider when Choosing The Best Ceiling Fan
The diameter of the blades
This is measured in terms of the diameter of the circle it makes when turning. The bigger the diameter, the more amounts of air it moves. So, choose the perfect length depending on the size of your  room. The length of the blades will always be indicated on the specs sheet.
The flow rate
It is the amount of air a fan can move in a single rotation, and is measured in cubic feet per metre (CFM). This is determined by the power of the motor and the size or number of the blades. Again, the perfect flow rate should be determined by the size of the room. A 3000 CFM rate can work well for some small rooms, such as bedrooms and basements. However, for your large sitting-room, go for at least 5000 CFM.
Speed
The speed also plays a big part in determining the flow rate. A good ceiling fan should come with at least 3 speeds. This will let you set different flow rates for different breezes. A good fan should also feature a remote control to let you switch between the speeds and perform other operations.   
Reverse rotation
This feature is important as winters can get deathly cold sometimes. Warm air fills the room when the fan turns in the opposite direction.  A fan that lacks this feature is in no way worth your money.
Motor options
The motor is a vital part as it turns the fans. Some motors are more powerful and result in increased flow rates. On the same point, some are noisy while others operate smoothly and quietly.
DC motors have become popular recently and are the most efficient. They are costly but it's better to spend on something good once and for all.
Efficiency
Be keen with the number of watts the fan runs on as this will determine your power bill. Some consume as less as 30 Watts while others go all the way to 80. A good fan should not pass the 80 Watts mark. 
Also, look for a fan with an ENERGY STAR seal. These fans are very energy conservative and can be 60% more efficient than others. 
Best Ceiling Fan Brands
Looking for the best ceiling fan is indeed looking for the top rated ceiling fan brands. Many brands have the reputation to make great home improvement products and their names inspire trust to many customers. But in the ceiling fans market, there are other brands worth discovering, and which you may never heard of.
Quality and performance levels vary even within the same brand as many ceiling fan brands offer a range of models to pick from. Hunter, Panasonic and Hampton Bay are all big brands that require no recommendations.
Despite the prominence of these brands, many potential buyers look for ceiling fans reviews to make sure they make the best choice, especially for brands they have never used before. To help you get a better idea of the top fans out there I've gathered data on ceiling fans from customers who have already bought them.
Quiet Ceiling Fans 
Many people are looking for the quietest ceiling fan whether it's to have a good sleep while the fan is running or because they are sensitive to noise. While the majority of brands claim that their ceiling fans are the quietest , it's not very easy to determine which is quieter than the other especially when the decibels are not provided by the manufacturer. That said, we can't say that the best fan is the quietest one because the motor is one of the most important components of a ceiling fan and it has to be powerful.
Some fans are very loud on their higher speed, but quiet at lowest one. The design of the blades also play a role in a fan being noisy. Also, the space in which you will install the ceiling fan is important because the higher your ceiling and wider the space the less noise you will hear as it will be far away from your ears. Here I've listed one of the quietest ceiling fans ordered by the amount of noise measured in decibels (provided by manufacturers.)
FAQ
Is it okay to leave ceiling fans on all the time?
It does no harm to leave the ceiling fan running. Actually, it helps to circulate air well in the room and keep the temperatures just right. However, if you're going to keep it on for long periods, keep it at the lowest speed. This will save on energy and keep the noise levels low.
Can ceiling fans be dangerous?
Ceiling fans are very safe. However, the blades can fall and cause damages if not installed well.
Does a ceiling fan use a lot of electricity?
Ceiling fans generally don't consume a lot of power. The energy usage ranges between 30 and 80 Watts. Power usage also depends on the speed. At the lowest speed, a fan can run on 40 Watts. That is less than some light bulbs use!
Are ceiling fans hard to operate?
Controlling a ceiling fan is easy like ABC. Most of them come with remote controls which are easily used to vary the speed and other actions like dimming the lights. Installation can be quite cumbersome, but once it's done, everything else is easy.
How many blades should a ceiling fan have?
The number of blades a fan should have should depend on your preferences. Do you want more air or do you want less noise?
If you want more wind, go for a 3-blade fan. They give a cooler breeze as they rotate faster and smoothly. However, they are noisy. 4 or 5-bladed fans are less noisy and more stylish. 
The more the blades a fan has, the less noisy it is.
What type of ceiling fan moves the most air?
The amount of air a fan moves does not depend on the type. It depends on many factors, such as, flow rate, speed and blade size. When buying a ceiling fan, you should first look at the size of your house to know the ideal flow rate. As for the speed, you can adjust depending on the desired amount of wind. Big-bladed fans move bigger amounts of air.
A Ceiling Fan In Winter ?
Did you know that you can use a ceiling fan in the winter ? In addition to giving the wind chill-effect that ceiling fans provide during summer, they can also useful in fall and winter. Changing the direction of your fan to clockwise during winter will create an updraft recirculating heat which will make the room feel warmer. This is also a good news for your wallet as it will allow you to lower the thermostat temperature and save energy and money.
The fan direction for summer, as you've probably guessed it, is the inverse for winter, so it should be counterclockwise. That way, the air flow is pushed downward creating the wind effect and therefore will make you feel cool.
Related Posts
Summary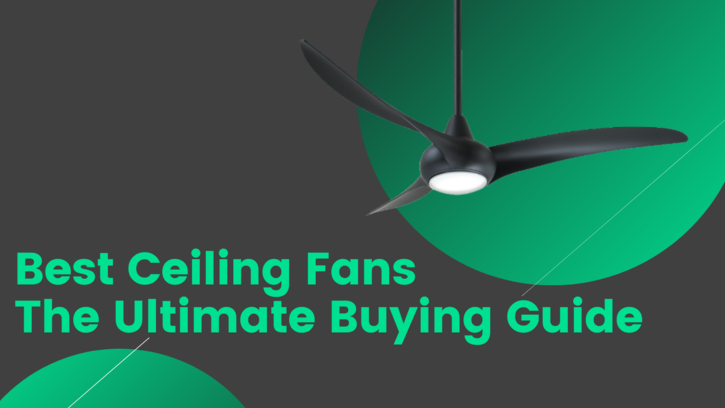 Article Name
Best Ceiling Fan - The Ultimate Buying Guide
Description
You want nothing but the best ceiling fan. The best fan can make your summers cool and winters warm. We have reviewed for you the best 12 ceiling fans. Read on to discover your perfect match.
Author
Publisher Name
Publisher Logo