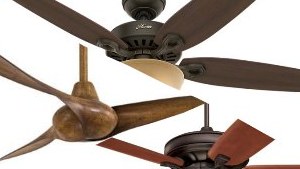 Getting the best ceiling fan is the way to have a good air circulation in your home. When air is evenly distributed throughout, you'll feel like the room you're in is larger and lighter which is a very pleasant experience to have.
You're probably looking for the top rated ceiling fans so that you make the best choice.
In order to pick the one that best suits your needs , I've written these ceiling fans reviews which can serve you as a guide as there is much to say about these rotating blades devices.
The Best Ceiling Fans For Overall Quality And Performance
When looking for the best ceiling fan on the market, the characteristics you should consider are :
Quality
Airflow (CFM)
Efficiency (CFM/Watts)
Electricity Use (Watts)
Wind Speed (MPH)
But there is also two factors that needs to be taken in consideration and which are : the place where the fan is going to used and the style desired.
After doing researches, I have selected five of the best ceiling fans according to specialists and which are also highly rated on Amazon. You can for sure find other fans which are close in comparison to these, but it's more safe to shop what customers are recommending out of experience and which professionals have labeled as high quality, performance and durability in their category. These ones are also among the quiet ceiling fans out there.
Emerson Carrera Grande Eco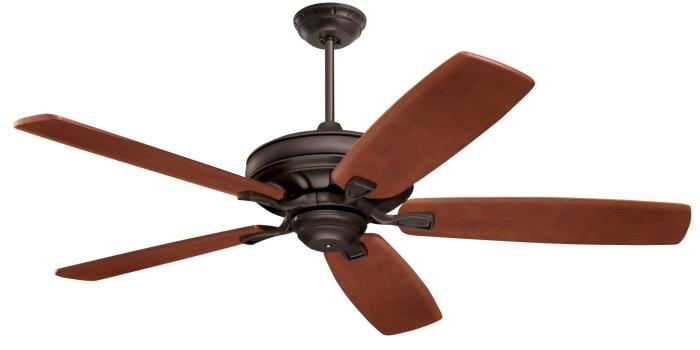 We start with the top of the list. The Emerson ceiling fan wins on our best ceiling fans reviewed today. It's a high quality fan that will move a lots of air all by running smoothly and quietly without wobbling. The U.S. Government Energy Star program awarded the Emerson Carrera Grande Eco for being "Most Efficient". This fan's DC motor is 3 times more efficient than typical ceiling fan motor as it uses only 33 watts of electricity on high speed.
It's also a very nice looking ceiling fan which style will fit in almost any interior design, especially if you have wood plank flooring. This fan's style is customizable as there are blades in various furniture grade finishes which you can purchase separately. This makes able to fit many styles as well as any medium to large size room as the blades are available in 54″, 60″ and 72″ sizes. Inside this nice looking device is a powerful and efficient DC ECO Motor which allows the fan to produce over 7,100 CFM of airflow (tested with 60″ blades).
The EPA (Environmental Protection Agency) efficiency rating of the Carrera Grande Eco is 360 CFM/Watt. A 6 Speeds remote control is included with this Emerson fan and which has a reverse function and light dimmer for more convenience.
If a ceiling fan with lights is what you're looking for, a variety of light kits are available to choose from that you can add to this fan. Fluorescent, incandescent, Halogen and super efficient LED are all options you can choose from.
A downrod is included with the fan and measures 4-1/2-inch. If you plan to hang it on a pitched ceiling, then you will have to buy separately the Emerson Sloped Ceiling Kit. It's a bit pricey, but many customers are happy to have it and said that It worth the money. Don't forget that if you purchase it from Amazon, you will profit from a Limited Lifetime Motor Warranty Backed by Emerson.
Hunter 53091 Builder Deluxe Ceiling Fan With Light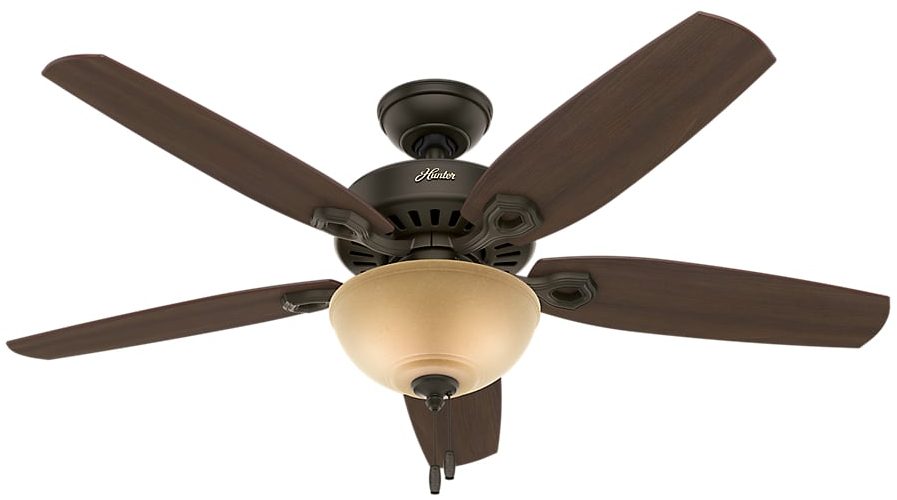 Hunter is a company that has over 25 years in the fan industry. Destined for rooms up to between 125 and 250 square feet , the Hunter Builder Deluxe is a high rated ceiling fan that comes with two 60W candelabra incandescent bulbs and a remote control to change between its 3 speeds. The motor is able to run the fan in reverse and is one of the quiet ceiling fans you can find in the market.
The Hunter 53091 produces airflow at more than 5000 cubic feet per minute with 64 watts max of electrical usage. This means the airflow efficiency is slightly higher than average as it's equivalent to 80 CFM per watt.
In order to install the Hunter Builder Deluxe, your ceiling should be at least eight feet high. You'll find included with the fan an installation manual, a balancing kit and instructions to balance the blades appropriately.
In case you experience some wobbling, follow the directions given by the manufacturer.More than 900 have reviewed the Hunter Builder Deluxe on Amazon and the rating score is 4.3 out of 5 stars which is a high rating in comparison with many ceiling fans in the market.
Westinghouse Alloy 42-Inch Three Blades Ceiling Fan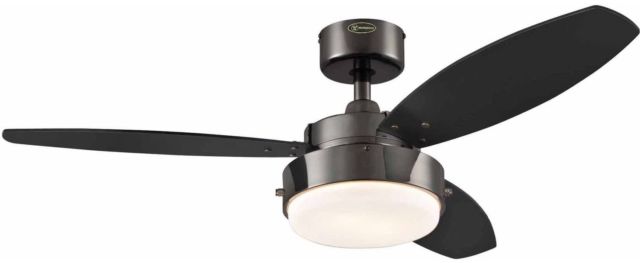 The Westinghouse Alloy is a number one Best Seller on Amazon in the ceiling fans category. With this smart, simplistic three blades fan you can enrich the modern look of your room. Featuring a classy luminous gun metal, the Westinghouse Alloy features an opal frosted glass fixture that gives a beautiful lighting.
The black/graphite blades of this fan are reversible via a switch and the its motor is a silicon steel with dual capacitor that provides an airflow of 4,083 CFM Ideal for small rooms up to 100 square feet with standard 8 ft. ceilings.
According to Westinghouse company, the energy usage of this model is 51 watts (without lights) and the airflow efficiency is equal to 80 CRM per watt.
A 78-inch lead wire and a 3/4-inch by 4-inch down rod are included with the fan as well as a 40-watt light bulbs. The price of this fan is also very interesting especially with the discount that Amazon have put on it, click here to check this offer. It's also available in "Brushed Nickel" with wood texture blades.
Minka Aire Wave Three Blades in Distressed Koa
Coming with a new ceiling fan design is a big challenge for brands today. The design of the Minka Aire Wave has impressed me and it will probably inspire other designers to produce a similar style. I'm almost sure that it will impress you as much as it did to me and the use of koa wood on this Minka Aire is such a great idea as the wood smoothness gives a very nice light shininess on the beautiful forms of the fan. This fan comes without a light, but there is the same model with a light which is called Wave Light.
The Minka Aire Wave is destined to indoor use only. One thing that can be tricky on this ceiling fan is when you want to reverse it you have to get a ladder to use the reverse switch on the fan itself as it doesn't have auto reverse on the motor.
The motor of this ceiling fan is a 172mm x 14mm one with a 48 Degree blade pitch designed to produce a nice AirFlow. It Includes a remote control with 3 speeds, 3.5″ and 6″ Downrods as well as an Angled Ceiling Adapter. It' s also available in "Silver" and "White" (click the button below to check them out).
Monte Carlo Discus 5DI52WHD-L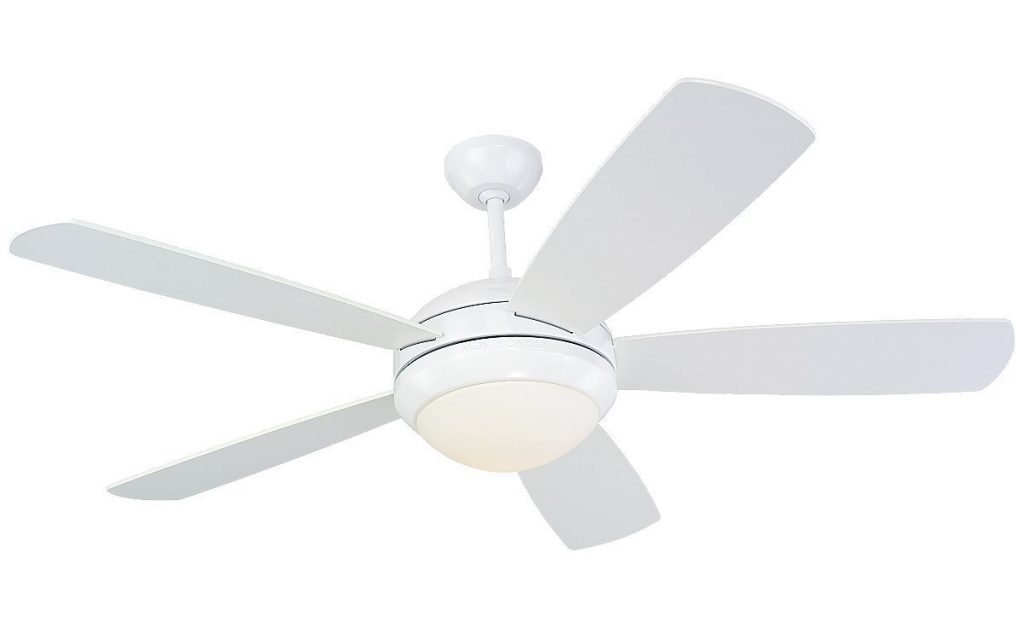 The Monte Carlo 5DI52WHD-L Discus is very simple looking ceiling fan designed for indoors, especially for contemporary style. On the photo is the white one but it's also available in Matte Black, Polished Nickel, Roman Bronze and Brushed Steel which I like the most. It's a 5 blades style which is pretty quiet according to many owners. The airflow efficiency of this fan is 81-Cubic Feet per minute per-Watt and is able to provide 5,209-Cubic Feet per minute.
It has a the standard pull chain control to choose from 3 speeds. You can reverse the motor to run clockwise in order to keep your home warm in the winter but the reverse switch on it is manual and not automatic as in other ceiling fans. It measures 52 by 17 inches and the pole is 6″ long. It comes with a 75 watt bulb halogen light and there are other color variations which you can check here.
Best Ceiling Fan Brands
Looking for the best ceiling fan is indeed looking for the top rated ceiling fan brands. Many brands have the reputation to make great home improvement products and their name inspire trust to many customers. But in the ceiling fans market, there are other brands worth discovering and which you may never heard of.
Quality and performance levels vary even within the same brand as many ceiling fan brands offer a range of models to pick from. Hunter, Panasonic and Hampton Bay are all big brands that requires no recommendations.
Despite the prominence of these brands, many potential buyers look for ceiling fans reviews to make sure they make the best choice, especially for brands they have never used before. To help you get a better idea of the top fans out there I've gathered data on ceiling fans from customers who have already bought them.
Quiet Ceiling Fans
Many people are looking for the quietest ceiling fan whether it's to have a good sleep while the fan is running or because they are sensitive to noise. While the majority of brands claim that their ceiling fans are are the quietest , it's not very easy to determine which is quieter than the other especially when the decibels are not provided by the manufacturer. That said, we can't say that the best fan is the quietest one because the motor is one of the most important component of a ceiling fan and it has to be powerful.
Some fans are very loud on their higher speed, but quiet at lowest one. The design of the blades also play a role in a fan being noisy. Also, the space in which you will install the ceiling fan is important because the higher your ceiling and wider the space the less noise you will hear as it will be far away from your ears. Here I've listed one of the quietest ceiling fans ordered by the amount of noise measured in decibels (provided by manufacturers.)
Related Posts
Summary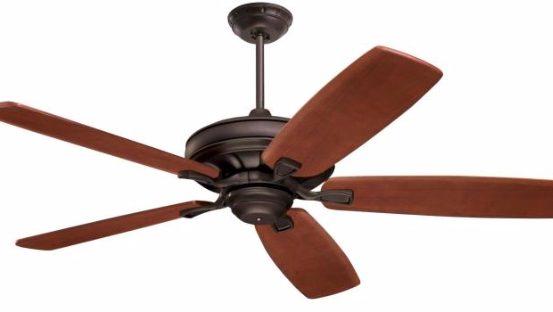 Article Name
The Best Ceiling Fans Reviewed
Description
We reviewed 5 if the Top Ceiling Fans out there for you. Our list will Amaze you!
Author
Publisher Name
Publisher Logo