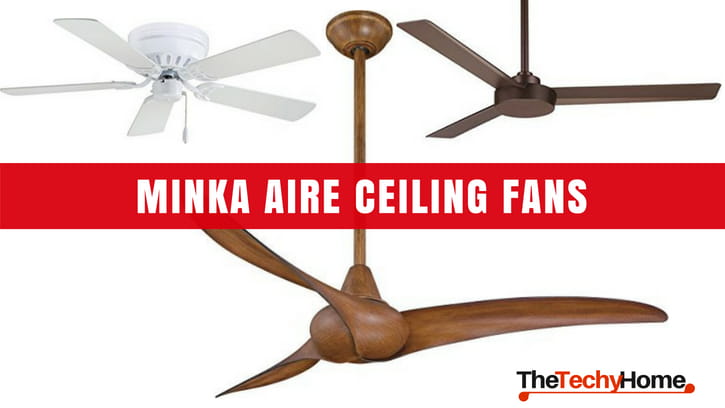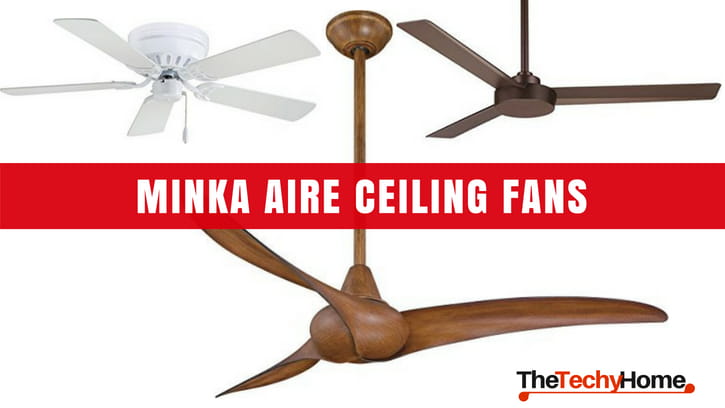 Minka Aire ceiling fans are designed with varying specifications from contemporary to traditional to transitional, economical to various other designs which suit the ongoing needs of the consumer.
Each of the Minka ceiling fans are built to perfection and are generally equipped with bare essentials such as lighting, remote and alexa compatibility.
Although Minka Aire has designed a wide array of different ceiling fans to suit every circumstance and customer needs, they have also patented their products in the US, which itself shows the unmatched quality and perfection which you would expect to achieve by purchasing any given model of the Minka Aire ceiling fan range.
This review has highlighted some of the top seven designs of the Minka Aire ceiling fans design, each of which have been custom built for meeting different customer expectations.
However it should be noted that the series is not just limited to our 7 picks as Minka Aire has several base models and sub-models for each and every ceiling fan range in their series.
Also by considering the price ranges of each of the Minka Aire ceiling fans, it should be noted that they are not just competitively priced but are also affordable in terms of providing quality products at unmatched prices in comparison to other similar products and brands in the market.
All Minka Aire ceiling fans not only come with an instruction manual but they also provide free access to it in both English and Spanish which is freely available on their website for any customer or potential customer to access.
The structure of this review folds through by starting from the base models and going through to unique contemporary designs and finally touching upon the high end models of the series.
[supsystic-tables id=27]
Our Pick of Minka Aire Ceiling Fans (available on Amazon)
Minka Aire Wave Ceiling Fan Model F843 Dk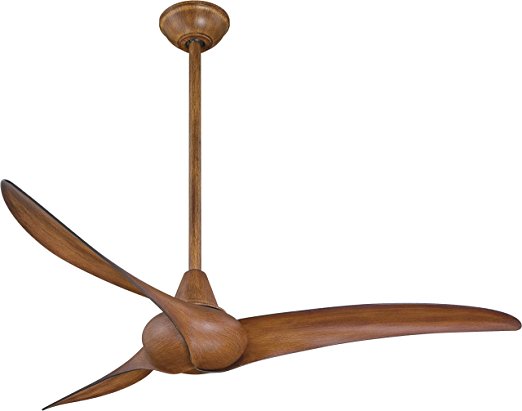 This being the first pick of our Minka Aire ceiling fans collection was chosen because of its contemporary design and its ability to be camouflaged within a wooden ceiling of a house, office or other living space.
Even though its available in 3 colours, its ideally built to match for its wooden brown colour in order for it to have a distinctive appearance to the room. It also has the ability to work with Alexa for voice control functionality, but this requires the Alexa hub and device to be purchased separately.
The fan comes with a 3.5 and 6 inch set of down rods and it's also possible for an even longer down rod to purchased separately if required. It should also be noted that during the first 24-48 hours of operation the fan may give a slight noise while its working as the oil in the motor gets distributed, so this should be gone within a few days of use.
This fan is designed to be used in rooms of up to 250 square feet in order to get maximum efficiency but as its built to work on 110V electricity, it cannot be used in countries which use 240V power.
Speed:– 3 levels
Remote:– Yes
Lights:– 17W LED Dimmable
Check the price
Read Customer Reviews »
Minka-Aire F524-Orb, Roto Ceiling Fan
This is one of those indoor Minka Aire ceiling fans which does not come with light fittings but is available in oil rubbed bronze body to give it a wooden look, and it's also available in brushed aluminium and white as well.
Its 6 inch down rod gives it a total height of about 8.8 inches from the top of the ceiling to the fan. In spite of this ceiling fan motor size being comparatively big for his powerful burst of air, a common issue which most people face is that the wall switch works backwards as in when its turned to level 1 the fan works at the highest setting, and level 4 it works at its lowest speed.
Although this unit cannot be used without a down rod, it also includes a shorter 3 inch down rod for those who require it in a smaller space or room. Another unique feature of the wall switch unit of this fan is that its capable of controlling two fans with the same control device.
The plastic blades of this unit of Minka ceiling fans compliments its fine air quality of almost 6000 CFM when operating at high speeds.
Speed:– 4 levels
Remote:-No
Lights:– No
Check the price
Read Customer Reviews »
Minka Aire F701-DRF Driftwood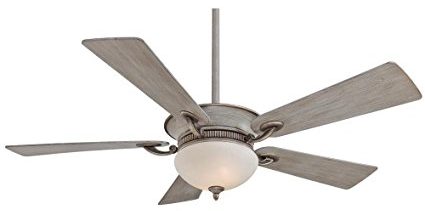 This 5 blade design of the Minka Aire ceiling fans is built with a driftwood body with a non-reversing ceiling fan motor size which could be manually reversed via a switch mounted on top.
This model cannot be fixed directly to the ceiling without a downrod of at least 6 inches. The down lights in this fan comprises of two 75W bulbs, while the up light has six 15W bulbs. The up lighting of fan when observed from the balcony gives it a nice appearance and illuminates the surrounding space very beautifully.
Even though the fan could be used on an angled ceiling due to the structure of its mounting bracket, it's not designed to be used outdoors.
However due to the complexity of the parts in this fan, it does take a considerable amount of time to be mounted on to the ceiling properly, and if its not handled carefully there is a tendency for it to get damaged in the process.
Despite the fact that this model comes with the wall control regulator, it doesn't come with a remote controller.
However a remote controller could be purchased separately if necessary.
Speed:– 3 levels
Lights:– Halogen bulbs up to 100W
Remote:– No
Check the price
Read Customer Reviews »
Minka Aire Ceiling Fan With Light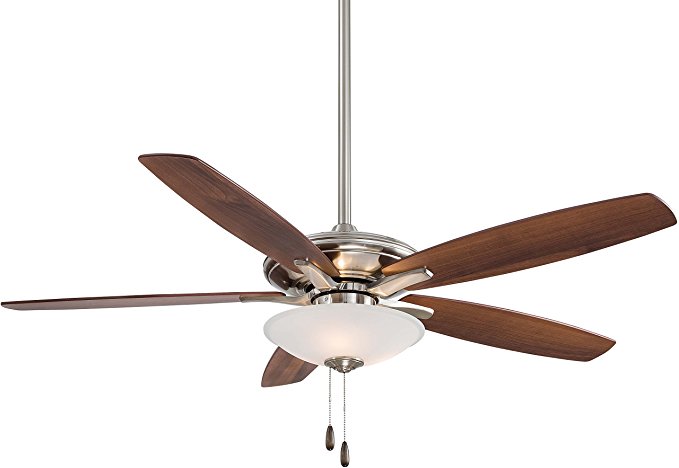 This is yet another contemporary Minka Aire ceiling fans design which has been given a modern touch mainly due to the positioning of its light fittings concealed with frosted white glass with a total power of 180W from 3 bulbs of 60W each.
This is also an indoor fan made with maple wrap resistant plywood blades and has a 17 inch distance between the ceiling and the bottom part of the fan. It has 2 pull chains, one for the fan and the other for the lighting but although it's compatible with a remote controller, that needs to be purchased separately.
The motor unit of this fan also has a manual reverse switch to change direction when necessary. This fan is not designed to be flush mounted and comes with two sets of down rods of 3.5 and 6 inches respectively.
Although the lighting fixtures of this fan give it a glamorous look, the unit could even be installed without the lights as well. This fan can easily be installed even on a slanted ceiling of up to 21 degrees but anything larger than that would need a slope ceiling adapter with which it could handle up to 45 degrees incline.
Speed:– 3 levels
Remote:– No
Lights:– Yes
Check the price
Read Customer Reviews »
Minka Aire Ceiling Fan Simple White
Minka ceiling fans are not always big as ordinary ceiling fans in the market, and as they've expertise in producing ceiling fans for almost every type of customer need this Minka Aire ceiling fans is available in 44 and 52 inches and features LED lighting and is also available in a wide array of different colours.
The ceiling fan motor size of this unit is comparatively big enough for its powerful air flow as its equipped with a white finish flush mount motor.
The LED bulbs used in this fan is capable of delivering up to 537 lumens which is more than enough to illuminate a considerably large living room, and as its dimmable and has a colour temperature of 3000 it could easily be regulated according to one's needs.
As this is an indoor use fan it has a height of 12 inches from the ceiling to the bottom most part of the fan.
However in comparison with some of the other units of Minka Aire ceiling fans described in this post, this unit does not have the ability to reverse the fan direction even manually. This contemporary design is ideally suitable for a small or medium sized bedroom which could make do with an efficient light and low noise ceiling fan.
Speed:– 3 levels
Remote:-Yes
Lights:– Yes
Check the price
Read Customer Reviews »
Minka Aire Slipstream Ceiling Fan With Light
This unit of Minka Aire ceiling fans is designed with its own unique touch of style not just because of its 8 all weather blade, tinted opal glass lighting setup but also because it gives a classic, rich look to living or other areas where it's being used.
A key benefit with the remote of this fan is that unlike other ceiling fans of this series it also offers the reverse functionality as well. Despite the fact that its capable of providing a air flow capacity of 8778 CFM it only consumes 18W of power for the fan.
Based on the structure and design of this fan it could also be easily used outside provided it doesn't come into direct contact with bad weather. Despite the fact that the blades are made of plastic it does not sag down even a bit during the summer time.
Therefore based on these specifications and technical capabilities of this Minka Aire ceiling fan, it's safe to say that it's not only suitable to be used outdoors but is also capable of covering a larger area for providing a constant flow of air and illumination at night; which makes it the perfect choice for outdoor parties, canopies, patio, living areas, garages etc.
Speed:-6 levels
Remote:– Yes
Lights:– Yes
Check the price
Read Customer Reviews »
Minka Aire Gyro 42 Inch Twin Turbo Fan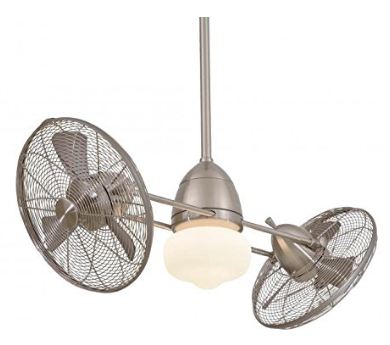 As unique as its gets, this particular model of Minka Aire ceiling fans is actually comprised of two individual units of fans mounted on either sides of the rod which also contains a powerful 100W halogen bulb with opal glass.
It has a 3.5 inch down rod and measures 18.8 inches from the ceiling to the bottom most part of the fan and its ideally suited for almost any outdoor area and as each of its dual 3 blade heads could be adjusted either upwards or downwards air movement could easily be controlled to the most important areas of the room or enclosure.
Another unique feature of this fan is that the entire assembly is also capable of being rotated 360 degrees and during winter it's also possible to only use the lights without switching on the fan.
Most of these fans are also included with a 3.5 inch down rod, however if it's not available then it may have to be purchased separately.
This fan is therefore highly suitable to be used even in bedrooms and indoor spaces and even under direct exposure to rain; although it's not recommended to do so as it could damage the intricate components within the device.
Speed:– 3 levels
Remote:– No
Lights:– Yes
Check the price
Read Customer Reviews »
Minka Aire Artemis 5 Blade LED Ceiling Fan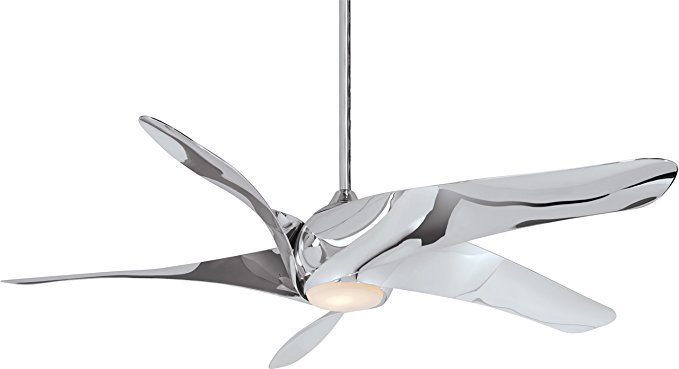 This could be considered as one of the luxury models of the Minka Aire ceiling fan series as it's chrome plated liquid nickel blades and 17W LED module bulbs provides it with a modern classy look to whichever location it may be used.
Its a 5 blade fan which has a power of 39W, and its also available in silver, white and distressed koa colours in addition to liquid nickel.
On low speeds it operates at just 50 RPM with a maximum air flow of 4361 CFM, while on medium and high speeds it could go up to 70 RPM at 6364 CFM and 100 RPM at 9164 CFM respectively.
Due to its pricey looks and luxury appeal, its rather clear that this is not an outdoor fan especially because it's not large enough when compared to other outdoor ceiling fans in the market.
Nevertheless, this is a great investment for one to make when choosing a reliable and beautiful ceiling fan for a bedroom, living area, dining area, office space, waiting room or any other public place in a residence or office.
Speed:-3 levels
Remote:– No
Lights:– Yes
Check the price
Read Customer Reviews »
Related Posts
Summary
Reviewer
Review Date
Reviewed Item
Author Rating