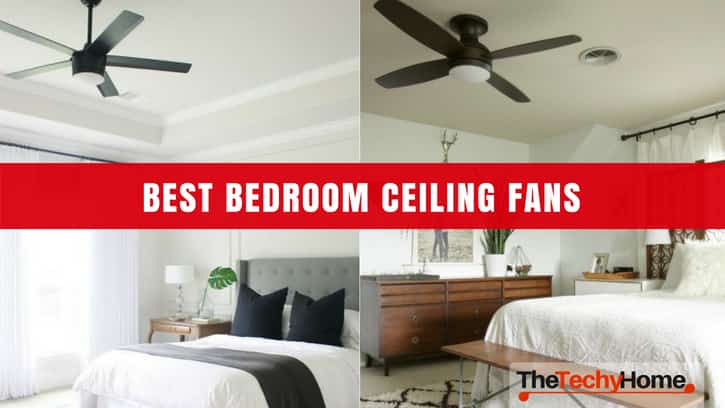 In fact, the temperature is one of those important variables that can make a huge difference: a too hot or too cool bedroom can make your dream become a nightmare. Installing bedroom ceiling fans can be a key move to put together the perfect bedroom. Keep reading, you'll learn the advantages of having a ceiling fan, how to choose the best and which are the top-rated ones.
Top Bedroom Ceiling Fans
Best Bedroom Ceiling Fan For Low Ceiling
The Harbor Breeze Mazon 44 is a flush mount ceiling fan that will look perfect in your bedroom. With a size of 44", is suitable for a room up to 75 sq ft, its compact, elegant and sleek design will integrate seamlessly to your modern décor. Made with quality and durable materials, this ceiling fan is made to last.
Controlled by a practical and simple handheld remote control, you'll be able to select 3 speeds to maintain your comfort levels or use the reverse airflow feature for warm air distribution in winter. Its light kit is as tasteful, simple and energy efficient. It includes an 18 watt dimmable LED bulb. The airflow is pretty decent: up to 4545 CFM, more than enough to cover a medium room.
The Best Value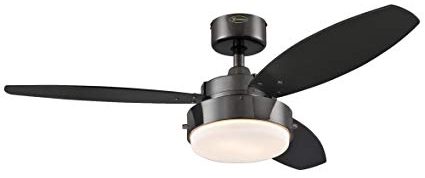 If you're looking for quality and reasonably priced bedroom ceiling fans, then the Westinghouse 7876400 is the one you need. This ceiling fan has it all: low price, sleek design, good motor, and a really nice performance; paired with a lifetime warranty on the motor and a two-year on all other parts is more than a dream come true.
This ceiling fan is 42" is ideal for rooms up to 144 sq ft. The motor is a silicon steel one, will give you 3 speeds and reversible function. Its airflow is 4083 CFM and its efficiency (airflow per watt) is 80 CFM/Watt. It can be mounted on sloped or high ceilings with its downrod and is controlled by a classic pull cord. It's the best bedroom ceiling fan that you can get for this price.
The Best Seller
The Westinghouse 7801665 Comet has been bought hundreds and hundreds of times. Maybe because of its reasonable price, nice size, great performance, or gorgeous look, this ceiling fan is pretty popular. It has a 52" length that makes it the best ceiling fans for the master bedroom or those up to 225 square feet.
Equipped with 5 reversible blades, this ceiling fan will be a nice and sleek addition to your decor. You can pick among 5 colors and finish options. Its light kit includes two 40 watt bulbs and a frosted glass cover. It's really quiet, but the motor is powerful enough to give an airflow of 3589 CFM and an airflow efficiency of 63 CFM/watt. Thanks to its double mount option, it's versatile enough to be installed in a lot of bedrooms, regardless of their characteristics.
The Best Rated Bedroom Ceiling Fan
More than 600 people have bought these bedroom ceiling fans. The Hunter 53091 Builder Deluxe has a classic look, 5 blades, and 52" that can cool a 225 sq ft bedroom. This has a patented and exclusive WhisperWind motor system that will guarantee a quiet performance, even at the highest speed of the 3 speeds or during the reverse function. It has a 5102 cfm Airflow and an efficiency of 76 cfm/watt.
Hunter is a very well-known brand and its lifetime warranty is enough reason to buy it. People who have bought it say that its performance is just outstanding. It is easy to install and includes a balance kit to eliminate any wobble. This beauty can be running 24/7 during decades. Hundreds of people can't be wrong: this is a safe purchase and the best ceiling fans for a master bedroom.
The Best Ceiling Fan For a Small Bedroom
With a length of just 24", this indoor ceiling fan is ideal for a room as big as 80 sq ft. It's a silicon steel motor with a dual capacitor that delivers an airflow of 2039 cfm and an airflow efficiency of 67 cfm/watt. It has 3 speeds and a reversible function. Don't be fooled by looks: this bedroom ceiling fan looks small but it's powerful, stylish and efficient. It's the best bedroom ceiling fan for tiny spaces.
The Modern Bedroom Ceiling Fan
But don't get too dazzled by the looks, The Solana has more than a pretty face. Its silicon steel motor offers 3 speeds, reversible switch, and airflow of 4698 cfm and an airflow efficiency of 94 cfm/watt. Control it by a handheld remote and enjoy it with the trust that knowing that you're backed by a lifetime motor warranty and a two-year warranty on all other parts. Quiet and easy to install, it's all you need to complete your bedroom.
Best Ceiling Fan For Kids Bedroom
It's just perfect because you can turn the blades when your kid grows up and as for a sober decorative style. We aren't exaggerating, this is a Westinghouse, it'll last decades and comes with a lifetime motor warranty.
Don't mind its compact design, it's as powerful as charming. This ceiling fan is 30", a great size to cool down rooms up to 100 sq ft. Its motor allows an airflow of 2483 cfm and an efficiency of 64 cfm/watt. Three speeds and a reverse function makes it suitable for all year round use.
The Quietest Fan
46" blades are enough to cool down a 144 sq ft bedroom. Sturdy construction made to last. Its quality is simply outstanding and paired with a minimalist modern design, it will look perfect in a modern bedroom. Its installation can be a little bit tricky, but is worthwhile: you'll be more than happy with your extra quiet and quality fan.
Basic, Cheap, And Nice
The flush mount installation makes it ideal for low ceilings. This ceiling fan is easy to install, could look nice in almost all decoration styles thanks to its simple design. It doesn't have a super lifetime warranty, but it's sturdy enough to last for some years.
What You Need To Know Before Buying A Bedroom Ceiling Fan
Fan Size
Ceiling fan size depends on the room size. You'll need to know how big is your bedroom and where is going to be the fan. It's important to choose the best size because efficiency and safety depend on this. Most bedrooms are up to 175 sq. ft. so a ceiling fan of 42 to 48" is enough. If your bedroom is up to 350 sq. ft., you could buy a 52 to 56" ceiling fan. If you have doubts between two sizes, remember: bigger is better.
Airflow
Airflow, expressed with the acronym CFM (cubic feet per minute) represents how many airs is moved for the blades, that cool breeze effect. The highest CFM, the better. The best ceiling fans for bedrooms are those with CFM higher to 4000 or 5000.
Number of blades
The number of blades isn't relevant to proper function, as it doesn't affect efficiency or power. However, the more blades the ceiling fan has, the quieter it will be. This makes it circulate less air, it could slow the motor. The number of blades is more of a stylistic decision than a practical one.
Ceiling Height
Ceilings fans must be at least 8 feet above the floor in order to guarantee proper air distribution and safety. Metal ceiling fans must be higher, 10 feet. You should know the ceiling height in order to choose the best fan and to pick a longer downrod to adjust it if the ceiling is high. If your ceiling is low, you'll have to choose a hugger o flush mount ceiling fan. Pay attention to your ceiling, if it has a slope, then you could need a special adapter to install your new ceiling fan.
Noise Level
Modern ceiling fans can be pretty quiet but there's always some low noise because of motor and electricity. Pay attention to noise levels, however, if you are a light sleeper a ceiling fan can be an improvement because that soft hum can act as white noise and block other sounds.
Control
You'll find ceiling fans with different types of controls: remote controls, pull chains, or wall-mounted controls. Think about your room distribution, bed position, and other particular details. Find the most comfortable for your needs.
Warranty
Some brands offer a lifetime warranty, while other ones offer different time to motor or parts. This can give you trust in that product. It's better to pay a little more and get a quality product that can last for a lot of time.
Advantages Of Having Bedroom Ceiling Fans
Temperature Control
Bedroom ceiling fans can help to regulate your bedroom temperature, creating a cool breeze will dissipate the heat without lowering too much the temperature. On cold days, you can make it run clockwise to distribute the hot air.
Cost Efficient
A ceiling fan can help to reduce your electricity bills by up to 30%. Ceiling fans consume less energy, can make a room feel 6 to 8 degrees cooler on summer, while in winter you can make it run slowly, reversing the rotation. This would make the heat to redistribute on the room.
Lots Of Styling Options:
Let's be real: the aesthetic is important. Sleeping and waking up in a pretty place, that suits your taste and personality can bring you even more happiness. Having all the advantages of a ceiling fan doesn't have to mean having an eyesore in the middle of your room. There are a lot of options, colors, materials, and styles to match your decor. You'll be able to find the best ceiling fans for bedrooms.
Ceilings Fan Can Make White Noise:
Everyone knows how difficult it is to fall sleep in a noisy place: car, neighbors, dogs can interrupt your sleep. The solution is simple: white noise. This random uniform noise, with a uniform frequency spectrum, can make your brain focus and let it ignore the noise outside. Modern ceiling fans are pretty quiet, but there's still a hum that can be soothing and block the outside sounds.
More Bedroom Ceiling Fans
Westinghouse Сеіlіng Fаnѕ


Hаmрtоn Bay Ceiling Fan

Cаѕаblаnса Сеіlіng Fаnѕ

Related Posts