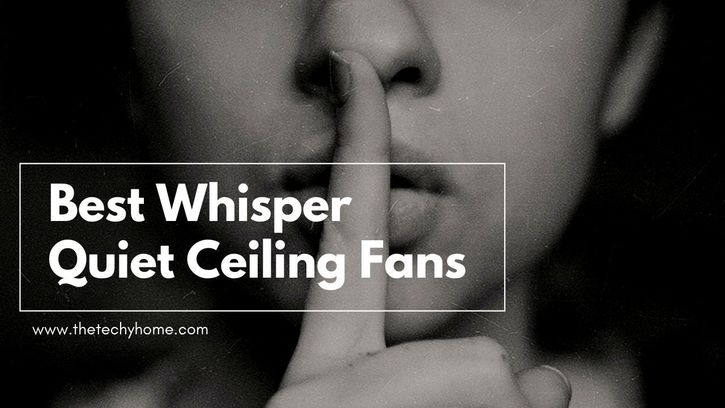 Peace and quiet is a priceless commodity when one is trying to sleep. The sound of neighbors' television at night, your partner snoring loudly, and a buzzing phone are an array of factors that could deprive you of both. But none of these noises might affect your sleep quality as badly as a loud ceiling fan.
Researchers warn us that apart from taking longer to doze off, people who sleep amidst loud noises can be woken up by its ferocity in no time. Even if the noises aren't able to rouse you up from your sleep, they will harm your sleep quality and stop your brain from moving from lighter to deeper stages of sleep.
Hence the reason why you could do with a quiet ceiling fan. These super silent ceiling fans rely on world-class motors and latest technologies to silently circulate the air in your room and keep it from getting too hot in warmer months. So you can quickly doze off with them running overhead.   
Honeywell Ceiling Fans Carnegie LED Ceiling Fan – Best Overall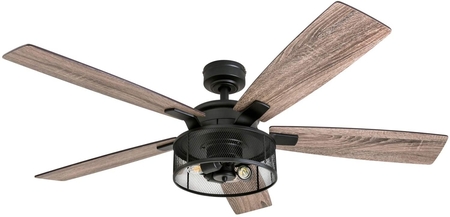 Multiple features of Honeywell Carnegie LED Ceiling Fan justify its selection as the best model on the market. The most important among them is its whisper-quiet operation. Various users have commented that it operates quietly even when operated at the highest setting.
Its 3-speed reversible motor is the reason why. Boasting a high-quality bronze finish and premium construction, the motor not only allows you to go to sleep without using earplugs, but it also lets the fan remain useful 365 days a year. 
This fan comes with a remote control that lets you adjust its operation from afar. Its 'Smart Sync' setup, as well as 3 mounting options, means you won't have to spend hours to get it up and running. The 'Walk Away Light Delay' and light dimmer features mean its LED's brightness is also in your control. 
You'd also appreciate the fact that the LED has a lifespan of 25,000 hours. It is hundred percent dimmable to 20% and boasts a 360-degree beam angle. That means you can not only adjust the light's output but also its direction as per your requirements.
User critique
One user of this fan complained that the instructions weren't of any help as to where they should place the receiver. They didn't mention clearly that the receiver isn't to be shoved into the canopy cover, but is meant to fit at the top of the ceiling mount. 
Pros
Extremely quiet

Reversible fan motor

Matte black finish
Final Verdict
When was the last time you came across a ceiling fan that offered so many bells-and-whistles? The Honeywell Carnegie might be pricey but it justifies its above-average price tag with multiple features that you don't get in your average ceiling fan. 
Prominence Home 50852 Benton Hugger/Low Profile Ceiling Fan – Best Value
Put off by the above-average price tag of the Honeywell Carnegie? Then you might appreciate the value that the Prominence Home Hugger Ceiling Fan provides in a budget. It cuts no corners to keep its price low and has all the features you typically expect in models costing twice as much.
Need proof to believe in this claim? It comes with double-sided reversible blades whose both sides can be mounted facing the floor. One side has a soft white finish that will complement most interiors. The other has a grey oak finish that will add style to your bedroom. 
Then comes its reversible, 3-speed motor. You can tinker with its settings to change the fan's direction to help it remain useful around the year. This unit also has a frosted globe light whose 80 CRI and 800 lumens brightness are enough to light up your indoors. 
Its low-profile design makes this model a must-have for rooms where extra space is needed. But the fact that it has compact dimensions doesn't mean that its airflow is also small. Prominence Home rates this model perfect for rooms between 350 and 450 square feet in size.
User critique
Multiple users of this ceiling fan aren't happy with its LED's brightness. They claim that at 800 lumens, its output is pretty dim. You need to keep this fact in mind if you're planning to use this model's LED as the primary light source in your room.  
Pros
Two-sided blades

Low-profile design

Considerable airflow
Final Verdict
Since we have explained everything that is there to explain about this quiet ceiling fan, it should be clear by now that it has a plethora of worth-having features and no significant shortcomings. That is a massive plus for a fan whose asking price won't blow a hole in your pocket. 
Harbor Breeze 44'' Indoor Ceiling Fan
Similarities abound when you compare the Harbor Breeze 44'' Indoor Ceiling Fan with the Prominence Home Hugger. Both of them mount flush to the ceiling, come with a light kit and boast 3-fan speeds. They also share a reversible fan motor that keeps both of them useful around the year.
That's where the similarities stop. This model's LED light kit is dimmable and therefore gives you more control over its output. It also includes a remote control in its package and has a sleek modern design that is designed to add an appeal of its own to your room. 
However, since it has only 3 blades to the Prominence Home Hugger's five, the airflow of this fan cannot compete with that of its counterpart. You can count on it to aerate rooms of up to 100 square feet in size, which isn't great considering that the Hugger is great for rooms four times that size.
Another aspect of this ceiling fan that impressed us was its sheer number of certifications. It is rated by almost all the famous bodies (Energy Star, UL, CSA, ETL) that you can think of. They should give you plenty of reasons to trust this model to do what it claims to do.
User critique
It might sound surprising to you, but at least two users of the Harbor Breeze took exception to the color of its remote control. They weren't happy that for a fan that tends to complement modern interiors, the remote control has a 'funny' almond color. 
Pros
Modern design

Wall-cradle for remote control

Reverse airflow feature
Final Verdict
At the cost of repeating ourselves, the Hugger Breeze 44'' Ceiling Fan is made for small rooms where the space to aerate isn't bigger than 100 square feet. Provided you live in one, we see no reason why your search for a
whisper quiet ceiling fan for bedroom
shouldn't end here.
Honeywell Sabal Palm 52-Inch Tropical Ceiling Fan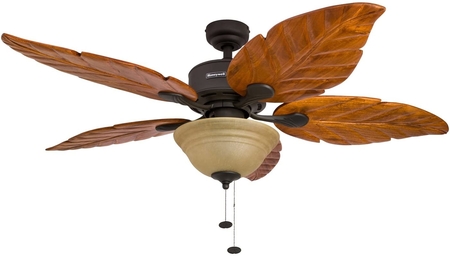 Most people are convinced by their first glance at this model that it is merely a showpiece that won't compete with other ceiling fans in terms of airflow. Their doubts are further strengthened when they look at its astronomical asking price. All these misconceptions are misguided.
You can guess that for yourself by looking at its specifications. This unit boasts a 12-degree blade pitch that allows it to aerate 350 to 450 sq. feet rooms without requiring an ultra-powerful motor that would have weighed heavily on your electricity bills. 
Its tri-mount compatibility gives you one more reason to trust this fan. You have the option to mount it close to the ceiling, install it on an angle or use the 4'' downrod. These three options combine to make this product useful for a wide variety of rooms. 
To further sweeten the deal, Honeywell Ceiling Fans provide a hundred percent satisfaction guarantee on this model. Also on offer is a limited time warranty. Both of them should give you peace of mind and allay any doubts you may have about this model's performance.
User critique
This ceiling fan misses several features which you'd have expected given its lofty-asking price. It doesn't come with remote control and offers no reversible-fan function. Also, its chain that lets you turn it on/off is only 4 inches, ridiculously short for a fan that measures 52 inches itself. 
Pros
Energy-efficient

Oil rubbed bronze finish

Lightweight construction
Final Verdict
The Honeywell Sabal Palm 52-Inch Tropical Ceiling Fan is a must-have for those of you who have a knack of going about their daily life in an unconventional manner. Its leaf-palm blades' design will make sure that the fan remains the center of attention to the guests in your room. 
Emerson Indoor Outdoor Low Profile Ceiling Fan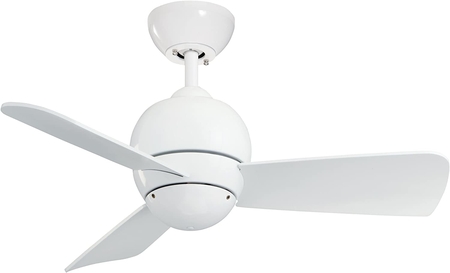 Models like this Indoor Outdoor Low Profile Ceiling Fan are the primary reason why Emerson enjoys a spectacular reputation in the market. At 2278 cubic feet per minute, this Hugger boasts the best airflow of any ceiling fan in its class.
Three white blades are housed in a white housing to create a beautifully streamlined design. The fan's dual-mount feature allows standard downrod installation for average-size ceilings and close-to-ceiling installation for low ceilings. 
Next comes this product's damp-location rating that makes it a must-have for verandas, sunrooms, and other areas that are more exposed to the outdoors. Also on offer is a 4-speed sliding wall control to let you control the fan without the visual distraction of pull chains. 
You might also appreciate the fact that this fan's energy consumption is meager. Even at its highest speed setting, it boasts an airflow efficiency of 54 CFM per watt. That is the main reason why this model draws only 42 watts of electricity at its highest speed setting.
User critique
Users who claimed they had installed many ceiling fans before bemoaned that this model's installation instructions are anything but clear. 
Pros
Dual-mount option

Four-speed wall control

Huge 2278 CFM airflow
Cons
Installation instructions aren't clear
Final Verdict
The Emerson Indoor Outdoor Low Profile Ceiling Fan is made for small rooms with huge airflow requirements. It is incredibly efficient, even at high speeds, and has a simplistic design that won't make it look out of place in most homes. 
Casablanca Indoor Ceiling Fan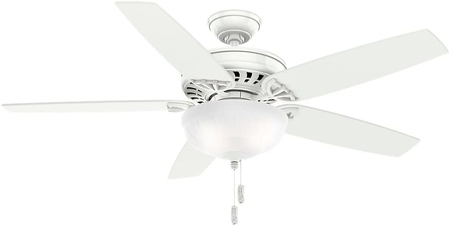 Since it's one of the most expensive models on the market, the Casablanca Indoor Ceiling Fan isn't for budget-minded users. It is not for those of you who look at the price tag of items before you get the chance to look at their features. This unit is, indeed, expensive.
Having made that point, let's turn our attention to why its price tag might water your eyes. This product is equipped with a Direct Drive motor that provides a combo of unparalleled power and silent performance. The DustArmor nanotechnology coated on the blades helps prevent dust build-up.
Its 12-degree blade pitch is yet another proof of this model's huge airflow. You get two (3'' and 2'') downrods in this product's package to mount it at your preferred height. Also on offer is a light kit and pull-chain control. And you get a limited lifetime warranty on the motor and 1-year warranty on parts.
User critique
Suggesting by the reviews its users have left behind, we noticed no significant complaint about its performance. The only issue that one user raised was about the length of the pull chain, which they claimed is very short. 
Pros
12-degree blade pitch

Two downrods included

Powerful Direct Drive motor
Final Verdict
Provided you didn't roll your eyes after looking at this model's price tag and are impressed by everything that it has to offer, the Casablanca Indoor Ceiling fan, with its pull chain control and light kit, is undoubtedly worthy of your attention. 
Hunter Fan Company Hunter 53091 Transitional 52"Ceiling Fan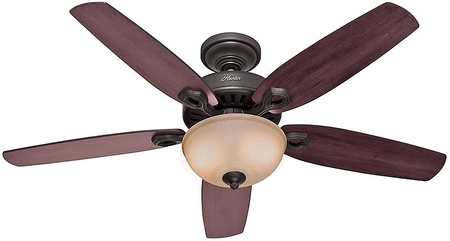 One of the unique selling points of this best-selling ceiling fan is its ability to merge tradition with modernity. The former is on offer in the shape of blades. Their classic toffee glass coating will roll back the years by taking you on a memory trip down the lane.
Fortunately for us, everything apart from its blades oozes modernity. Its multi-speed reversible fan motor is one feature you don't see in models manufactured decades ago. You can use it to activate the downdraft mode during the winters and the updraft mode during the summers.
Similar utility is on offer in the shape of its LED bowl light kit. That it is dimmable means that you can not only control the output of the light but also the ambiance of your living space. Also on offer is a pull-chain control. You can use it to turn the fan on/off and adjust its speed.  
User critique
Not everything is hunky-dory about this ceiling fan. We became aware of this fact as we were checking out its user reviews. One keen-eyed individual pointed out that its quiet mounting system adds to the length of the downrod and rules out this ceiling fan as an option for low-ceiling rooms.
Pros
12-degree blade pitch

Two downrods included

Powerful Direct Drive motor
Cons
Not for low-ceiling rooms
Final Verdict
Having said everything that is there to say about the Hunter Fan Company Hunter 53091 Transitional 52"Ceiling Fan, there's not much that can be added. It is a valuable option for those of you who don't mind standing up every time you have to regulate the fan's functioning. 
What to consider when buying a whisper-quiet ceiling fan?
Here are some of the questions you need to ask yourself before you start searching for a fan:  
How quiet is the ceiling fan?
  The best way to decide whether or not the ceiling fan you're looking at will be quiet when running is to check its noise level (dB) rating. Most manufacturers provide it in the specification sheet of the ceiling fan, though some also mention it in the product's description if their fan is super-quiet.  Here's how you could read the noise level rating:
10 dBA

: Breathing

20 dBA

: Light wind in trees

30 dBA

: Low-voice conversation

40 dBA

: Running refrigerator

50 dBA

: Running washing machine

60 dBA

: Normal conversation

70 dBA

: Vacuum cleaner

80 dBA and above

: Extremely noisy
Which size ceiling fan do you need?
  Most of you might already know that a ceiling fan's size is measured from one edge of its blade to the other. A bigger blade size means that the model you're looking at will aerate a larger area. You need to consider the size of your room when selecting the ceiling fan's size. Here's how:
Less than 42'' ceiling fan

: If you have a very small room

Between 42'' and 48'':

If you have a moderately small room

Up to 52'':

If you have an average size bedroom

Between 52'' and 56'':

If you have a master bedroom or large living room

56'' and bigger:

If you have a TV lounge
What is the height of your ceiling?
  The height of your ceiling will determine the optimum size of the fan's downrod. The length of the downrod, in turn, should be such that the distance between your room's floor and the fan's blades is at least 7 feet. Or else, the fan will be a 24*7 hazard hanging over your head: Here's how:
Choose a 12'' downrod:

If your ceiling's height is 9'

Choose an 18'' downrod:

If your ceiling's height is 10'

Choose a 24'' downrod:

If your ceiling's height is 11'
Do you need a dry-rated or damp-rated ceiling fan?
  The weather and climate patterns in your area will help you answer this question. You might want to go for a UL dry-rated fan if it isn't humid in your part of the woods. These units are made of furniture-grade wood and last for ages.  Conversely, if it gets too humid in your area at certain times of the year, UL damp-rated fans will serve you better. These models are designed to handle moderate amounts of moisture and humidity without their inner parts suffering any damage.     
What are the mounting options for the fan?
  Here are the different mounting options that ceiling fans tend to offer:
Standard mounts

: Such mounting systems can be used to hang the ceiling fan at 3 to 5 inches beneath the ceiling. This mounting system is designed for home with average height ceilings.

Extended mounts:

These mounting systems let you hang the ceiling fan at the height of 8 to 9 feet from the floor. They are therefore designed for tall ceiling heights.

Flush mounts

: Also known as 'hugger' or 'low profile' ceiling mounts, they install the fan directly against the ceiling. You should go for them if you have ceilings under 8 feet.

Sloped mounts

: Ceilings that are built at an angle between 34 and 56 degree need sloped mounts with a downrod. 
What are the control options for the fan?
  Most ceiling fans on the market offer at least two of the following four control options: 
A quiet ceiling fan with remote will let you turn it on/off, increase/decrease its speed and (provided it has a light) change the light's intensity right from your sitting place.  
This is the next best option if your fan doesn't come with remote control. You might have to stand to pull the chain, but you still won't have to go far.  
Ceiling fans that decide to mount their control button on the wall have been around for decades and their popularity is still going strong. They are recommended if you have kids or pets in your home.  
Almost all the quietest ceiling fans you see in this review come with a reversible motor that lets you change the direction of movement of the blades. This way, the fan remains handy in all weather conditions.     
What brand of ceiling fan is the quietest?
  Following are some of the brands that are famous for their silent ceiling fan:
Honeywell Ceiling Fans

Prominence Home

Harbor Breeze

Hunter Fan Company
Summary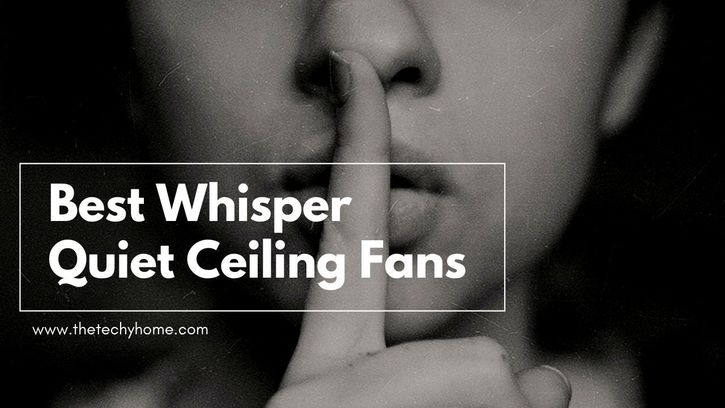 Article Name
7 best Whisper Quiet Ceiling Fans
Description
We like quiet. That's why we reviewed 7 Whisper Quiet Ceiling Fans.
Author
Publisher Name
Publisher Logo