What's more relaxing than sitting in your patio and enjoying the sun with a cold glass of citrus juice while feeling the cool breeze of a fan? Today I've decided to write this Best outdoor fans guide so that it'll help find condensed, useful information on this type of fans so that you don't have to jump from a review to another in order to find out which is the top one.
Whether your looking for an outdoor floor fan or a ceiling fan for your patio, an outdoor fan has to have certain characteristics to effectively cool your space and get the warmth out of your relaxing spot so that you can comfortably read books, get entertained or simply enjoy your moments outside.
What to Look For in Outdoor Ceiling Fans ?
As you may know, not any fan can do the job of an outdoor fan. Outdoor conditions are very different from indoor. In order to fall in this category, a fan should have some specific characteristics to resist the rough exterior elements that interior fans often can't handle.
Unlike ordinary fans, an outdoor fan's motor casing should feature a waterproof seal in order to be protected from moisture. Corrosion and rust are also a threat for an outdoor fan. This is why many models of this category are built with galvanized tubular steel and powder-coated paint finishes that serves as a protection against rust and corrosion.
High temperature and rain are also factors which can deteriorate the quality of an outdoor fan, especially the blades. This is why certain outdoor fans blades are made with special ABS plastic and which are called All-Weather blades. An indoor fan is like your furniture that you don't want to put outside to face all sort of weather conditions!
In addition to that, there are two types of outdoor ceiling fans : Wet-rated and Damp-rated fans.
Wet-rated : A wet-rated outdoor ceiling fan is made with specific materials to resist in locations that receive direct contact with rain, snow, salty breeezes from the ocean or excessive moisture, a kind of waterproof outdoor fan.
If your going to install your outdoor ceiling fan in a location like an uncovered porch, open-air deck, patio, gazebo, outdoor dining area, exterior wall, pergola or a walkway then wet-rated fan is necessary even in the case of an indoor wet location like shower enclosure.
Damp-rated: A damp-rated outdoor fan is ideal designed to withstand humidity and moisture but in covered locations, but they can't direct contact to water, rain, or snow. Even in the case of an uncovered porch, this type of fans are not recommended as they can receive rain in a windy weather. You can use this type of outdoor fans in your garage, covered patio, screened porch or bathroom.
Another aspect to look for when comparing outdoor fans is airflow. The breeze that a ceiling fan creates to cool you off is what results in what is called "wind-chill effect". This is directly connected to the amount of air the fan is able to produce and it's measured in CFM ( Cubic Feet per Minute ). The higher the airflow the higher the amount of wind-chill you can feel. Indoor and enclosed areas doesn't necessitate as much CFM as non-enclosed living spaces.
That is, in an open space, the airflow that you feel can be easily weakened as there are no walls to limit its movement. This is why it's important to compare the CFMs which an outdoor fan can produce before you make any decision.
Our Outdoor Ceiling Fans REVIEWS
Monte Carlo 3MNLR56BSD Minimalist 56″ Indoor/Outdoor Ceiling Fan
The model shown in picture is the Monte Carlo Minimalist Ceiling Fan in Brushed Steel with Dark Walnut Wood blades. But there are other styles which are : Bronze, Black, and Rubberized White all featuring the same Balsa wood blades which are hand carved according to Monte Carlo.
This sleek modern design three blades fan can be used both indoors and outdoors as well as damp or dry areas. It comes with a light fixture (16W LED ) with Super Low Profile Opal Etched glass. It's equipped with a 85 X 65 mm reversible DC motor with 6 speed settings as well as a remote control.
Concerning the air flow capacity, the Minimalist produces 7785 CFM while it consumes only 27 watts of electricity.
Minka Aire F787-ORB Simple – 52″ Outdoor Ceiling Fan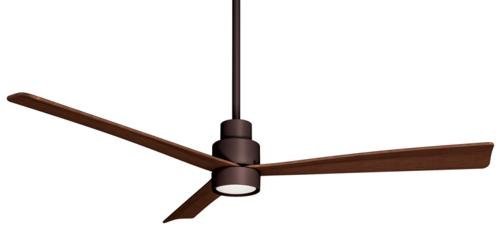 This Simple contemporary style outdoor fan by Minka Aire is no doubt one of the best ceiling fans you can find on the market. It comes in an Oil Rubbed Bronze motor with medium maple blades pitched at 14 DEGREES.
Although it has only three blades, the F787-ORB has a high airflow rate and can provide up to 7051 CFM. The electricity consumption at the highest setting of this Minka Aire is a bit higher than the Monte Carlo we've just seen : 33.1 watts. But it comes with a 6 speed settings which allow you more control over the fan.
On "medium" speed (5224 CFM), the fan consumes only 9.1 watts which is a great money saving setting. You can of course use it for both indoors and outdoors. The blade sweep measures 52 inches and the downrod 3.5 inches. The Minka Aire F787-ORB is also available in Flat White and Silver.
Westinghouse 7200800 Comet White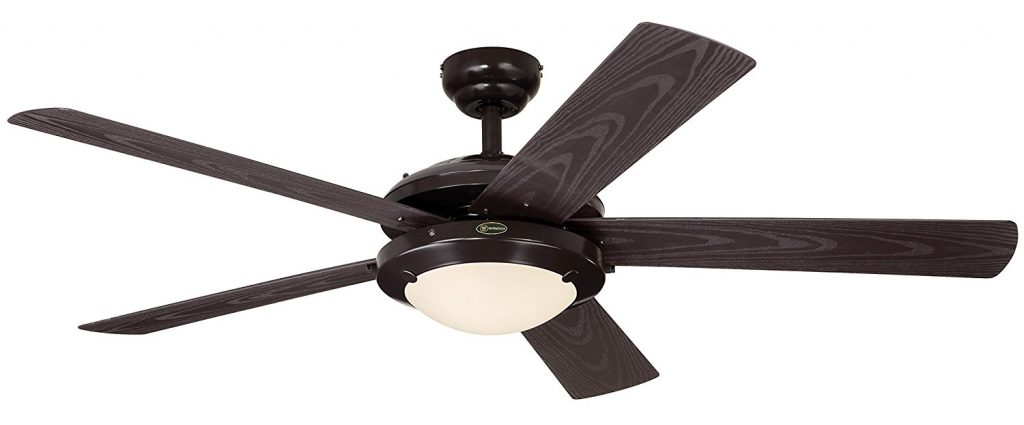 This is another outdoor ceiling fan designed for covered patios, gazebos and verandas and which is approved for damp areas. The Comet will provide you with cool breezes as well as light in your long hot summer nights. It features a disc shape light fixture with opal frosted glass which gives a warmth look.
It has five 52 inch white finish blades and the motor is reversible with three speed settings. The air flow efficiency of this Westinghouse fan is 90 CFM per watt, meaning at an airflow of 5,087 CFM the fan will consume 56 watts without taking into account the lights. The two lights on the other hand are 40-watt torpedo bulbs and which are included with the ceiling fan.
Apart from white color, Westinghouse Comet is also available in Espresso, Brushed Pewter and Black. In case you don't have time to install it yourself and may be left wondering, "what do I do with this piece?", Amazon offers "Expert installation" for some additional dollars. This is also one of the best quality/price outdoor fans on our list today.
Hunter 23847 Original 52″ Reversible Blades

We finish our outdoor fans reviews with this beautiful Chestnut Hunter fan that would appeal to rustic style lovers. The Hunter 23847 is designed for indoor and outdoor use. This fan is ETL Damp-rated and will do very well for your front or back porch as well as patios and sunrooms.
It has five blades pitched at 15 degree for air movement improvement and which are made of Teak Wood Composite. It has a reversible motor allowing to change the direction of the fan so that you can use it both for summer and winter.
It's an Energy Star certified outdoor fan which motor is tested to be energy efficient which is good news for your budget. The motor of the Hunter Original is protected by cast-iron housing and features an oil bath lubrication system designed to constantly lubricates bearings as well as.
Customers on Amazon have put a high rating on it and reported it to be a quiet fan and that it's pretty solid fan that will last very long. The price of it is also a bit higher when compared to other fans which is probably justified by the sturdy construction.
MaxxAir 24-Inch 2-in-1 High Velocity Outdoor Floor Fan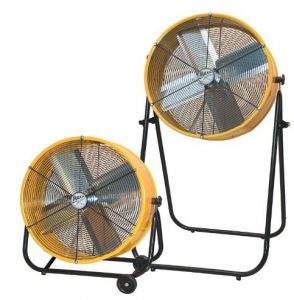 I've left this outdoor floor fan till the end because a ceiling fan would most of the time be the best choice. So if you've already made your mind to buy an outdoor floor fan then the MaxxAir is nice choice in this category.
One of the best features of this fan is that you can quickly convert it from a floor fan that you can roll around wherever you want to a stand fan. And because the airflow is important outdoors, I've chosen this MaxxAir as it has one of the highest CFM rates among outdoor fans and which is 4000 at high setting.
Also, this fan is equipped with an OSHA compliant rust resistant grille according to the brand. Another feature that is important for outdoor use is the length of the power cord. This one has 8-Feet power cord which I think is sufficient for most of patios.
Check our Best Floor Fans Guide to discover other models of this category.
What Are the Benefits of an Outdoor Fan ?
Having one of the best outdoor fans will allow to enjoy being outdoor in summer days pretty much the same way you do indoors. If you live an area where summer is very hot, then you know that sitting in an enclosed porch is not always relaxing.
On a sunny day, sunrays reflecting off of the patio results in warmth being trapped in a covered area. Eventhough sitting in the shade, you will still feel the hot air . This is when an outdoor ceiling fan is of great help as it will be circulating the air and refreshing it and provide you with a chill effect.
What About Outdoor Floor Fans ?
You can use a floor fan for outdoors, but there are some differences in terms of usage. An outdoor ceiling fan will move air at a wider range all at once, while a floor fan, even in the case of an oscillating floor fan, will provide you with air only int the direction it's pointing at the moment.
The advantage of a floor fan for outdoor use is its portability as it allows you to move it and point it exactly where you want it. Floor fans are also used outdoors to cool down pool decks which is not possible with an outdoor ceiling fan.
However, a floor fan is most of the time not built to withstand harsh environment conditions like rain and snow and is therefore exposed to rust and corrosion risks. In case you will be using a floor fan outdoors, make sure you move the unit inside when it rains.
Also, to avoid moisture hitting the circuit for some reason, the floor fan should be placed on a GFCI outlet. Make you sure you read a review on the floor fan you're about to buy.
Outdoor Fans Common Problems
On the installation level, many potential owners of outdoor fans face some difficulties. This type of fans requires a pretty solid surface to be mounted to. Existing light fixture is the common spot that is usually a good idea to mount a fan to. But always check that the outlet box is designed to support the ceiling fan's weight.
Wobbling and shaking is another common problem when it comes to outdoor ceiling fans. This might be because many reasons like loose screws, blade brackets or warped fan blades (in case of old ceiling fans).
In these cases, you'll need to tighten any loose screws on fan blades, downrod, the light and motor coupling. Noise is also another issue that may occur right after installing an outdoor ceiling fan. In this case you only have to allow about 24 hours for the ceiling fan in order to adjust.
In some cases where you doubt there is enough support, installing anchors may be necessary so that the fan's weight won't bring the ceiling of your enclosed area down.
This is a very important safety measure which, in case not taken into consideration, could ruin your ceiling and patio, or even worse, harm people sitting beneath the ceiling fan.
Related Posts
Summary
Article Name
The Best Outdoor Ceiling Fans & Outdoor Floor Fans
Description
A guide on both Outdoor Ceiling Fans & Floor Fans.
Author
Publisher Name
Publisher Logo