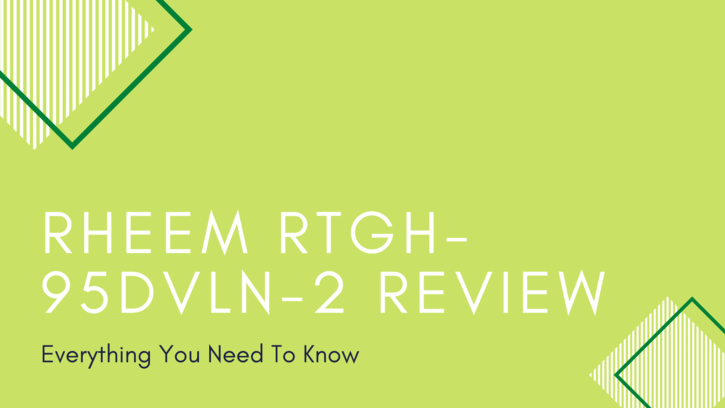 Natural gas tankless water heaters usually get a bad rap in the market. The general public thinks that their reliance on a fastly-depleting fossil fuel makes them more harmful to the environment than, say, their counterparts that rely on electricity to raise the temperature of water. 
The Rheem RTGH-95DVLN-2 busts this myth with aplomb. It doesn't use its reliance on natural gas as an excuse for pumping bucket-loads of poisonous gases into the atmosphere. In fact, this model's emissions numbers are fewer than your traditional natural gas water heater.
That isn't the only reason why it's selling like hot cakes on the market. This model's incredibly compact dimensions, its ability to merge your hot water consumption needs with technology, and its budget asking price have also given its potential users plenty of reasons to give it a go.
Will it suit you? Check out our review of the Rheem-RTGH-95DVLN-2 to find out.
Rheem RTGH-95DVLN-2 Review – Pros and Cons
Here are the positive and negative points of Rheem RTGH-95DVLN-2:
Pros
EcoNet® Smart Home Technology
9.9 GPM water flow rate
Automatic water savings setting
Rheem RTGH-95DVLN-2 Review – Features
Here are the worth-noting features of Rheem RTGH-95DVLN-2:  
EcoNet® Smart Home Technology
When we stated at the start of this article that this unit merges your hot water needs with the best of technology, we were indirectly referring to its reliance on EcoNet Smart Home Technology. Here's how it has been able to do that.
This technology comes with a mobile app for both Android and Apple devices. Installing the app on your phone will let you receive timely care and maintenance alerts. You can also use the mobile app to control the operation of this model from anywhere in the world. 
The app gives you the option to set flexible heating schedules, provides you with weather forecasts and lets you plan for the weather head. Its 'active monitoring system' will warn you at any time the heater is in need of urgent care. 
Aside from everything mentioned above, one of the most amazing features of the app is 'auto changeover.' Here is a feature that doesn't rely on human input to regulate the heater's inner temperature based on the outside weather conditions. It helps saves energy without troubling you.
Automatic Water Savings Setting
  Most heaters you see on the market waste a lot of hot water during the starting phase. This is the passage of time when their heating coils are still warming up. The water that enters the heater during this stage then goes on to leave it with little to no change in its temperature.
The Rheem RTGH-95DVLN-2 stops this wastage of water. It lets you activate the 'Water Savings Setting' during the activation, which saves water by decreasing its flow through the pipes in the startup phase. Let us explain this point to emphasize its significance.
This heater deliberately places a lid on the water coming in and going out of it until its inner temperature reaches the heater's set point. Rheem estimates that this little tweak in its operation has seen homeowners save up to 1,100 gallons of water per annum.     
Here is another way this model minimizes wastage of hot water. It isn't like the traditional tankless water heater that requires you to increase your hot water consumption up to a certain level for it to turn on its heating element and raise the temperature of the water.
Instead, this tankless water heater activates its built-in heating element at a meager flow rate of 0.40 GPM and keeps it on for flow rate as low as 0.26 GPM. This way it makes itself useful for those of you whose hot water demands are extremely low.     
One of the final features of this model that help it in minimizing water wastage is its ability to remain in ready-fire state to meet your back-to-back hot water needs. Rheem calls it as 'Hot Start Programming' but you can call it whatever you want.
This feature minimizes water wastage by not turning off its water heating element the moment you close the tap of hot water. Instead, it keeps the built-in heater on for a few more minutes, just to make sure that anyone who would need hot water won't be met with a cold water burst.     
Self-diagnostic system and Maintenance notice setting
  Start with a glance at the self-diagnostic system. It will help your plumber by giving them tips that will guide them during the installation phase. The self-diagnostic system also provides useful tips during service, thereby assisting the plumber in both scenarios.
Then comes the exclusive maintenance notice setting feature. It will send an alert to your smartphone after the heater has reached 500 hours of use, thereby telling you that it's time to call in the plumber and have this unit serviced.     
Ask people who recommend against the usage of gas water heaters, and they'd tell you that one of the primary reasons behind their decision of going gasless is because such models pump loads of Nitrogen oxides into the atmosphere. Their fears aren't misguided.
Ordinary gas-burning heaters do send these poisonous gases into the atmosphere that damage the ozone layer and expose us to harmful UV radiations. Thankfully, with its ultra-low NOx burner, this tankless water heater steers well clear of such irresponsible behavior. 
Final Verdict
The Rheem RTGH-95DVLN-2 offers you the best of both worlds. It provides a maximum water flow rate of 9.9 gallons per minute but starts at an ultra-low level of 0.40GPM. This model relies on natural gas to save your money but also has an Ultra-low NOx burner that helps it protect the environment.
Also, while its overheat film wrap prevents dangerous temperature rises and makes it safe for indoor applications, this heater is capable of being used at altitudes above 8,400 ft. above sea level. You can operate it from your mobile but it also provides a remote control in its package.
Put everything we have just stated into perspective, and you'd realize that this model justifies its reputation as one of the most tech-loaded tankless water heaters on the market. 
Summary
Reviewer
Review Date
Reviewed Item
Rheem-RTGH-95DVLN-2 tankless water heater
Author Rating




Product Name